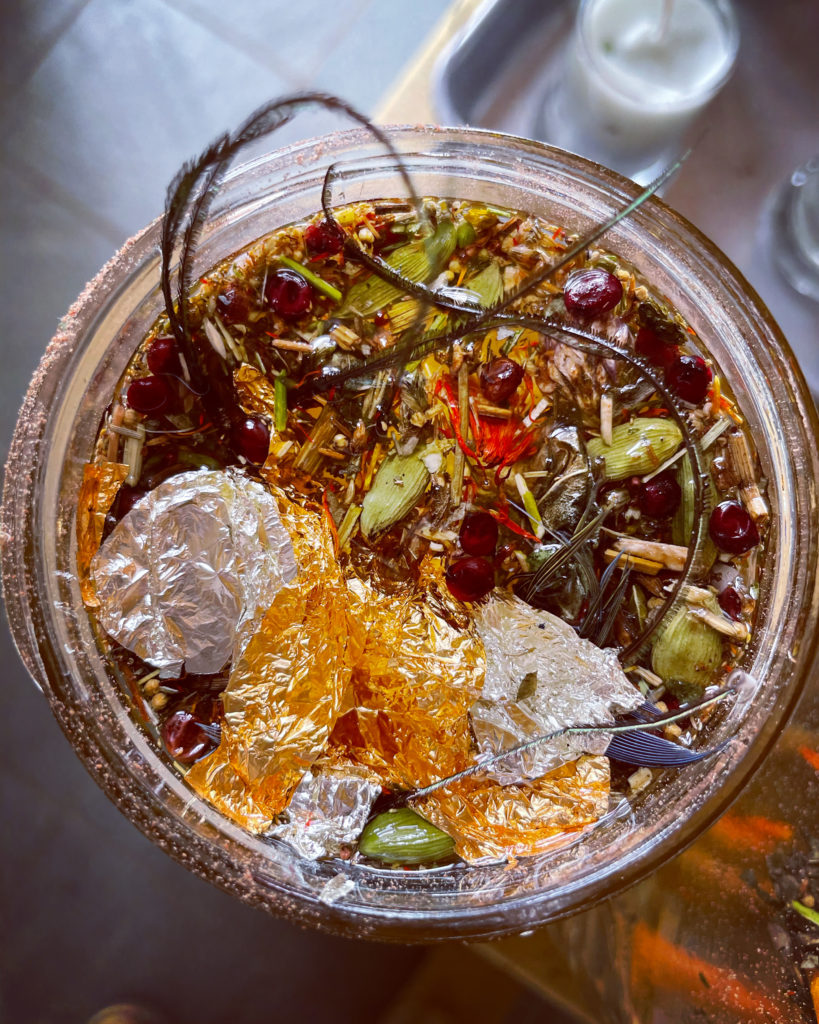 Oils are used to extract fat soluble elements from herbs and other ingredients, and act as a carrier that absorbs flavor, scent, and magical charge. They are applied to the the bodies of people and objects to anoint, bless, and generally impart their characteristics.
Sphere + Sundry offers ritual oils that carry the charge of rare, potent, and exceptional astrological elections.
They can be used standalone to support sympathetic activities, or used in conjunction with other items from their series, such as talismans, to recharge or empower. They can be given as offerings, used to dress candles, applied to anoint gemstones and metals, or used in any of the myriad ways ritual oils are typically utilized.
Our most frequently selected oils are extra virgin olive, argan, almond, and jojoba (technically a liquid wax), depending on which best correspond to the series at hand. Vitamin E is added as a natural preservative to extend shelf life. The base oils are always fresh, typically organic, cold-pressed and hexane free, kept in cool darkness until use and throughout incubation.
They are ritually poured over suffumigated herbs, resins, gems, and other natural materials in fleeting moments of astrological supremacy, making each election the natal chart of the oil itself, using a Picatrixian protocol. They are then sealed and marked with the right glyphs and names, before being set aside to incubate for a full lunar cycle (at minimum) with the other items in their series.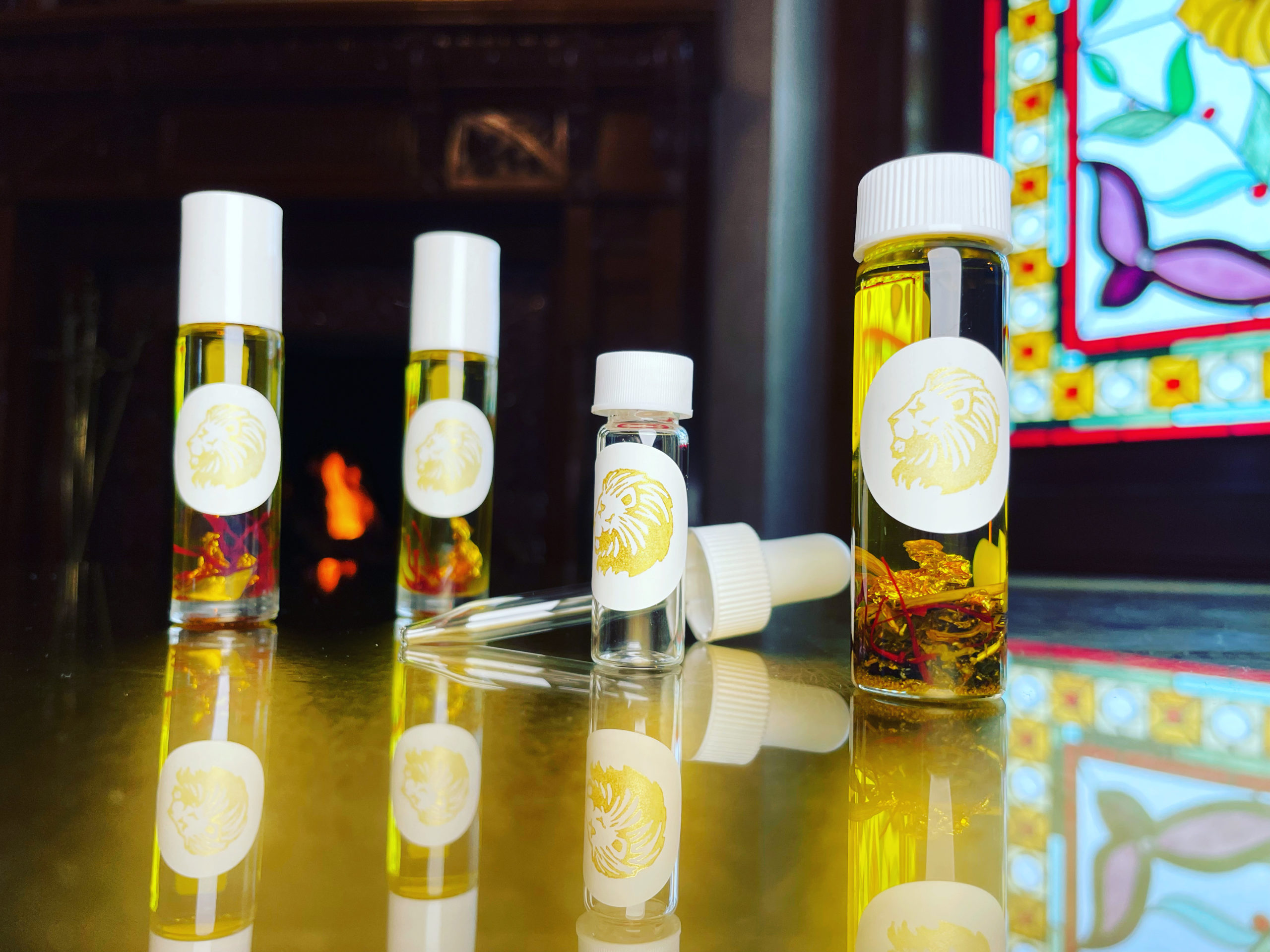 These are agitated during appropriate planetary days and hours to further compound their charge, and decanted with like-consideration into smaller vials for re-homing. Extra care is taken in the sealing and packing oils for transit to minimize potential for leakage. Oils are not filtered and often contain herbal residues, in addition to metal leaf and gemstone keepsakes.
While our oils are mixed with vitamin E as a natural preservative, to further extend their shelf-life we recommend keeping them covered and away from sources of light when not in direct use. Ideally on an altar of another dedicated space.
Oils may stain or harm the surfaces they are applied to. They can also cause contact reactions on the skin, especially if they contain hot ingredients. Always perform patch tests before broader application.
Sphere + Sundry's oils are available in 1/2 oz glass vials with optional Dropper Cap Kits — which come with dropper tops to replace the standard cap, in addition to a small vial labeled with a matching series glyph to store the slight excess of oil displaced by the dropper. We also offer limited edition 10ml rollers with custom gemstone rollerballs, with stones matching each series election.
Anointing Oils, Bath Bombs, Exalted Venus II, Series, Spell Soaps

The Fairer Benefic was conjunct the Royal Star

Fomalhaut

in Sphere + Sundry's

Exalted Venus II

election, but no formal petition was made to capture its influence. However, an infusion of blue lotus in jojoba was created following the standard fumigations and prayers, to become a subset of its own. An unreleased Oil was *also* created for Fomalhaut, which had been code named "the golden subset". I took them with me to the beach (see

that write-up

if you're unfamiliar) and had intended to ritually finish them there, but clear instruction never came, so they were brought back and stored alongside the rest of their brethren. Contemplating whether to add anything to the Lotus subset, the idea of co-mingling the two arose, confirmed by divination. Aphrodite was born of the sea, after all, and the mixing of salty ocean and fresh, sweet waters was a particular insight I'd gleaned on that very pilgrimage.

Among many other things...

Dolphin Spirit was invoked as a moderating force. The result is

incredibly

potent and deeply interesting, *especially* for the esoteric adepts, magical dreamers, mediums, writhers, tantrics, and sex magical practitioners among us.

This is also a GREAT jump off point for anyone who has been/ is *drawn* to Fomalhaut, but afraid to dive head first into the deep end...

We'll leave it at that for now, and can compare notes in the Client Community Offered in a 1/2 oz standard vial with blue lotus, seashell, and 24k gold for $91, 10 ml flawless glide steel roller for $73, or sweet 5 ml Minis ($27). We are beginning to roll out soaps and bath bombs for existing series! Sign up for the Waitlist to be notified when they become available. Soaps offered in a 3″ x 1″ disc for $48 Bath Bombs offered in a 2.5″ sphere for $33 Please note that the loaded herbal components in the spell soaps can make them slightly "scratchy" on the skin, which can serve to exfoliate, or, use your hands to work up a lather and transfer it to whatever areas you wish to wash!

$

27.00 –

$

91.00