Anointing Oils, Asclepius IV: Divine Coterie, Available, Flagship

Sphere + Sundry's classic Asclepius Oil formula, given new life as the Moon conjoined the fixed star of the Divine Physician,

Ras Alhague

, while applying to a trine with its ruler,

the Greater Benefic

, from the Nakshatra

Ashwini

— represented by eternally youthful twin doctors (

Ashvins

), who — in addition to tending to the health of the Gods, the sick, and the unfortunate, have further associations with medicine, good health, daybreak, and the sciences. Organic 100% extra virgin olive oil, rose of jericho (

Selaginella lepidophylla

), ecologically and respectfully wildcrafted sage, and ritually harvested incense cypress from Jove's hour on the Sun's day, untreated carnelian, and resin of frankincense. Anoint areas in need of healing, including acupuncture and meridian points which correspond to connected organ systems, as-needed (as always!). For chronic ailments, create a "treatment plan" for routine application based on planetary hours connected to natal or general astrology, or in stride with the

TCM body clock

. [We can workshop these together in the Client Community!] Application aids in purification, transformation, and facilitation of inner-alchemy. Increases one's general bandwidth/ tolerance for stressful circumstances, while expediting the assimilation of experience into wisdom. Layering with other influences helps mitigate symptoms, if Antares or Mars tends to result in overheating and headaches, for instance. It tends to help other Powers (and our own energies) run "cleaner" and with less buffering, clearing the way for better outcomes. Apply before bed to promote

dream incubation

, as well as healing and initiatic visitations from Gods, Ancestors, and whatever Spirit-Beings you call. Excellent for routine use by day and night, but may also trigger the need for sleep (or increase its duration). Arrives in your choice of standard 1/2 oz glass vial for $65 (with an optional dropper cap kit), 10 ml "flawless glide" steel rollerball for $52, or 5 ml mini for $26.

$

26.00 –

$

65.00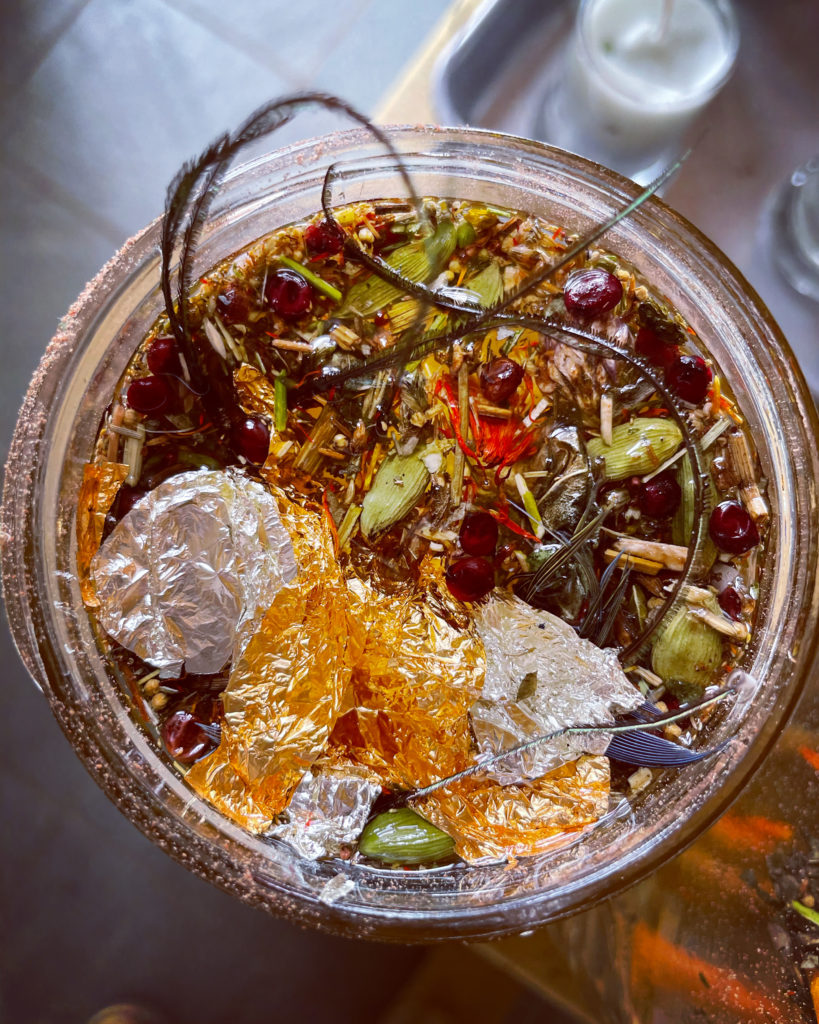 Oils are used to extract fat soluble elements from herbs and other ingredients, and act as a carrier that absorbs flavor, scent, and magical charge. They are applied to the the bodies of people and objects to anoint, bless, and generally impart their characteristics.
Sphere + Sundry offers ritual oils that carry the charge of rare, potent, and exceptional astrological elections.
They can be used standalone to support sympathetic activities, or used in conjunction with other items from their series, such as talismans, to recharge or empower. They can be given as offerings, used to dress candles, applied to anoint gemstones and metals, or used in any of the myriad ways ritual oils are typically utilized.
Our most frequently selected oils are extra virgin olive, argan, almond, and jojoba (technically a liquid wax), depending on which best correspond to the series at hand. Vitamin E is added as a natural preservative to extend shelf life. The base oils are always fresh, typically organic, cold-pressed and hexane free, kept in cool darkness until use and throughout incubation.
They are ritually poured over suffumigated herbs, resins, gems, and other natural materials in fleeting moments of astrological supremacy, making each election the natal chart of the oil itself, using a Picatrixian protocol. They are then sealed and marked with the right glyphs and names, before being set aside to incubate for a full lunar cycle (at minimum) with the other items in their series.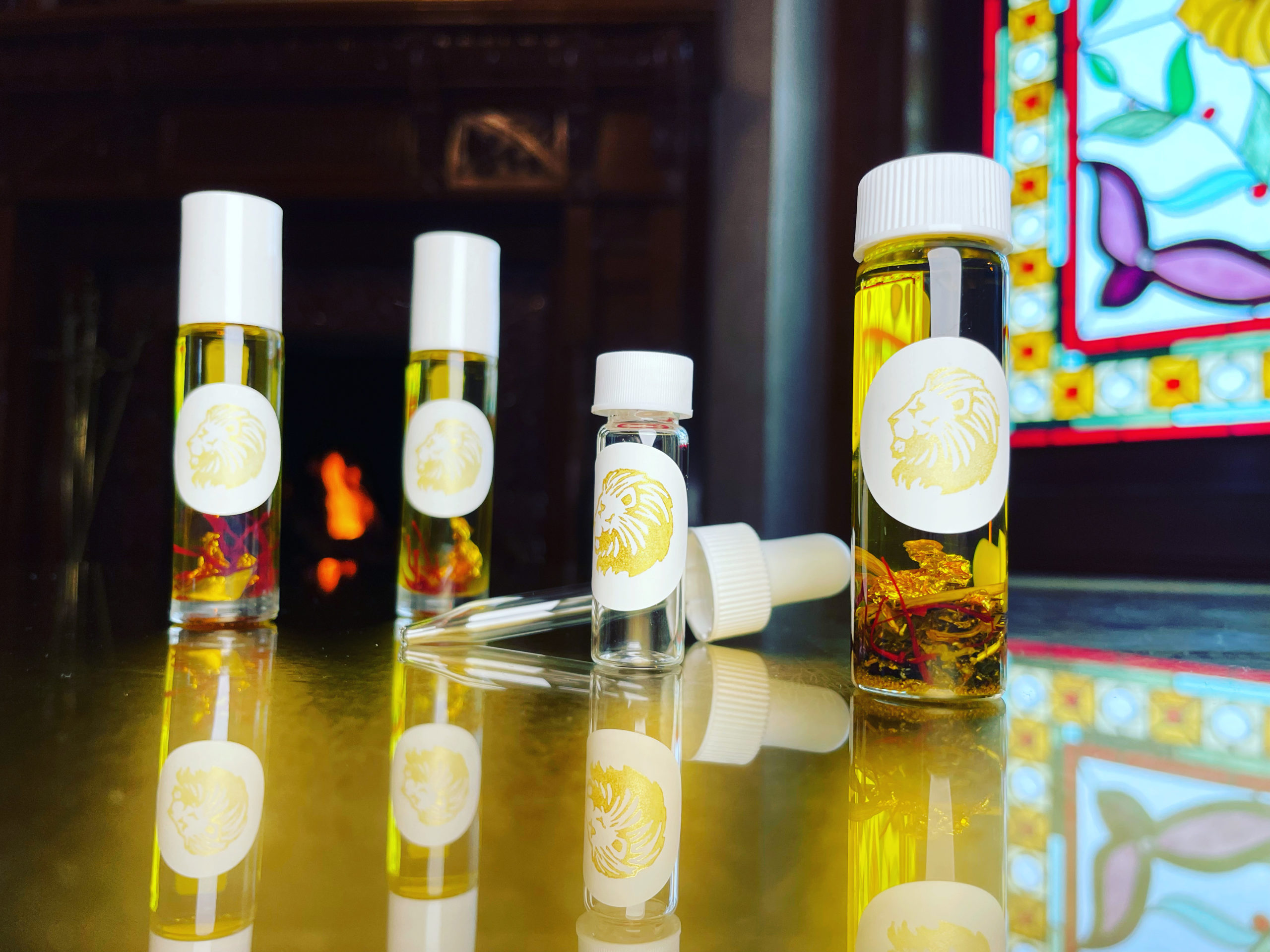 These are agitated during appropriate planetary days and hours to further compound their charge, and decanted with like-consideration into smaller vials for re-homing. Extra care is taken in the sealing and packing oils for transit to minimize potential for leakage. Oils are not filtered and often contain herbal residues, in addition to metal leaf and gemstone keepsakes.
While our oils are mixed with vitamin E as a natural preservative, to further extend their shelf-life we recommend keeping them covered and away from sources of light when not in direct use. Ideally on an altar of another dedicated space.
Oils may stain or harm the surfaces they are applied to. They can also cause contact reactions on the skin, especially if they contain hot ingredients. Always perform patch tests before broader application.
Sphere + Sundry's oils are available in 1/2 oz glass vials with optional Dropper Cap Kits — which come with dropper tops to replace the standard cap, in addition to a small vial labeled with a matching series glyph to store the slight excess of oil displaced by the dropper. We also offer limited edition 10ml rollers with custom gemstone rollerballs, with stones matching each series election.