Venus is the planet that rules love and beauty, and she is very much at home in the sign of harmony and socializing, which is Libra. By Sphere + Sundry standards, Venus' time in the Scales' sign during 2018 didn't provide any talisman worthy 'forever' elections, but empowered in her own rulership, she still had much to offer that will be useful.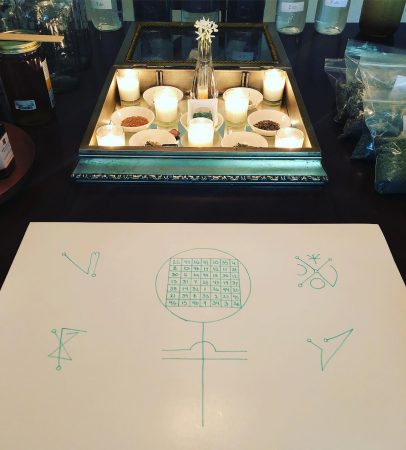 This series was ritually constructed after an invocation of Venus during her hour on the only Friday, the day which Venus rules, where she was well aspected by the Moon, and also unafflicted by malefics.
Strong Venus items promote beauty and act as a powerful attractant to others, romantically and socially. They instigate an organic and strong desire for others to be around you and desire your attention, and increases their excitement to be in your company. They act as a social magnet, enhancing glamours and making one seem the belle of the ball, feeling and coming across as more beautiful than they otherwise would. They promote feelings of acceptance, beauty, and enjoyment, in oneself and their overall sphere.
The charge on these offerings is very strong and palpably lovely. Applied to the body, they instantly induce an easy going, joyous, and pleasant state, heightening the experience of the self and others, especially in social situations. Early field-testers reported a strong sense of ease and increased draw to socialize and connect, with noted reductions in anxiety.
Another side effect is that of 'letting be' and 'letting go', as Venus doesn't care about the details or execution of matters, so long as she's having a good time. For this reason in day-to-day life, this series should be applied when you want to indulge in a pleasant night of social interaction, romance, or self-care. They're wonderful to apply when you're ready to kick back at the end of the day or on days off, because they detach the heart and mind from feelings of worry and import, promoting a natural lure towards that which brings joy and feels good to experience.
As a natal Venus in Virgo, I can personally confirm that this series is control freak kryptonite ; ) Don't use these items when you need to be productive or do many tasks, because it'll take the wind out of those particular sails. These items essentially provide a magically induced vacation — a cool dip in the too rarely experienced waters of detachment from obligation, in favor of self-love and satisfaction.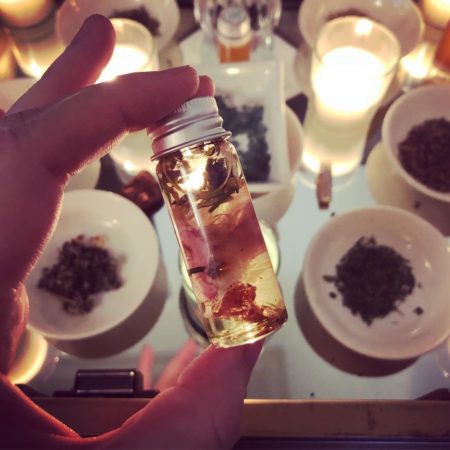 Magically, items from this series can be used to improve relationships, induce or increase glamours, sweeten situations, and/ or serve as formal offerings to Venus.
Honey and beeswax features heavily in this series, as an incredibly useful ingredient in matters both mundane and magical. Honey bees are an animal sacred to Venus, as they pollinate flowers, cooperate with one another seamlessly and selflessly, and produce the sweet, golden, incorruptible nectar that is honey. It has beautifying, sweetening, and anti-aging properties, in addition to being pretty to look upon and sensual to touch.
The oil and ritual honey both included whole honey bees in their formulation, who passed of natural causes. These treasured souls were collected from near their hive after giving an offering of royal jelly to their living brethren, and we thank them for empowering this series with their ability to travel swiftly, pollinate hearts and minds, and the gift of their sweet nectar.
As always, Sphere + Sundry elections are chosen in consultation with astrologer Austin Coppock.
Each order includes instructions and a prayer. For information on Venus altars, ritual, and offerings, click here.
Face + Body, Honeys, Masks + Polishes, Sold Out, Sundry, Venus in Libra I

This is an all natural beautifying mask for the face, which can also be applied to the neck and décolletage. I've been making this recipe and using it myself for many years, especially during the week leading up to conferences, my own wedding, and other events where I'd like to look my best. During Venus' time in Libra, I've been doing it every Friday as a remedial Venus practice and to boost my regular skincare regimen. This mask helps clear acne, balance moisture, combat excessive oiliness, reduce pore size, and establish an even tone. It leaves the skin feeling super soft and has a lovely scent. Blackberry honey,

whipped

with vanilla bean, essential oils, and other natural proprietary ingredients, all sacred to Venus. No fillers or synthetic ingredients. Created during the hour of Venus while the Moon conjoined her in Libra. Due to the time intensive nature of creating this mask, I chose not to make it as part of the upcoming Venus series, so my focus could be on the ritual materia at that time. I also wanted to offer my clients something that didn't have to incubate until September, to help them better connect with Venus in Libra as a transiting influence. This beautifying mask is the the first entry in the series category "Sundry", which will feature individual offerings outside of dedicated series, which are still created to exacting standards and in great accord with the shifting tides of space-time. August 14th (the day of creation) was a good Venus election, one that we considered for a Venus in Libra series, but we found one we preferred slightly better later in the month. The mask coming from a vial makes it easy to pour onto your fingers to apply to the face with as little mess as possible, without having to dirty a spoon or dip into a pot and risk contamination. I use about a quarter sized amount and get 7 masks out of each vial, though this depends on if you apply to other areas. Cleanse your skin, making sure it is completely dry before applying the honey. This mask works especially well if you have primed your skin using our 

Saltwater Pearl Exfoliating Polish

, to maximize smoothness and get the fastest, most beautifying result. Pour the honey onto your fingertips and apply a thin layer directly to the skin using circular and rubbing motions to spread it across the face. Spend two minutes quickly patting the honey into the skin until it becomes tacky and your hands are difficult to pull away, which will exfoliate and bring blood flow to the the skin, stimulating a healing and toning response. Wear for 10-20 minutes. Rinse thoroughly with warm water. Do not re-wash your face. Proceed with toner or your usual skin care routine. If you have oily skin (as I do) this causes an oil purge the day you use the mask, which can be easily removed with oil absorbing sheets, or just applied before bed so it's not a concern. With consistent application over time, excessive oiliness is reduced and the skin develops more consistent levels of hydration. Can be applied anytime, but is especially recommended during the days and nights of Venus, and/ or in her hour. For the fastest results, use multiple days in a row, every other day, or twice per week before entering a maintenance schedule, if you so desire. $21

$

21.00