IMPORTANT NOTE: This series is sold out, but Asclepius IV is now available!
Shortly after midnight on April 12th 2020, the waters of Mt. Shasta broke via copper alembic, initiating ritual labor for the third iteration of Sphere + Sundry's Asclepius series. The election featured the Moon Rising and applying to a tight conjunction with the Divine Physician's patron star, Ras Alhague, in trinal application to the Aries Sun — fresh off its degree of Exaltation — shining an unseen light on the IC of the chart.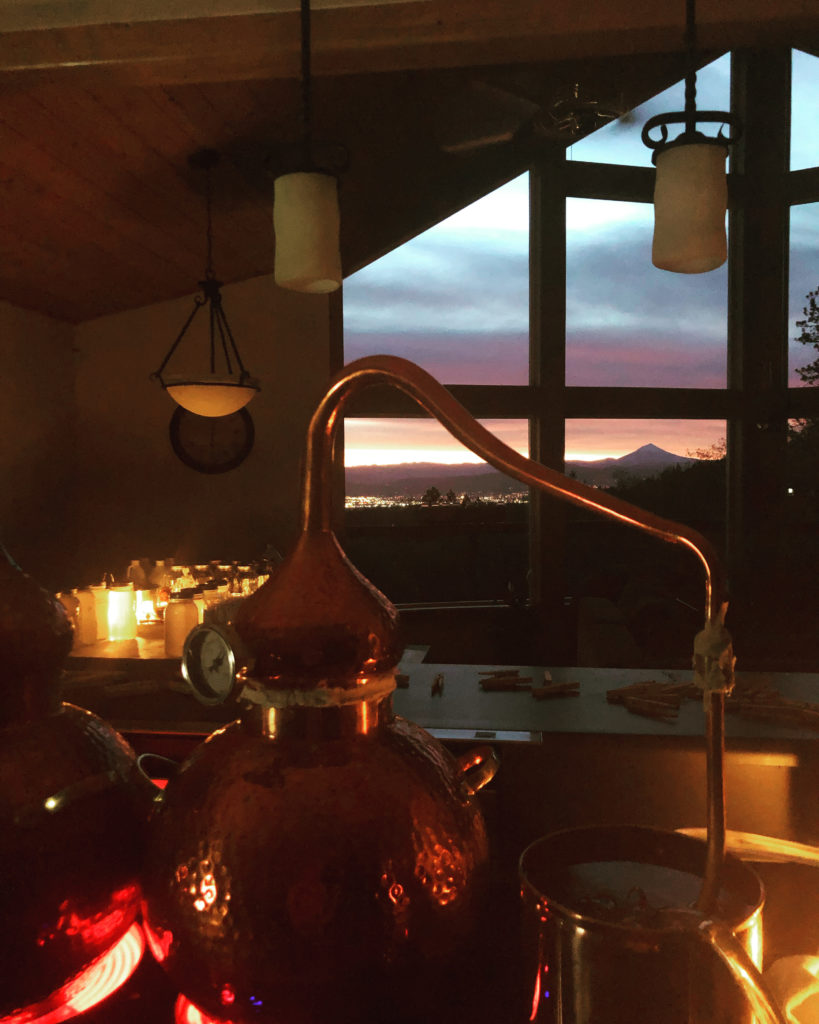 Not only is the Sun (at best and at heart) a source of holistic healing and cohesion, as Apollo's Son, Asclepius is a direct offshoot of Humanity's own Star, embodying a specialized distillation of this facet of Sol's capabilities. Augmented by the wisdom of healing via plant and stone taught to Asclepius by his tutor Chiron (the "Wounded Healer"), and the Serpent's intimate understanding of transmutation and toxicity, the basis for the Divine Physician's power is laid bare on the table of operation.
(Altar) table of (ritual) operation, as it were.
Asclepius' relationship with the Sun goes beyond his genesis, as the writeup for Asclepius II reveals, for the Divine Physician achieved such mastery over the health and healing of mankind that he came to wield the power of resurrection, enabling humanity to overcome death itself. This, creating an untenable excess of Hadean vacancies and disturbing the Divine Order (for what separates Humans from Gods, if not immortality?) caused him to be excommunicated from the Earth, yeeted by Zeus to his final resting place among the Stars, taking the constellational form of the Serpent Bearer. Or as we say today, Ophiuchus — falsely/ popularly known as the "13th sign".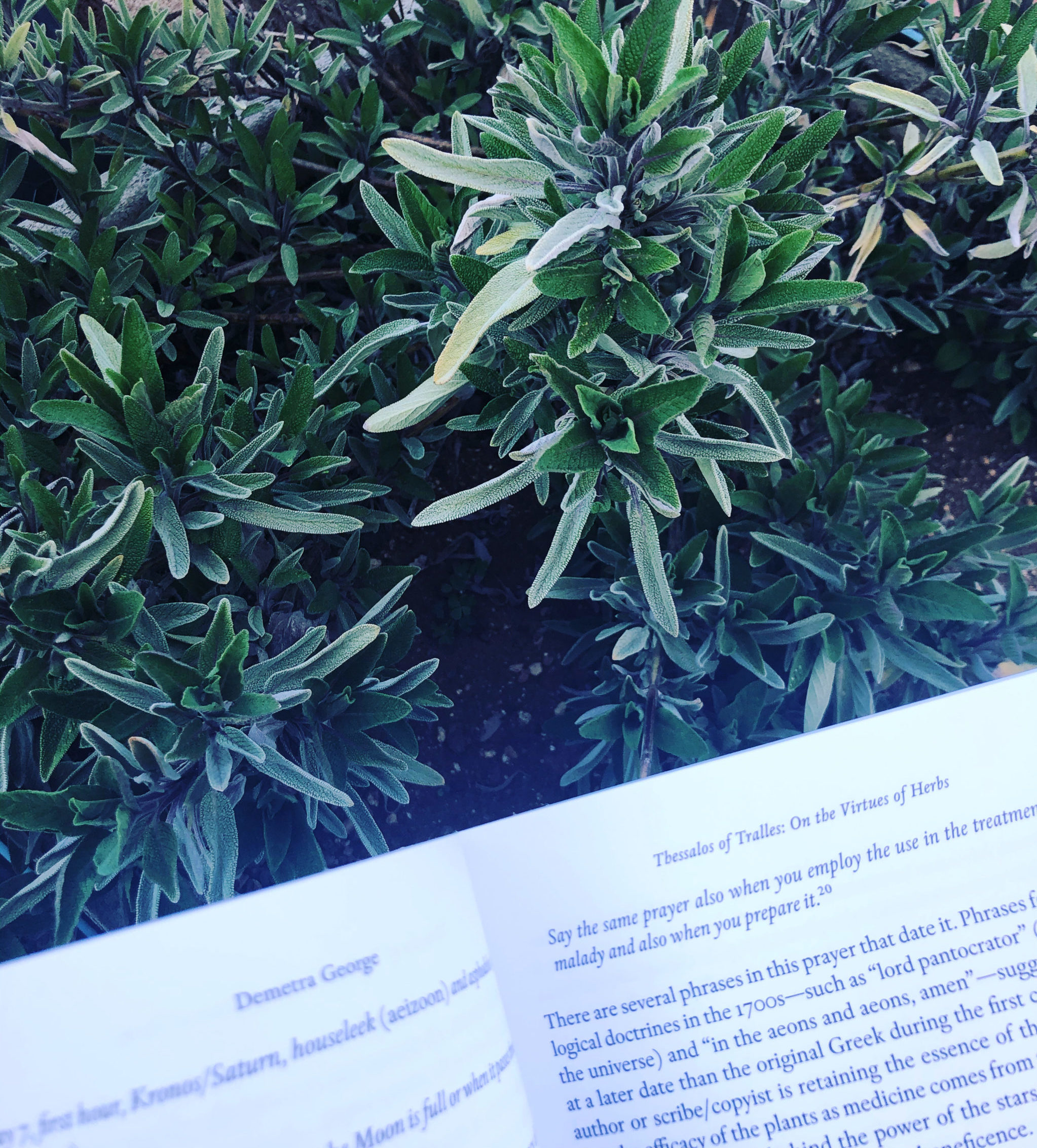 It is through this stellar vector that the medicine of Asclepius can be dispensed to mankind, relying principally on the brightest star in his constellation at 22° Sagittarius. This astro-magical innovation, inspired by the work of Bernadette Brady, was introduced for the first time in the modern day by Austin Coppock in "A Feast of Starlight" — the opening contribution to an anthology he co-edited with Daniel Schulke, The Celestial Art. This connection was more widely circulated and popularized by the production of the first and subsequent flagship Asclepius series from Sphere + Sundry, and was quickly assimilated into the wider field, as though stemming from established canon and the Books of Olde.
Synchronistically, Asclepius also features in Demetra George's offering to the same publication, "Thessalos of Tralles: On the Virtues of Herbs", making him a distinct Spirit-Patron of The Celestial Art itself. And as an aside, George's translation of the Harvesting Prayer of Thessalos (page 94), in combination with astrological timing, is employed in the ritual harvest of herbs for this and all series produced by Sphere + Sundry.
Given the undeniable strength and support of the Sun featured by this election in particular, Asclepius III offered a unique opportunity to highlight healing components of a Solary nature, such as calendula, St. John's wort, goldenseal, yellowdock, 24k gold, and more, resulting in the Son of Apollo sub-set of offerings. The bulk of this writeup explores their subtle differences, which must be delineated to empower each client to select which Asclepius items are best suited to their unique ailments and/ or constitution (especially when choosing between oils, incenses, and powders).
Son of Apollo vs. Asclepius the Third (III)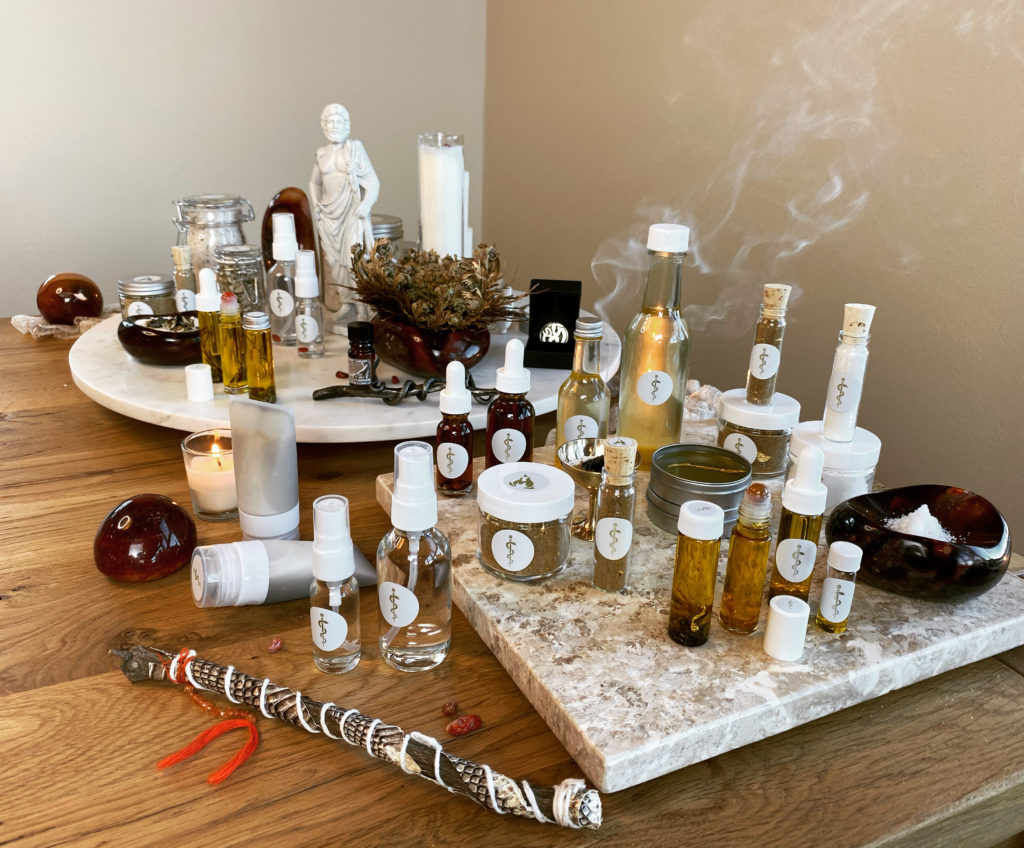 To the shock of no dweller at the intersection of astrology and myth, Son of Apollo items possess the warmest and brightest qualities of any Asclepius series to date.
Keep in mind that does not make them hot. The original Asclepius formulation was pretty cooling, so interpret "warmth" on the sliding Asclepius scale upon which it is intended. Son of Apollo items provide moderate warming and yang activation, but as far as the existing catalogue, are still far more temperate than, for example — Golden Sol, Luminous Crown, Mars in Scorpio, Jupiter in Sagittarius, Jupiter's Lightning Rod, and St. Expedite.
If one were to liken SOA to a Golden Sol lite in some sense, they would not be wrong, but as previously discussed, Asclepius lends additional support to the process of transformation and healing than Sol alone, making it perhaps a better fit in cases where application of Solar materia triggers an excess of pain or sadness. Those things are still likely to manifest, but Asclepius can aid in moving through it and metabolizing those processes, leading to faster integration and progress. It does not possess the leadership or fame-promoting qualities of dedicated Sun material, but does aid in the process of Solar-powered healing and recovery. So(u)l retrieval, some may say.
In constitutional terms, SOA would be an excellent choice if a malady stems from a yang deficiency or is the result of excess cold or damp, as the Sun's nature is heating and drying. They are also phenomenal allies for "Light Work", the virtually unspoken of (in serious/ spoopy Occult circles) inverse of "Shadow Work", wherein excavations of one's inner light and its integration with the self and wider universe are of prime purpose. There are certainly things to be desired in regards to New Age and New Thought approaches, but they're not without their good tech for better living 😉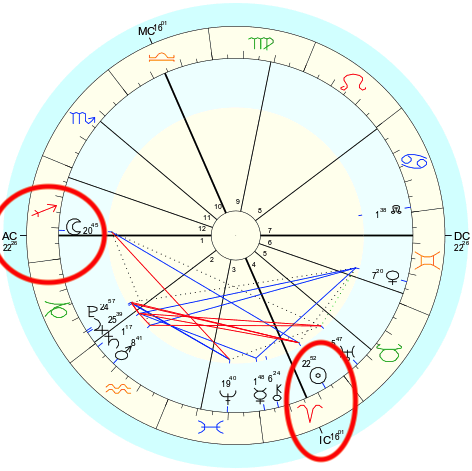 Son of Apollo items help to illuminate and elevate the healing process, and can be of special service to those suffering down and depressive states, or who find themselves in the process of overcoming internal limitations imposed on their own shine. Its activating qualities call to productive action and turn one's attention to the Golden Linings at the edge of any difficult scenario.
Given the Sun's position on the IC of the chart, it may also help with therapeutic explorations surrounding family of origin and deeper integration of formative experiences, enlightening the process of self and even ancestral discovery, especially of patriarchal lineages.
The phrase "Healing begins at Home" has echoed through dream-time following pre-bed application. Son of Apollo's impact on sleep is the most active of any Asclepius series, consciousness trailing closer to the surface, perhaps lending itself to interesting and active lucid dreaming experiences.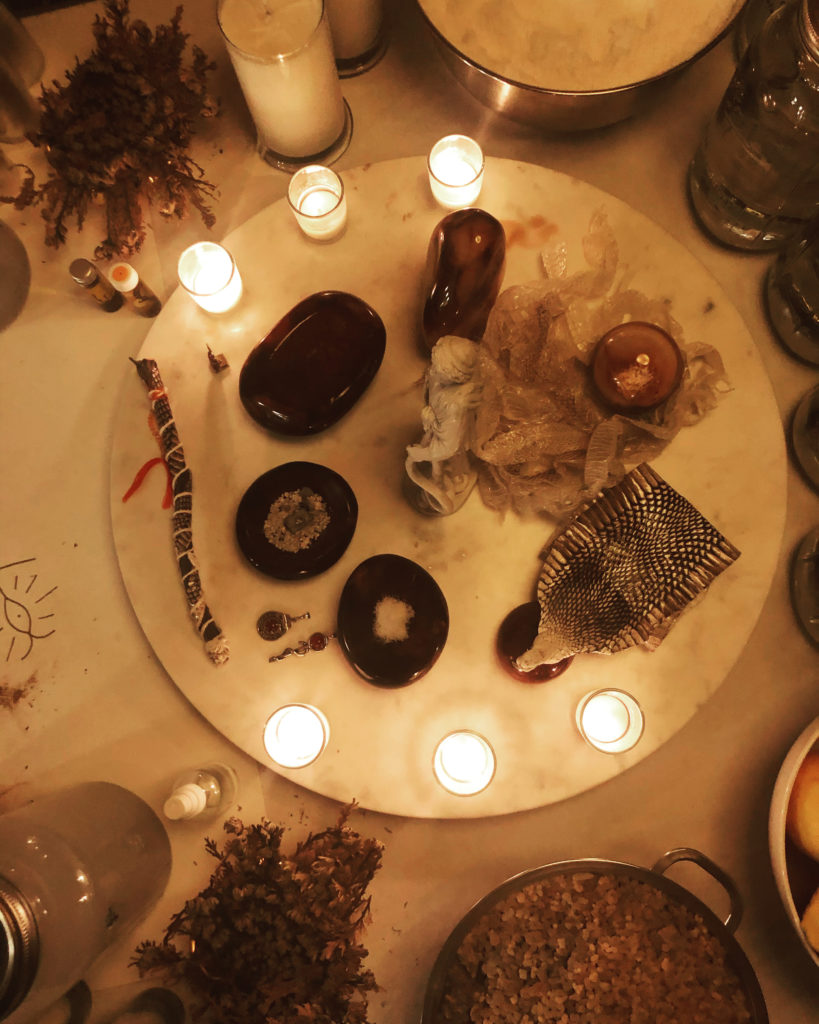 In natal terms, if the Sun rules the 1st, the sect light, or is in a special position to aid in matters of health for a given nativity, that can also be a nudge toward the Son of Apollo edition — or in the case of desiring something less yang, then the standard Asclepius III, which was created on the same Sun-heavy election, but in more moderated and purgative form by nature of its formulary.
Asclepius III items are re-ups of the classic recipes familiar and beloved by existing clients, including ritually harvested home-grown white sage native to Southern Oregon, Rose of Jericho, cypress, rosemary, frankincense, and water freshly drawn from the headwaters of Mt. Shasta. It is excellent for energetic cleansing and routine application for nearly all that ails, as is the second edition. It also includes a wider array of items to choose from.
vs. Asclepius II
Typically when debuting a new edition of a prior series, any items remaining from the past iteration are offered at a reduced price so long as they remain. That will not be the case in regards to Asclepius II, because its election featured Jupiter tightly conjunct the Divine Physician's star, a harvest possible about every 12 years (at most), other chart factors permitting. It was a special and rare moment, and is likely the best Asclepius choice for those whose health significations are tied to Jupiter in the natal, or who want the most gentle version of Asclepius available. The spoonful of sugar that makes the medicine go down.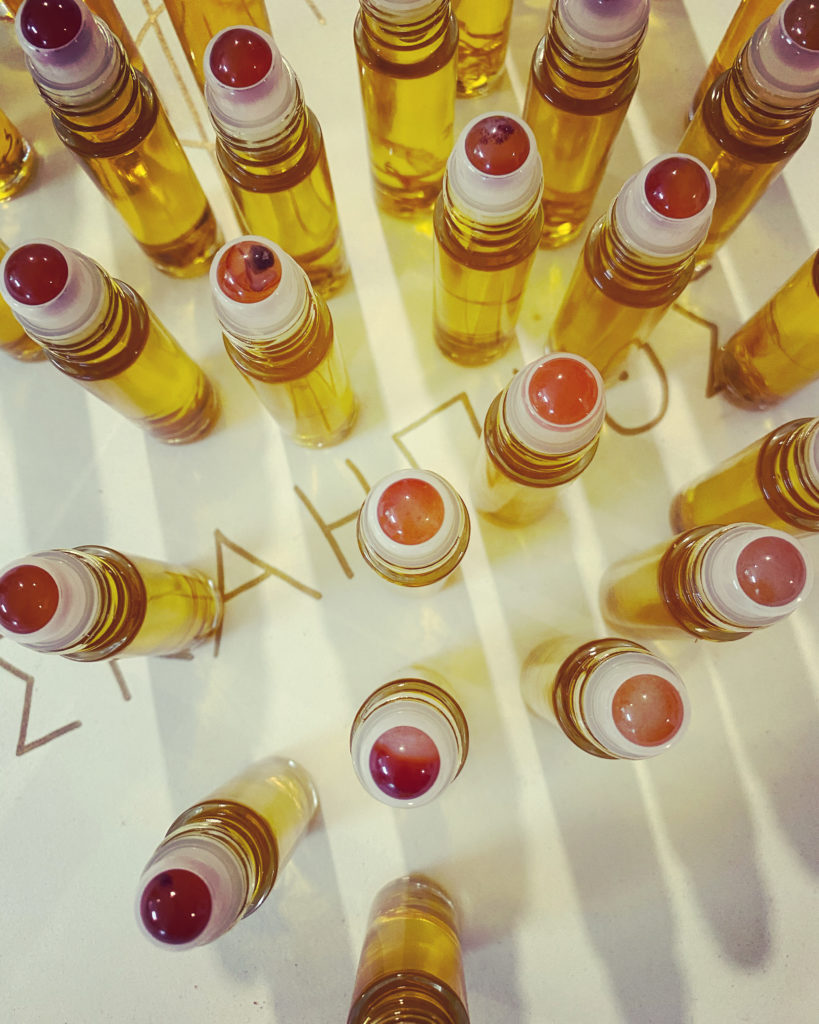 vs. Asclepius I
Although the first Asclepius series has been sold out for some time, it bears mention because clients who still have it in their arsenal or possess familiarity with its effects may be curious to explore how it compares to the others. Maiden Asclepius was the most purgative and energetically antiseptic of them all, resulting in the most intense reports of healing crises. The presence of Jupiter and the Sun in subsequent iterations provide more of an energetic buffer against the chaffing of the process inherent to healing, purgation, transformation, and recovery.
Some people (myself included) preferred that to the subtler Jupiter-influence of Asclepius II, because it enabled more direct engagement with the process, essentially mandating participation in one's healing journey.
They all work, just slightly differently.
Allow the following comparison table to serve as a quick-reference guide…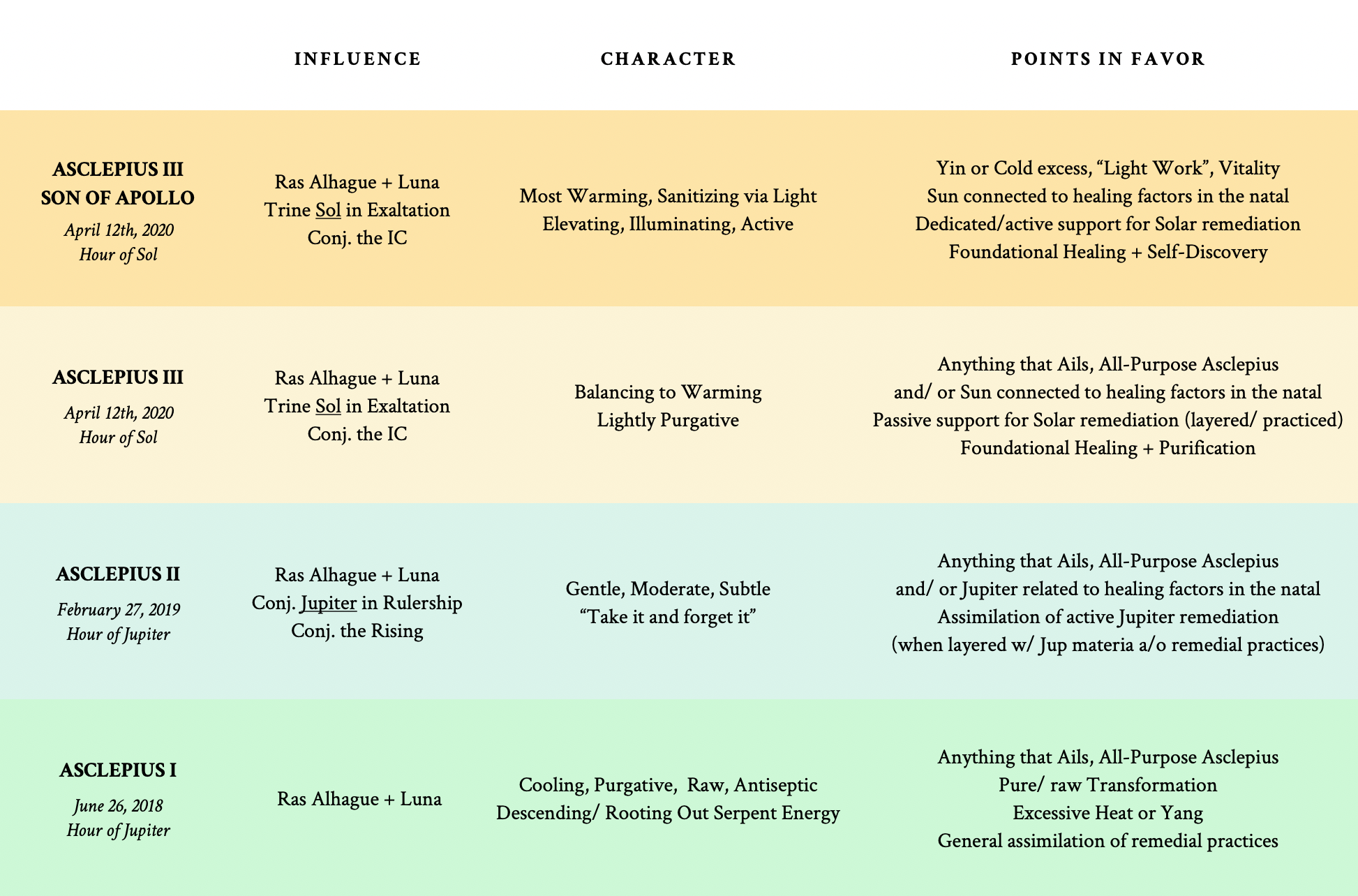 If all this is too advanced, go with your gut, and when in doubt, divine!
Thanks and praise to our returning collaborators for bringing the Asclepius band back together —
Austin Coppock for our election, Tony Mack for our largest run of talismans ever, Elizabeth Barrial of
Black Phoenix and Twilight Alchemy Lab(s) for an exquisitely Joyful talismanic perfume, and Cody Dickerson of Borealis Ironworks for resurrecting the Snake-Bound Rods he designed for our first collab. Special acknowledgments to Samantha of Haute Macabre for the stunning carnelian pieces featured on the main Asclepius altar. Nathan Briggs, best web dev ever. Gratitude to Jason, West, Evan, Becca, and Tina.
Each order comes with basic instructions for use, suggested timing for application, and a prayer. It also includes an invitation to the private client forum, now moved off of social media to a dedicated platform.
As a fun additional resource, check out T. Susan Chang reciting Asclepius' Orphic Hymn in the ancient Greek — thank you, Susie!
May the Divine Physician safeguard the health of you and yours, especially in these times
of stress, plague, and pestilence.
**Note that any and all information regarding Asclepius and these items are of a religious and educational nature, and are never a substitute for qualified medical care or treatment. Always consult a (mortal) and licensed physician in regards to any health concern. Any and all application in regards to medical care is at the sole religious discretion + liability of the user.**
Asclepius III, Available, Talismanic Perfumes

A single talismanic perfume crafted by the one and only Mrs. Barrial of

Black Phoenix Alchemy Lab

and

Twilight Alchemy Lab

for Sphere + Sundry's Asclepius III election, following up on

Thy Vig'rous Force Inspires

and

Skill'd to Heal Mankind

from Asclepius II. Of Great Joy, she shares —

I begin to sing of Asclepius, son of Apollo and healer of sicknesses. In the Dotian plain fair Coronis, daughter of King Phlegyas, bare him, a great joy to men, a soother of cruel pangs.

And so hail to you, lord: in my song I make my prayer to thee!

This is an oil of healing and an oil for healers.

Great Joy to Mankind is dedicated to – and was crafted under the auspices of – Asclepius and was crafted to strengthen the body, soothe the mind, and calm emotional turmoil. It is an oil that fortifies health, augments health and healing protocols, and assists in fortifying and protecting healers, caregivers, and those in charge of shielding their households from harm.

We are all under a tremendous amount of stress, and an additional benefit of this oil is that it was crafted to help wash away the terrors and anxieties of living in the center of a pandemic's maelstrom. Regular use will help you find the inner peace necessary to face life's current challenges with strength, clarity, and grace.

Use this oil to honor Asclepius and in rituals of health and healing. Great Joy to Mankind can be utilized to lightly anoint protective equipment, health and protection amulets and talismans, to create wards and safe healing spaces, and to bless and protect the afflicted or vulnerable.

Please note: this oil is not a substitute for common sense safety precautions, and it is not a substitute for diligent mask-wearing, hand-washing, and social distancing. This is not a panacea, and we make no claims that this is a miracle cure for anything. Be sensible, be safe, do every mundane thing you can to protect yourself, your loved ones and your community, and may Asclepius the Deliverer protect us all from harm.

Organic sage leaf (Salvia officinalis) and white sage (Salvia apiana) from the TAL garden, clary sage essential oil (Salvia sclarea), western red cedar essential oil and leaf (Thuja plicata), Atlas cedarwood essential oil (Cedrus atlantica), cypress essential oil and leaf from the TAL garden (Cupressus sempervirens), frankincense tears (Boswellia sacra) and essential oil (Boswellia carteri), Rose of Jericho (Anastatica hierochuntica), angelica root and essential oil (Angelica archangelica), bay essential oil and leaves from the TAL garden (Laurus nobilis), calendula petals (Calendula officinalis) from the TAL garden, chamomile flowers (Matricaria recutita) and Moroccan chamomile (Ormenis mixta) and blue chamomile (Matricaria recutita) essential oil, saffron (Crocus sativus), rosemary essential oil and leaf from the TAL garden (Rosmarinus officinalis), white copal resin (Bursera jorullense), echinacea petals from the TAL garden (Echinacea angustifolia), organic ashwagandha root (Withania somnifera), lemon balm from the TAL garden (Melissa officinalis), amber oleum succini, and carnelian chips that were washed in frankincense hydrosol.

Arrives in an amber glass bottle for $45

$

45.00