The year Jupiter spent in Sagittarius, Sphere + Sundry was honored to have released two series in the Greater Benefic's name. The first was Jupiter's Lightning Rod, which expressed its fast, hot, and loose, "shoot from the hip" aspects, while the second was Jupiter's Bounty, a gentle and fruitful ode to intentional growth, wisdom, nurturing, service, and opulence.
Jupiter left the wide open prairies of his own rulership on December 2nd, entering the rocky mountain passes of Capricorn — its own personal hell as far as sign based dignity is concerned. For more on that, see Austin Coppock's excellent article: Of Dark Wings and Magic Rings.
Functionally, this development means Jupiter is out of high-grade talismanic commission for the next 1-2 years, so as a going away party, we scheduled one last astro-magical harvest for the mid-morning of October 23rd, 2019. This election saw our patron planet rising in Sagittarius during his own hour, the Moon providing a supportive trine from the Leo-end of a conjunction to Regulus, crowned and well renowned King of fixed stars. The chart can be found in the image gallery for each offering.
The "official" Jupiter in Sagittarius series results, a pure take on the planet and sign combination, without the frills of a themed overlay.
It carries the warmth, speed, and single pointed determination captured by Lightning Rod, but without actual lightning charged components throughout, it's much easier on the nervous system, and far more appropriate for frequent application. Many of the scent profiles are similar — heavy on cinnamon, spice, and winter warmers. And lo, Jup-Juice returns!
Jupiter in Sagittarius also carries a positive stability reminiscent of Jupiter's Bounty, but with more generalized purpose and faster orientation.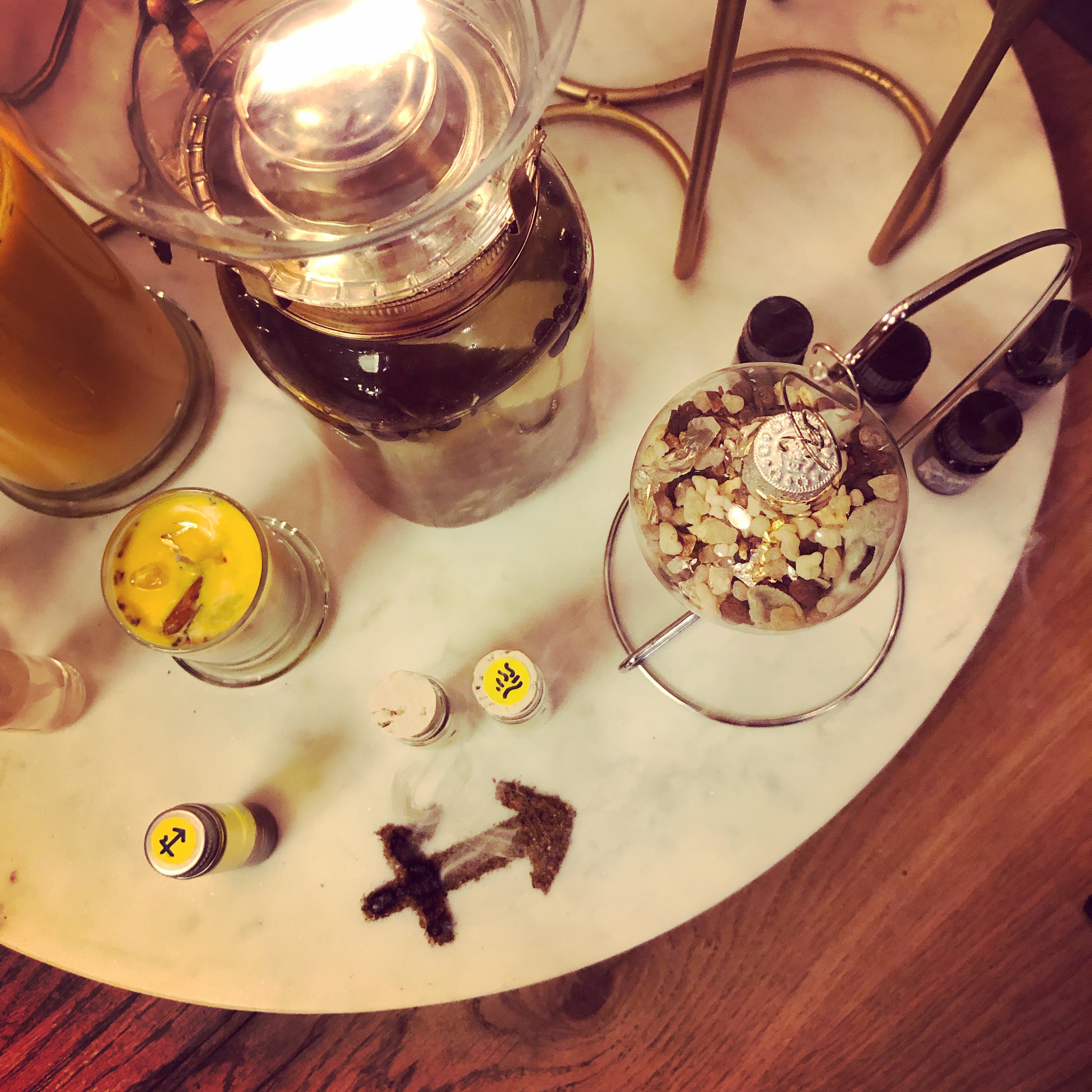 The third element is the striking clarity and brightness Regulus brings to bear as a supporting background influence. Light, literally and figuratively, makes things easier to navigate, illuminating the terrain before and behind our course. There's a subtle, yet sanitizing, clarifying aspect to the charge, banishing melancholy and cutting through undesirable emotional and worldly interference like a hot knife through butter, or, more aptly, a blazing arrow in an ink-black sky.
It has a penetrating quality, injecting positive Jupiterian rays into the core of a matter, overlooking whatever stands in the way between self-improvement, optimism, good humor, and wisdom, bypassing that which does not serve. There's a purity and nobility to it, the gentle, persistent hum of a higher, brighter purpose… the knowing that better things are possible, and will come. That through management of our own states and practices, we can help usher that reality into being.
Jupiter at its best is great for increasing visionary capacity and gaining a wider perspective, lowering anxiety and ambient bad feelings. It helps support in goal setting, Jupiter remediation, cancelling the bad and emphasizing the good, improving one's mood and mindset, and serves as a strong ally for self-improvement.
It's the matchbook, thermal blanket, water, and glucose packet good luck (or better yet, good planning!) placed in our journeying knapsack, the one we'll thank the Gods for should we ever find ourselves going through hell (and need to keep going). Some aspects of 2020 and beyond are probably going to feel like that, full disclosure. Half the battle is keeping the faith (Jupiter keyword).
Jupiter can be a productive adjunct to work by improving the quality of one's ideas, attitudes, and ability to produce as an individual or in a group setting, but can also lack interest in meaningless toil (how a benefic do). It's perfect for brain storming, reading, and enjoying oneself and one's surroundings, boosting good cheer and greasing many of life's wheels. It brings good fortune and better luck than one might have otherwise encountered, and is also good for helping to uplift and stabilize finances and other external circumstances.
Jupiter in Sagittarius, of all three Jupiter series, is the best go-to for a balanced, all-purpose Jupiter. It can be worn regularly, used during weekly Jupiterday ritual observations, and as a component in non-planetary spellwork or magical endeavor. It's best for boosting morale and taking tangible action, though if you're looking for a gentler, sweeter, and softer, more indulgent take, Jupiter's Bounty may be the more desirable fit, as the series you're reading about now has a bit more kick-ass and drive to it.
Jupiter Magic While Jupiter is in Capricorn
Note that in real-time, much of Jupiter's transiting beneficence is busy negating negatives in its Fall of Capricorn, rather than providing bountiful opportunities for real-time expansion.
Benefics struggle in signs that aren't conducive to their ability to do their jobs well, and much of their energy gets mired down in running interference and doing damage control, rather than providing an excess of the joviality or joy they're typically renowned for.
From an astro magic and talismanic perspective, Jupiter in Capricorn isn't the time to be performing big Jupiter magic or creating  new magical items in devotion to Jupiter. That's the gift and curse of astrological magic — the point is to harvest when the harvest is good, in hopes of preserving qualities at the peak of their desirability.
It's far better to employ talismanic materia almost passively, letting the stored charge work its magic, than to ask Jupiter for fresh aid while under transiting duress. Each bottle of talismanic materia is a battery full of Jupiter in Sagittarius' positive, capable energy, infinitely more precious now that well functioning, high quality Jupiter isn't copiously floating about the aether at virtually every turn.
Jupiter in Capricorn will benefit Capricorn significations in the natal chart, because the Greater Benefic is now officially helping to cut the severity and heaviness of Saturn and Pluto in an already dark and heavy sign.
Working with Jupiterian talismans and talismanic materia will benefit those topics even more, and also provide a magical anchor to better, more Jupiterian times, lifting the heart and mind from the trenches of 2020 and beyond, giving a sense of hope, optimism, and faith that all will be well, and all is in service to our shared journey through transitional times.
We thank Elizabeth Barrial of Twilight Alchemy Lab and Black Phoenix Alchemy Lab, who generously formulated ♃ distinct limited edition talismanic perfumes for the occasion, per her equivalent election.
Gratitude to Austin Coppock, Sphere + Sundry's super-resident astrologer, for choosing our times of working.
Each order comes with basic instructions for use and suggested times of application. It also includes an invitation to the private client forum (now off of social media) for support from creator and (fun, vibrant, supportive!) community.
Anointing Oils, Jupiter in Sagittarius, Sold Out

Note that Jupiter in Sagittarius II Oil is now available!

---

A blend of 100% organic Jupiter ruled herbs, warming and quickening spices, and essential oils with 24k gold and frankincense, ritually combined and suffumigated in dedication to Jupiter after issuing the full call from

The Picatrix

on a grade-A Jupiter in Sagittarius election, featuring the Moon conjunct the Leo-end of

Regulus

, crowned King of the fixed stars. Equal parts organic sunflower and almond oil with a natural antioxidant to preserve. Anoint the self to draw good fortune and banish limiting melancholic beliefs, expanding visionary and creative capacity. Use during Jupiter's days and hours as a form of ritual observation and to boost the beneficence of Jupiter transits. Use to feed Jupiterian talismans and implements. Invokes a lightness and brightness of being, fortifying spiritual reserves and cutting through that which no longer serves. Promotes wisdom, warmth, and good naturedness. Arrives in your choice of standard 1/2 oz glass vial for $72 (with an optional Dropper Cap Kit), or 10 ml roll-on w/ yellow jade rollerball for $58

This essential oil blend contains a small amount of cinnamon bark which may be warm on the skin. Highly sensitive individuals should patch test before broader application. Wipe away with kitchen oil on a paper towel rather than water if necessary.

$

26.00 –

$

72.00