On the cusp of August 23rd and 24th 2019, the Moon conjunct the Royal fixed star Aldebaran opposite Jupiter, this series was ritually created during the Greater Benefic's hour. Offerings of rich strawberry topped cheesecake, roasted meats, freshly baked breads and cheeses were offered alongside four goblets of blood red wine, smoke, light and flame, and an incredible array of tremendously potent materia magica results, paid forward here and now as an offering to you — dear reader, blessed human spirit! I pray they serve you and your interests well.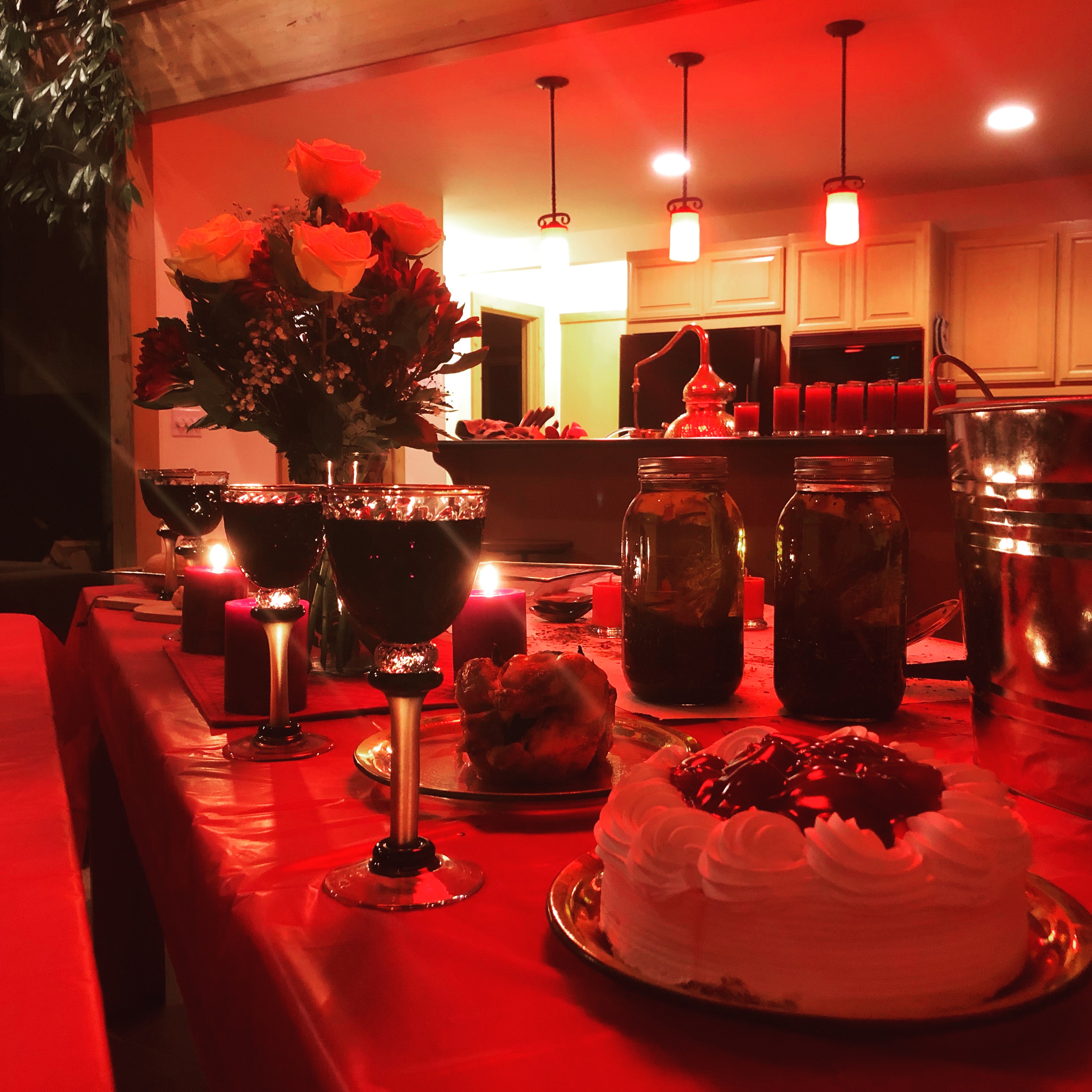 Aldebaran marks the red eye of the bull in the constellation of Taurus, though due to the natural course of precession it now resides at around 9° of tropical Gemini. We'll be looking at this potent star's associations through the lens of Vedic astrology and Western esotericism before talking cautionary aspects, and finally, its nature and pay load of benefits…
In Vedic terms, this star is synonymous with the *most* auspicious nakshatra – beautiful, charismatic Rohini. The Moon (Chandra) is regarded as male, and his daily passing through each Lunar Mansion throughout the course of his monthly revolution was seen as a conjugal visit with one of his 27 (or 28!) star-wives, the fertile patch of Rohini being his most favored. Such is a representation of the Moon's exaltation in Taurus, where it enjoys stability, creature comforts, and ample resource.
Rohini and Aldebaran are also related to Lord Brahma, the self-born God responsible for the advent of not only speech, but all of creation.
In Western cosmology, Aldebaran is seen as the watcher of the East, the horizon-gate through which the Sun rises each morning, ushering the day itself into being. The star is commonly associated with the Archangel Michael, although it bears mention that other sources point to another of the four royal stars, Regulus. Considering this election hosted the Moon on Aldebaran as Sol conjoined the Lion's Heart simultaneously, this seemed like a fortuitous opportunity to create oils in devotion to the dragon-slaying Saint, which our lovely collaborator Elizabeth so generously contributed.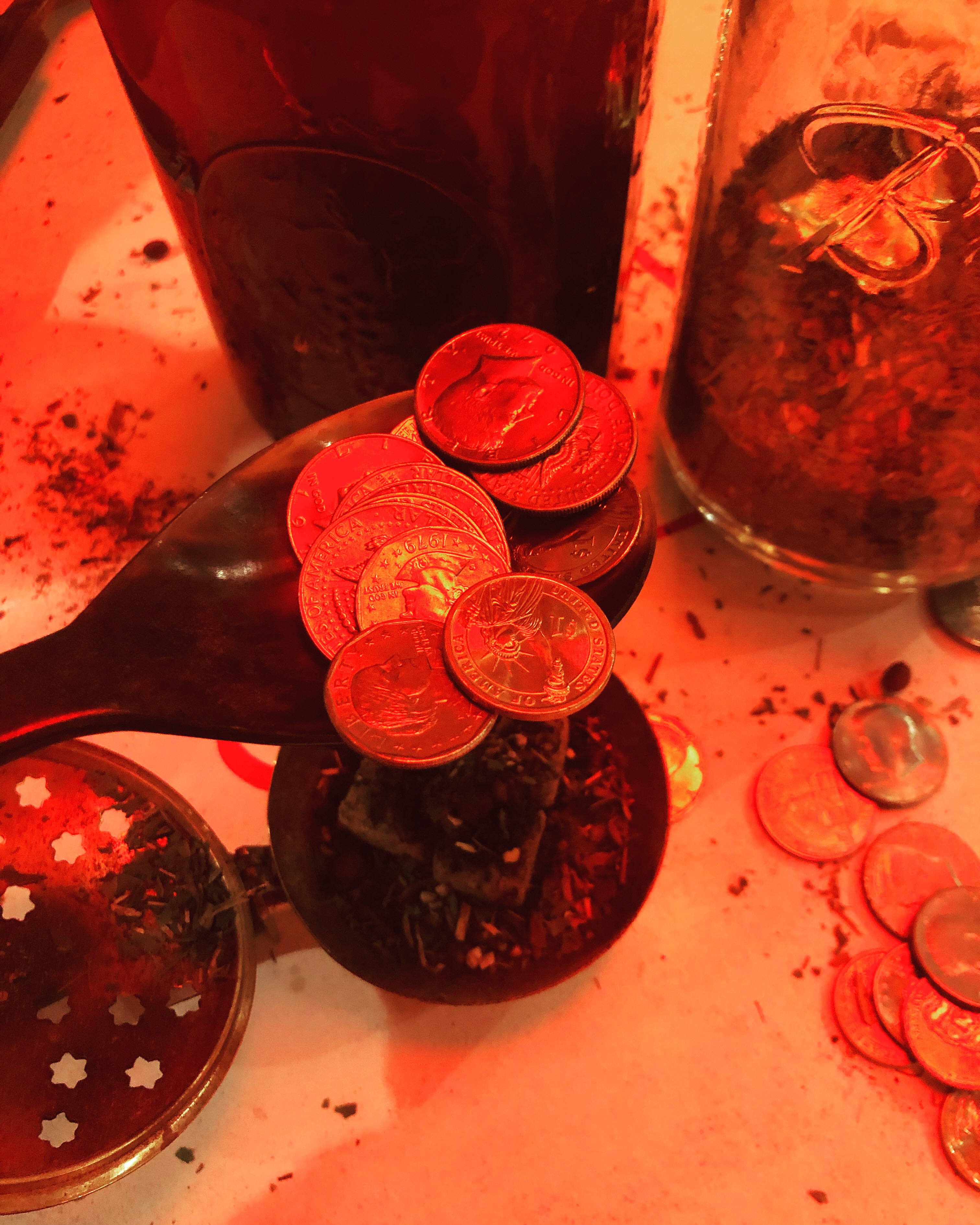 This red star is one of the brightest the sky has to offer, and has a tremendously benefic impact on the individual who puts it to work for their own benefit, but Aldebaran is also famed for its "bullish" nature and inclined to temper tantrums. Often the anger expressed here is righteous, related to feelings of under appreciation and valuation by those around them, or simply not getting what one feels entitled to.
The Bull's constellation is possessive and, for better or worse, wants what it wants. Somewhat similarly to Venus in Taurus, Aldebaran gives us permission to lay claim to our desires, the difference being that it also provides the back bone and steel will to get us there, as the star possesses a nature related to not only the Fairer Benefic, but also Mars. That won't always provide an altogether pleasant experience for those around us who may be bullied into submission or cast to the wayside by the execution of our will, so keep an eye on that. The possession of power is always best coupled with a sincere attempt to not be an asshole.
As being a card carrying member of the exclusive Royal fixed star club — which is comprised of exactly 4 in a sky that hosts 9,092 others — would indicate, Aldebaran is strongly related to Sovereignty and Kingship; and, as whoever they are say, "heavy is the head". It takes an incredibly strong ego-vessel — to say nothing of tremendous audacity! — to envision and then create a world of one's own. Then one has the job of holding an entire realm together, as those who want what is ours cast envious eyes and plot against the Crown's interests. O, the drama!
This dynamic is reflected in the Vedic lore surrounding Rohini, who, as the Moon's preferred wife would, angered the others with the privilege of her favor and supremacy. They wanted more of Chandra's time and sincerest devotion, and the rich benefits those came with, as their own, and so they turned to another great power with their complaints. The Moon was cursed with waning as a result, but was later partially released from that terrible fate by Lord Shiva.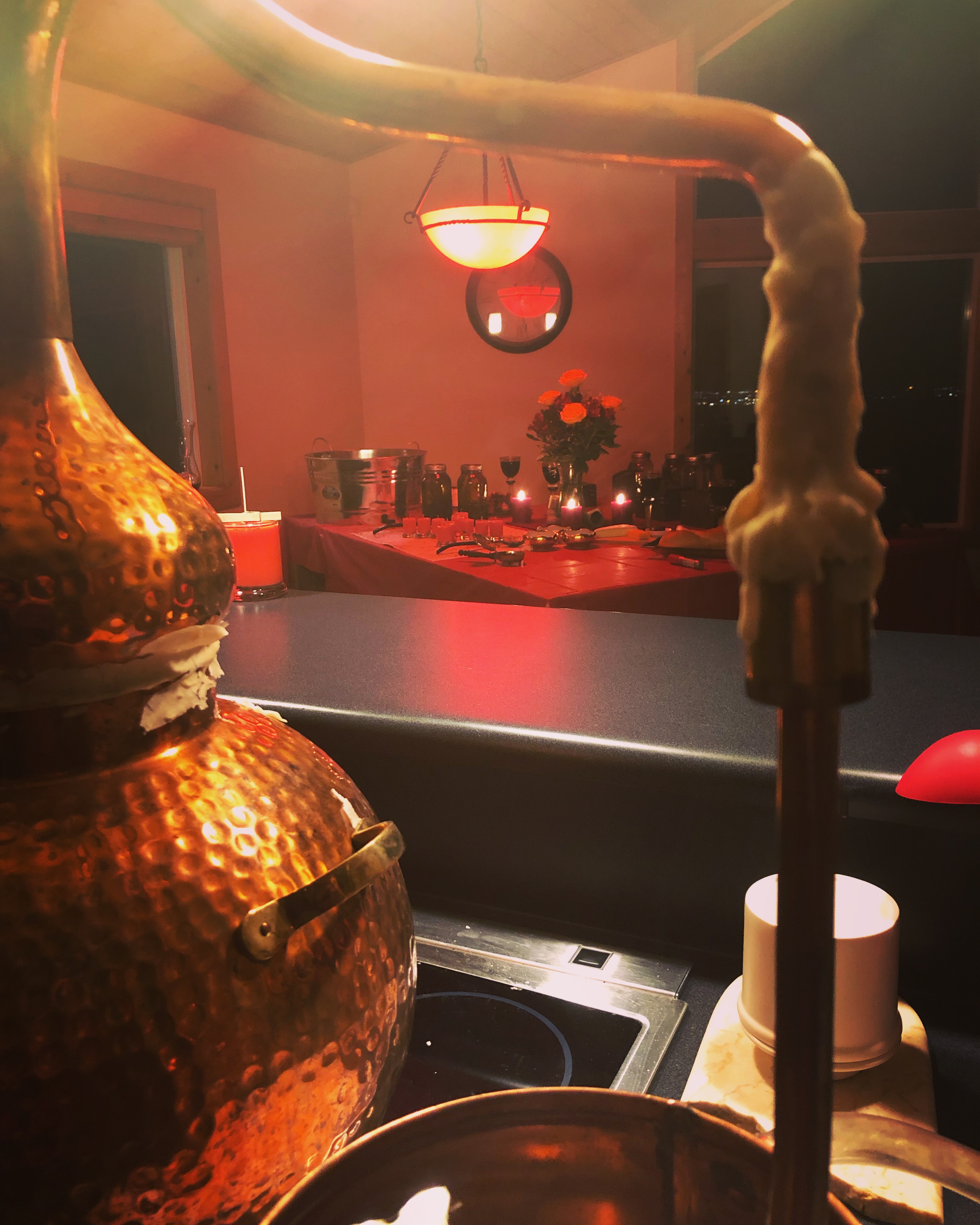 Point being, having more than others inspires envy, and Aldebaran definitely wants more. This star is all about command of resources, productive mines and pastures, and indulging in all the earthly delights and bounties the material world has to offer.
In the narrator's experience performing the operation and beta testing the materia since, Aldebaran doesn't seem to care about luxury for the sake of luxury, but what it represents. It cares more for quantity than quality, but quality follows as a natural consequence of our culture valuing certain things more highly than others, and it wants those too. Aldebaran is but a simple star with simple needs: the coffers, the grain stores, and the goblets must be overflowing, and the issue with finery is that it possesses little mass compared to baser goods.
Matters not, Aldebaran takes all.
The star brings riches, resources, and the luck and favor of the Gods — a powerhouse, pure and simple. It helps one hone in on what they want to create and supports in the execution of their vision, providing strength and drive. It then aids in the engineering of systems for maintenance of one's Kingdom. The intense energy that can flare up through Aldebaran is best channeled through creative and world-building endeavors. It's not a power to use wantonly or undirected, but with bull's eye precision backed by good old fashioned effort.
Use items from this series when you need to steel yourself against conflict and increase your ability to haul burdens over the finish line, but know that its influence will make you unlikely to back down, so be sure to plot your course ahead of time, and bring balance to bear as best you can. This isn't one for spamming, but targeted, deliberate application, perhaps modified by other magical influences…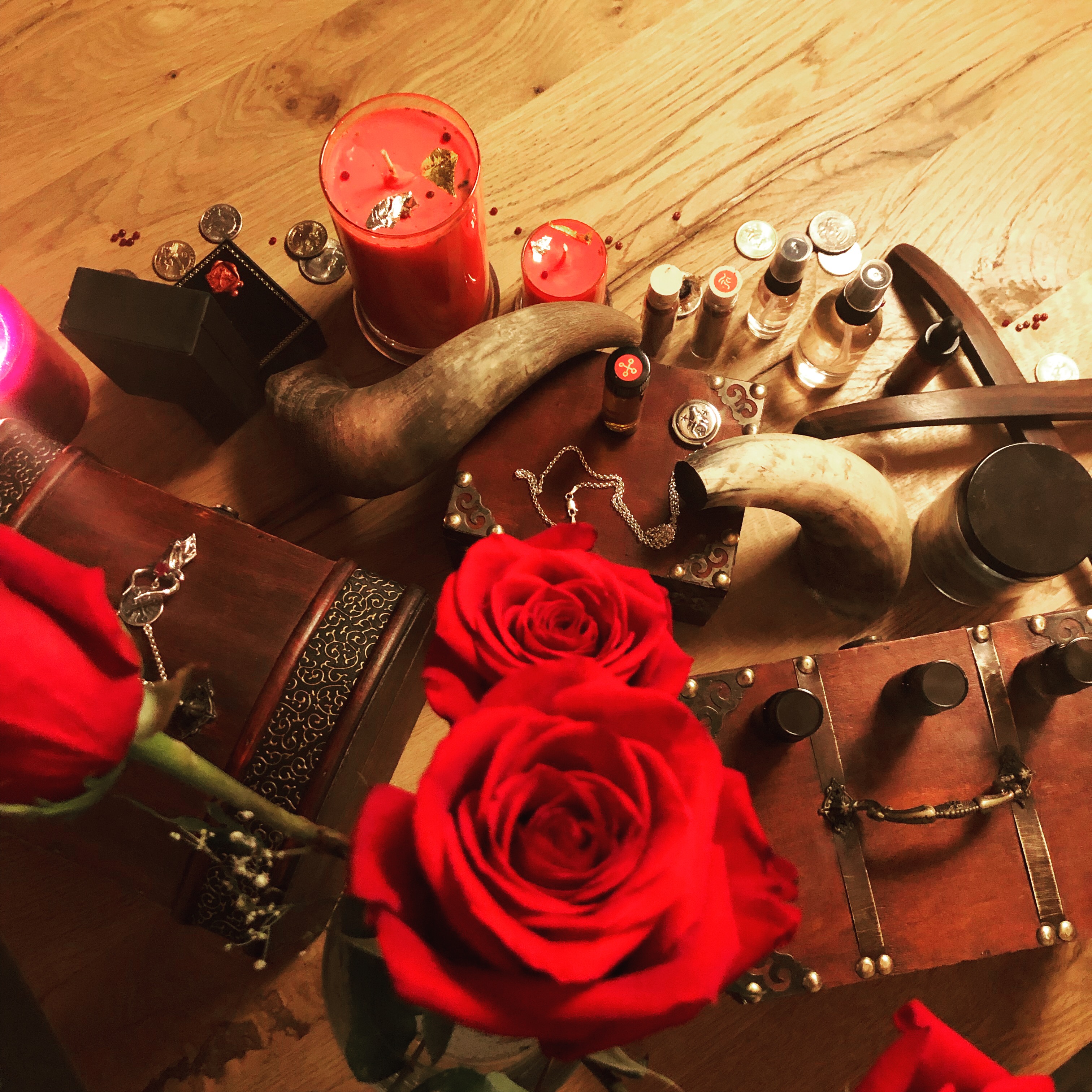 In terms of coupling with other series, Jupiter's Bounty can help guide one's course with wisdom and goodness. Wholesome Jupiter and harmonizing Venus help mellow the intensity of Aldebaran, like slipping a velvet glove over a blunt hoof. Sol helps ensure we're acting from a place of authenticity rather than insecurity and illuminating the outer world with our inner light, in addition to seeing things more clearly, which aids in the process of creation. St. Expedite can be applied to help speed up slow material processes and overcome the obstinance Aldebaran sometimes gets mired down in. Asclepius to help clarify and cut bulk, energetically and otherwise. Deneb Algedi and Algol can be employed for evil eye diversion and the management of competition.
This star brings charm and gravitas, pairing feminine and masculine aspects without neutering or de-gendering either. It's oozes appeal, luxuriates in its self and belongings and inspires jealousy in ways we'd typically associate with glamorous women of old Hollywood, but it's also capable and commanding and hard working and handsome in ways we'd find in an unsophisticated, grade-A cowboy. Think the Bull Fighter, red rose in hand.
Scent profiles and ingredients for this series feature an organic and earthy combination of classical associations, such as milk thistle and ruby, alongside proprietary herbal components to support materialization, fortitude, charisma, and personal force — dragon's blood, frankincense and myrrh, gold (if they're good enough for Jesus!), silver, and copper, pure rose absolute and rich buttery notes. As is the Sphere + Sundry way, all was bottled during days and hours allied to Jupiter with hand drawn gold and red labels in glass, never plastic.
Fitting for a series centered on Rohini, we welcome back favored and long-term collaborators Elizabeth Barrial of Black Phoenix Alchemy Lab and Twilight Alchemy Lab, who formulated three talismanic perfume blends, two being for Archangel Michael, and goldsmith Tony Mack, who created exceedingly handsome talismans in standard and ornate form. We also thank Rohini-Moon native Austin Coppock for selecting our election and times of working.
Each order comes with basic instructions for use and a prayer, in addition to an invitation to join the private Sphere + Sundry client forum for support from both creator and an incredibly supportive, vibrant, intelligent, fun community <3
Aldebaran I, Anointing Oils, Available

Organic almond oil, ritually imbued with milk thistle, ruby, and bull horn during an Aldebaran election heavily supported by Jupiter in Sagittarius. Other ingredients include proprietary herbal components to support materialization, money drawing, fortitude, strength, magnetism, and personal force, including frankincense, myrrh, genuine gold and silver leaf, rose absolute, and dragon's blood. Anoint yourself to reinforce strength, will, and drive. Promotes some degree of entitlement along with charisma and ownership over what one desires, which renders the world more likely to provide it. Commanding of respect, won't shy from conflict. Helpful for combatting door-mat tendencies and helping to discover and execute what one envisions. Provides focus, consistency, and determination. Aldebaran energies are best directed into creative and world-building pursuits. Use for money magic and to help make manifest your will in the world. Encourages embodiment, entitlement, intensity, and personal force, tools all necessary for supporting the ego-vessel in acquisition and achievement. For the sake of the innocents, please use responsibly. The possession of power is always best coupled with a sincere attempt to not be an asshole. Each 1/2 oz glass vial includes a piece of carbuncle and three milk thistle seeds, offered for $72, or a hyper limited edition 10ml roller with custom cast 24k gold plate rollerball for $108.

$

72.00 –

$

108.00