Available, Luna in Cancer, Sprays + Hydrosols, Waters

Chamomile, Lunar herbs, and 9 pearls each, distilled in copper alembics with freshly harvested Mt. Shasta water from the Moon's hour on the Moon's day earlier in the working week. Consecrated with colloidal silver upon

Luna in Cancer's

altar and left to incubate, tucked into a bed of Her consecrated herbs, for many moons since. Mist the body for Lunar attunements; to activate extra-sensory perreception before scrying, channeling, mediumship, spirit communication, and lucid dreaming; before engagement with therapeutic processes and/ or quality time and snuggle sessions with pets, kids, and loved ones. A wonderful addition to "comfort" activities, such as watching your favorite movies or the

Great British Baking Show

, playing

Stardew Valley

or board games with fambly — whatever your

personal

wholesome equivalents may be! Eating the best nostalgia foods, and maximizing down time. Creates an area of influence which invites personal (

but

not

explicitly sexual..

) intimacy, stoking the instinct to seek creature comforts and meet the simplest, most basic of needs. Adds auric gravitas. This spray (and all other items from this series) can be used to prime the vessel before layering with other materia magica, or wearing talismans and amulets, to maximize and potentiate their influence. The energies serve as a foundation which aid whatever else you apply it

with to penetrate the lived experience

and

more quickly manifest

. The same is true of ritual space, altars, and bed linens, which can be sprayed for like-purpose. Over time, the Moon's Holy Water helps create healthier, more purified attachments, balanced energy levels, and clarifies the emotional sphere, but it can activate pre-existing issues surrounding these and other Lunar topics before getting there.

If application of Luna in Cancer results in too much sensitivity, mental unrest, or emotional upset, please combine it with materia or talismans that best suit your needs — to address symptoms, provide protection, and help guide the process.

Read the

series write-up

to ensure you're well equipped to handle the unique power + potency Moon Moon provides... Comes in a glass spray bottle with keepsake pearl, offered in your choice of 1/2 oz travel/ sample size for $27, or full 2 oz for $53.

$

27.00 –

$

53.00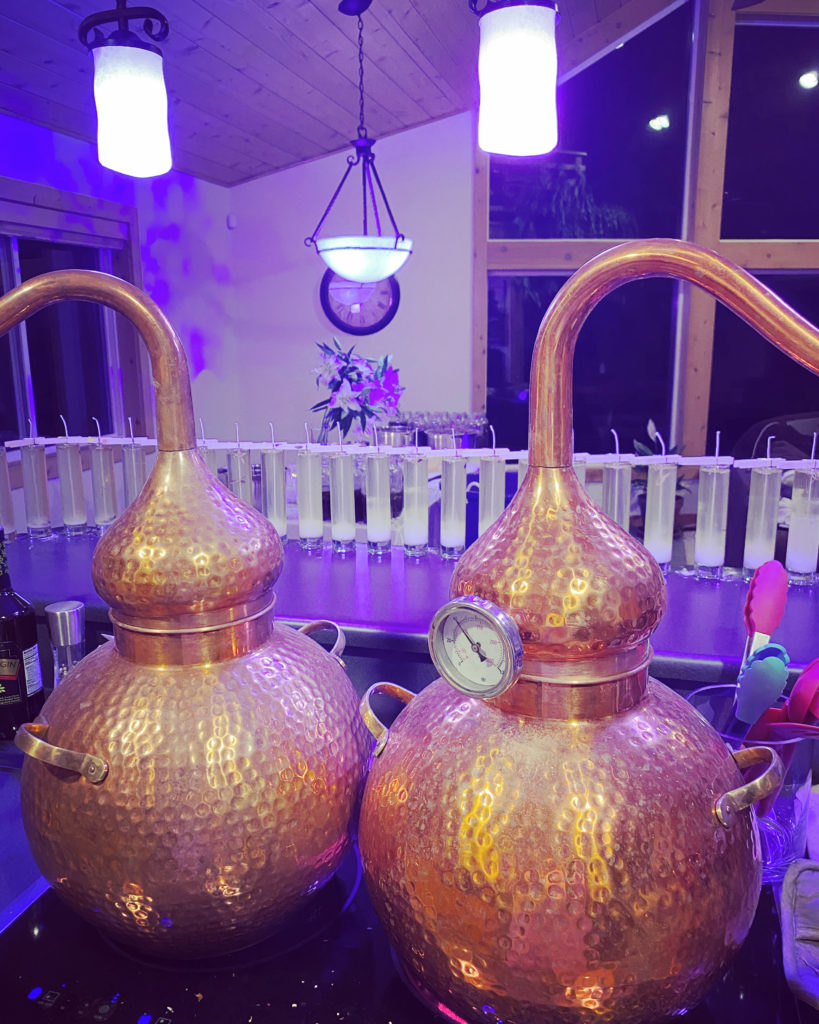 Sphere + Sundry's waters are  hydrosols created using water freshly collected from Mt. Shasta (the headwaters of the Sacramento river), local stream sources, freshly drawn from a specific wells, or the rain from lightning and thunderstorms, depending on the nature of the Work at hand. They often include other ingredients sympathetic to the nature of the operation, such as colloidal gold, silver, or copper, genuine metal leaf, sterilized gemstones, essential oils, extracts, essences.
These are distilled via copper alembic during times of significant astrological potency and placed upon the working altar, sealed in sanitized glass bottles marked with the appropriate glyphs, names, and words of power, and left to cure for a full lunar cycle (at minimum) alongside the other items in their series. A small amount of grain alcohol is used as a preservative, to extend shelf life. When mixed and decanted into smaller vessels, proper protocols regarding planetary days, hours, and sanitation are, of course, followed.
Sprays can be used to set the tone in a space for a ritual working or a social interaction. They can also be applied as anointing washes to empower the body or objects.
Be especially careful with sprays that contain warnings regarding surface damage or spicy/ hot ingredients due to contact sensitivity. Always patch test before more thorough application. If you need to remove residue for any reason, use any oil (coconut, olive, etc.) applied to a paper towel to wipe it away. Essential oils are not water soluble, so washing them with water in a traditional sense will not be as effective.
Note that these are not intended for casual wanton use, or for the mundane purpose of scenting a room, linens, etc. These are highly potentiated, specific formulas for intentional use and magical application. Under such circumstances, a small amount should last a good amount of time and provide for many treatments. Keep covered and in a dark place when not in use, preferably on an altar or other dedicated space.