Anointing Oils, Available, Saturn in Capricorn

A mélange of stone root, comfrey root, thyme, hemp seed, elder berries, black eyed peas, pu'erh tea, onyx, and various roots, stones, beans, and bones of a Saturnian nature, combined, and ritually fumigated with prayers for the Greater Malefic's blessing, tempered in the election by Jupiter's co-presence in Capricorn. Immersed in long-lasting, rancidity resistant 100% pure meadowfoam, alongside fossilized dinosaur bone. A grounded and true-to-form take on Saturn, which serves as the cornerstone for the series entire. While other sub-sets of Oils, Incenses, and Powders incorporate additional ingredients, including carriers of various nature, animalia, and precious metals to achieve more specialized aims, Saturn in Capricorn's Oil is the one to work with for educational purposes and the most direct engagement with Earth's outermost Sphere. Formulated a la

Temperance edition

to mitigate overly-malefic manifestations, a touch of frankincense and ritually harvested evergreen sprigs from the altar help ensure Saturn in Capricorn's impacts are as productive and life-supporting as possible, while remaining within bounds of the Saturnian arcana. The power and potency of talismanic magic is not always a blessing... It is easy to crush and to curse and to create misfortune with strong Saturn elections, so for the best results (and with personal application in mind), we do recommend roping Jupiter or other benefics into the electional mix and adjusting the formulary to create something which will, for instance, reinforce boundaries and provide a sense of discipline, but not cut off all psychic air flow and trigger major depression, poverty, and hopelessness. This Oil can be applied to the self or jewelry during once weekly Saturn devotions in Saturn's day and hour for planetary attunements, or used to anoint objects and ritual tools of a compatible nature whenever necessary. It can be used to dress candles for Saturnian devotion, or for candle magic designed to erect boundaries and facilitate binding. Promotes discipline, structure, practicality, responsibility, self-sufficiency, long-life, protection from the meddling of others, and a deeper understanding of Saturnian principles, including long-range planning, *productive self-sacrifice, and the merits of isolation, hard work, and complaint-less devotion. While we have done all we are able to mediate negative manifestations and create something as "positive" as possible, Saturn is the Greater Malefic... anything truly Saturnian *will* have characteristic side effects. Remember that cosmologically speaking, all of the Spheres balance, moderate, and temper one another, and Saturn's primary job is providing containment and context. It does not exist in a vacuum, nor (as living beings) should our engagement with it. For this reason, we do recommend using Saturn's materia in conjunction or rotation with other more benefic, uplifting, positive, and life-giving series. A little bit of Saturn provides structure and safe space for the "good stuff" you wish to fill yourself + your life with. Too much without the intervention and support of other influences will not render the best results, and may lead to a lack of joy, vitality, and the like. Use in moderation, and with mindful intent. Arrives in your choice of standard 1/2 oz glass vial for $75 (with optional Dropper Cap Kit), a 10 ml onyx gem, or "flawless glide" steel roller for $60, or mini 5 ml vials for $26, each with hand stamped Saturn label.

$

30.00 –

$

75.00

You know you're doing Saturn right when you're laughing and crying.
[June 1st, 2021] It's 9:08 AM on D-day for this series, and none of the photos I edited yesterday saved.
Elon-net is going the speed of vintage AOL, so I had to relocate to a place with more reliable internet. Upon sharing the writeup with Austin late last night, he confirmed my suspicion: that I had written way too much about the gnostic and nuanced things Saturn's been teaching me over the last month, and not nearly enough about the approachable practicalities and use-cases.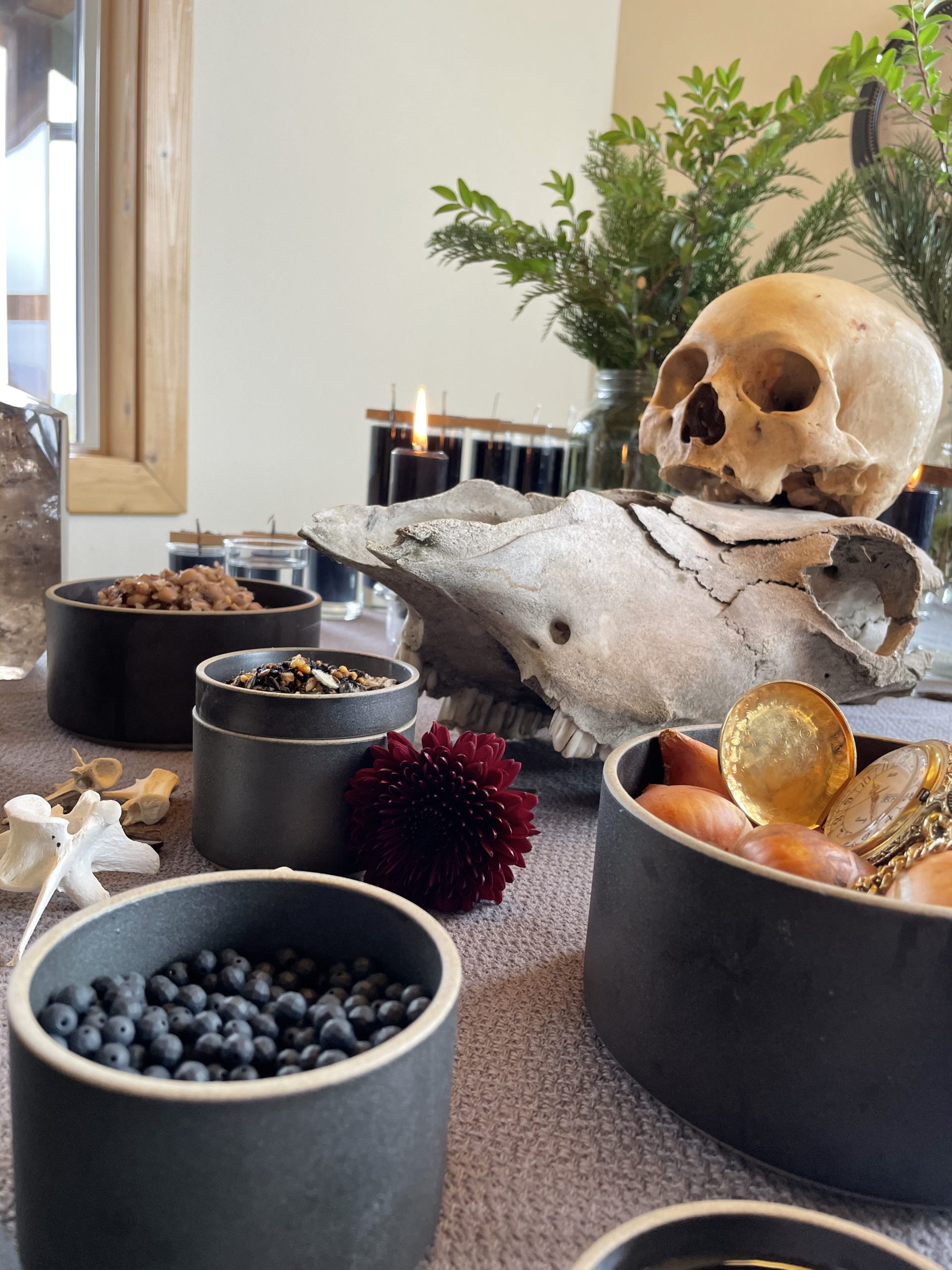 So I woke up at the crack of dawn this morning, ready to cull at least 70% of the description text in creative-utero and write something more… widely informative, only to discover that without images, this shit is going nowhere fast anyway.
So there is Bardo season and Mercury stationing  retrograde and a Mars in Cancer Tuesday to blame (because there's always something!), but let's be honest — one of the hardest facts of life is that no matter how hard you try, no matter how well prepared you thought you were, sometimes there are simply roadblocks.
And those roadblocks, by another name, are Saturn.
The Client Community was alerted that we would likely not be sticking our pre-scheduled 11:11 AM landing, and that I'd give everyone a heads up when we were 20 minutes out — so for the first time in Sphere + Sundry's 3-year history (note 3 is Saturn's number), the launch time has become: "difficulties and practicalities have caused surmountable but meaningful delays; sorry for the wait, but this is happening in its own time, please hold tight until it is finished".
And ain't that the most flawless bitch?
So as this most recent life experience goes to show, Saturn talismans and materia are not magical Saturn-negators. The energy is the energy, and it does what it does. The difference is that talismanic-grade Saturn possesses virtue and wisdom which act as a sort of analgesic in the face of ordeal, and helps produce the smoothest, most predictable outcomes.
Use of these offerings will not fix delays or suffering — that is not Saturn's job.
Saturn accepts that a certain portion of suffering is part of life, of being in-and-of the world; and that all things take time, and that time takes all things.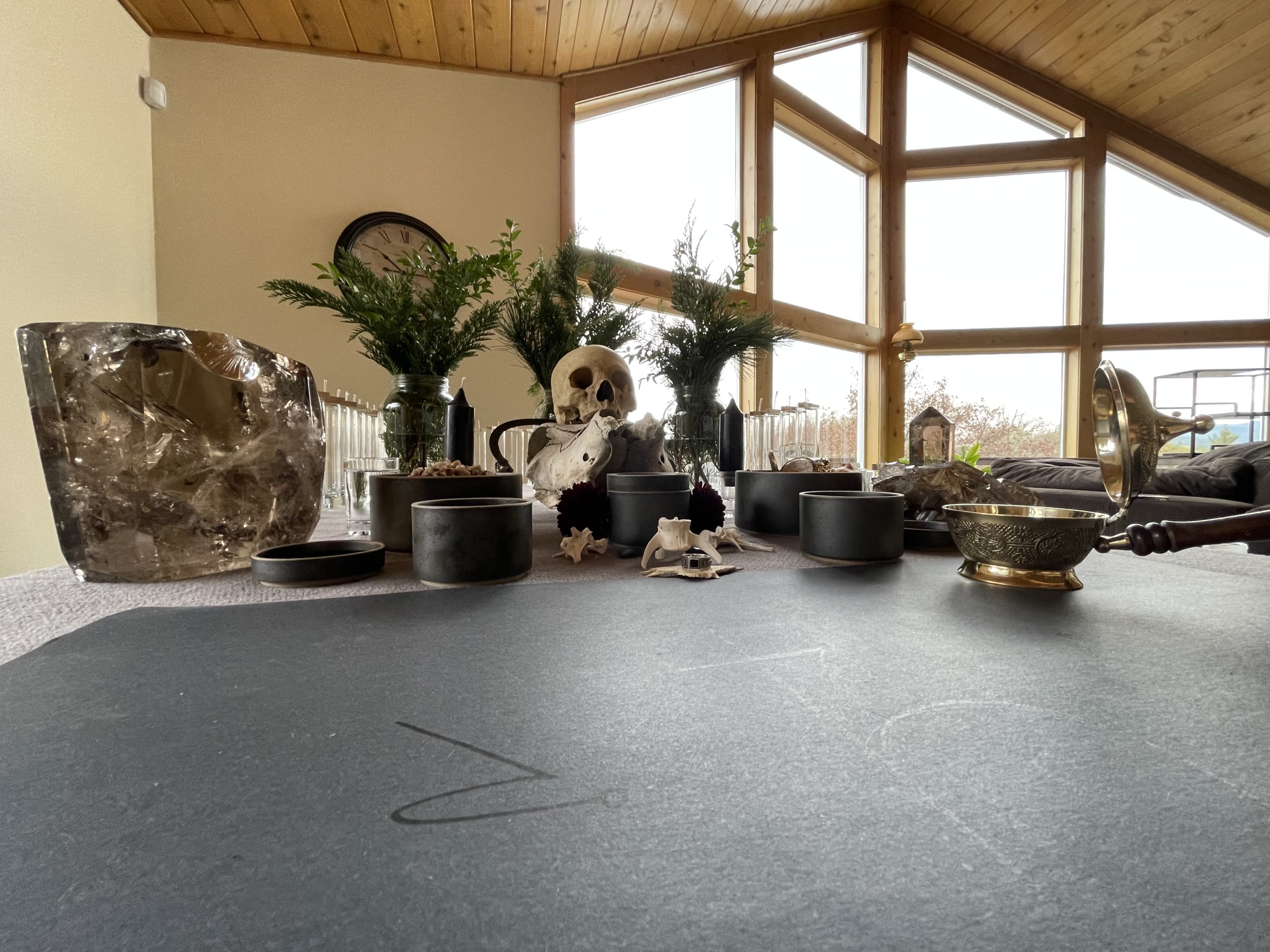 He teaches that exposure to small pain and pressure on a routine basis creates strength, steel, and natural armor, all of which which reduce the likelihood of excess suffering or breakage when something bigger and badder comes along.
Saturn's proprietary approach to harm reduction is literally to become less fragile.
For when you're going through hell, keep going. You'll either find your way out… or you'll die(!), and that's the kind of thing Saturn finds HILARIOUS.
Everything's a joke to Death itself…
And that leads us to Kronos as necessity — of not having the luxury to quit, or to collapse, or to go back, or to do things differently, because there are no other meaningful options.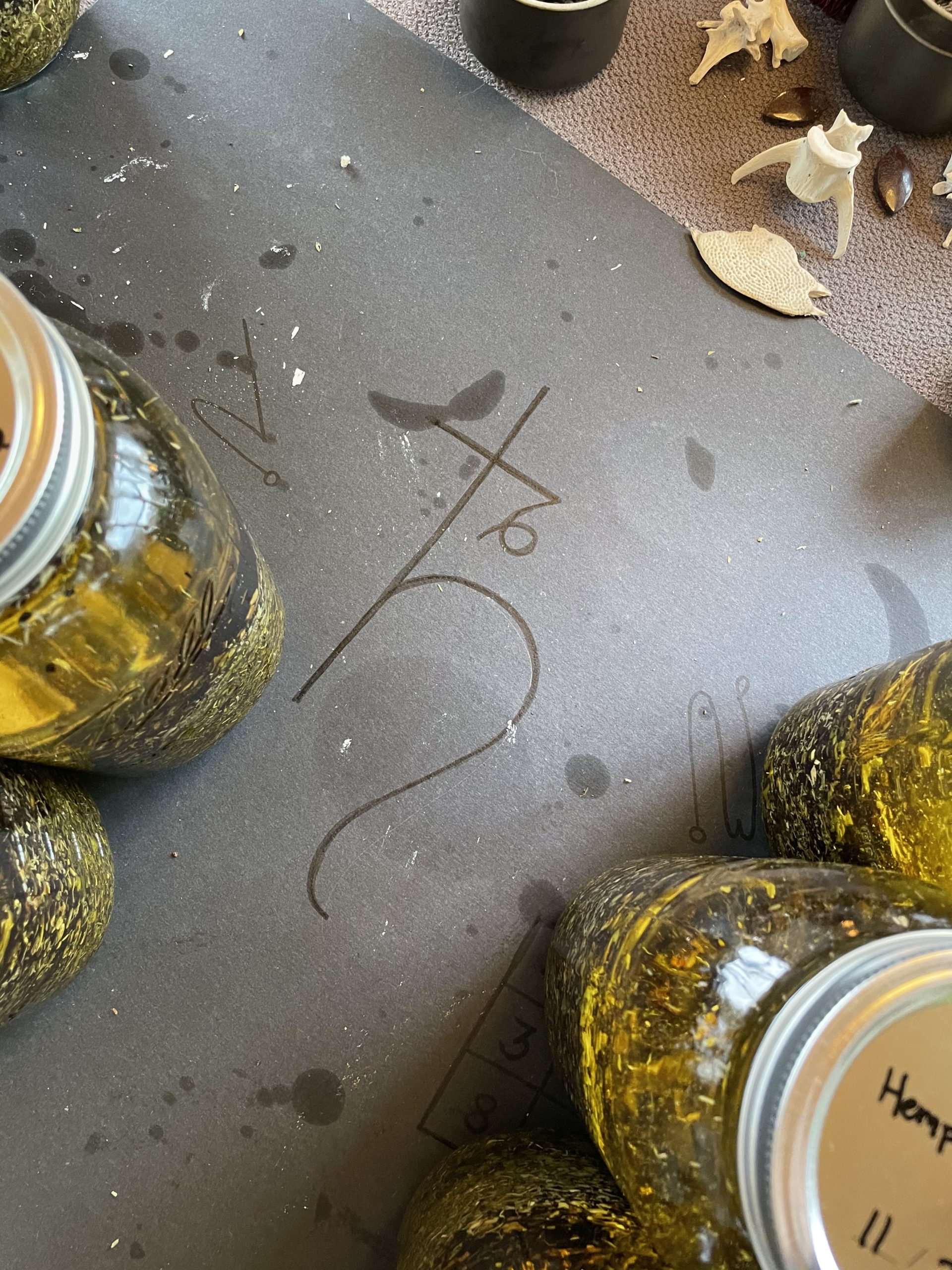 Bad shit happens. Things don't go to plan.
Saturn says: get over it.
Not all planets/ series do! Don't blame the messenger!
Time moves on, so the question becomes what do you want to make of yours?
And MAKE is the operative word here, because Saturn in Capricorn is Cardinal Earth — activation and initiation of the material sphere (and an aspect of why Saturn's Tarot card is The World).
If you want to build something real, you're going to need enough Saturnian gravitas to not only create it, but to sustain and protect it, too.
Forethought. Self-sufficiency. Structure. Strategy. Resources. Discipline. Diligence. Patience. Follow through. Accountability.
(Side note that not all things are worth creating or sustaining — as Kronos knew all too well, some things are better off eaten in their metaphorical infancy. Weeds, for example also known as feasts for goats!)
Anything material begins requiring maintenance more or less immediately, and ultimately succumbs to inertia. Degradation can be staved off with high quality and consistent care over time (what we call stewardship), but only to a degree. All things wear, require replacement, and die off eventually.
"The best fertilizer is the gardener's shadow",
Chinese Proverb (or alternatively, a misquote of Pliny the Elder).
While the election for this series is for Saturn in Capricorn (+ we'll talk more about the specifics of that shortly), there are many things to be learned about the virtues and utility of any planet by deep diving into the mechanics of its Exaltation. Which in Saturn's case, is Libra: sign of diplomacy, beauty, of right-relationship, and of fairness and mutual flourishing.
Exaltations are symbiotic placements, offering the best things possible to Sign and Sphere alike, and have much to teach about the Natural Order of Earthly things.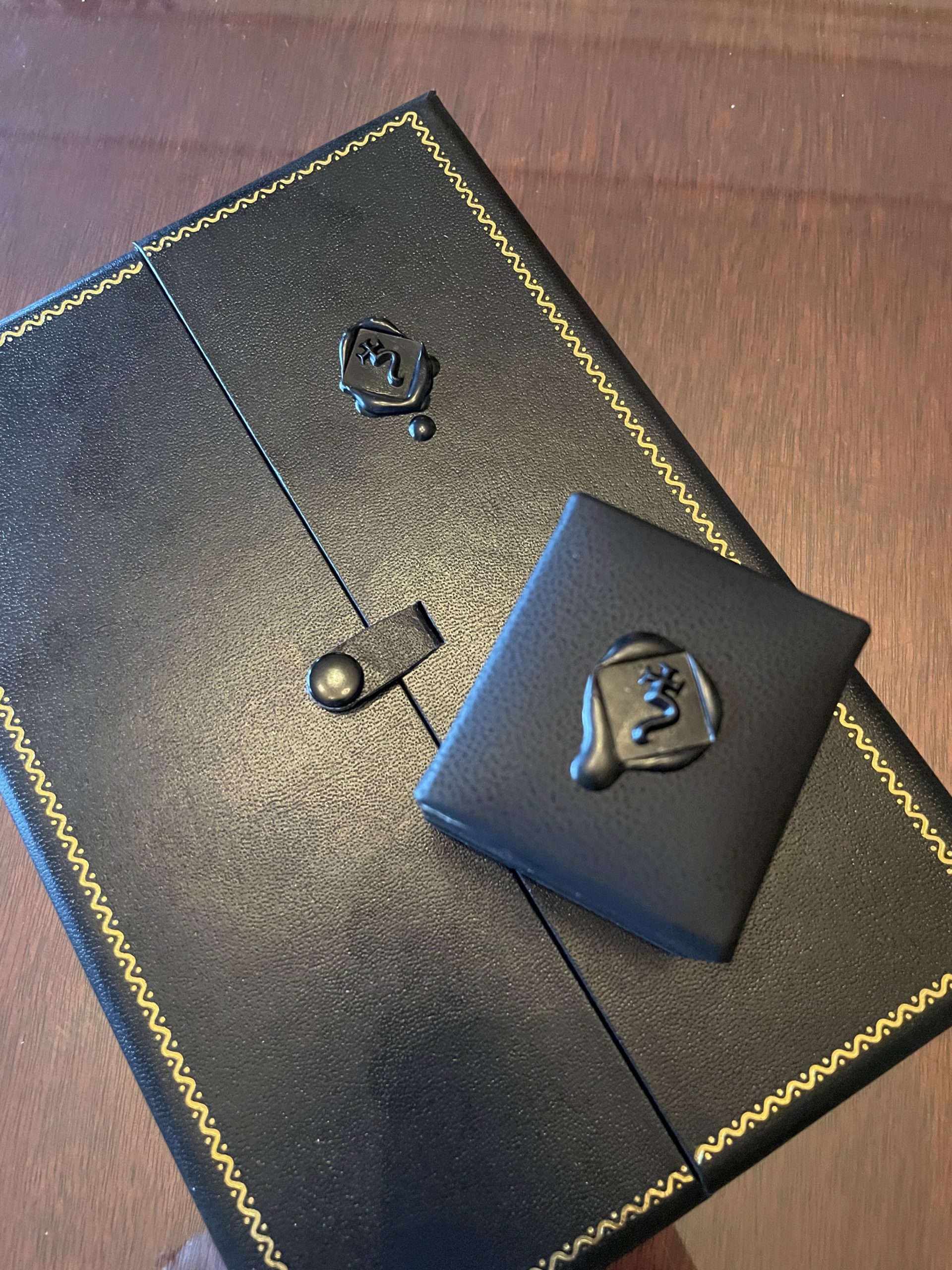 Saturn's Exaltation demonstrates that the most beautiful, awe-inspiring gardens are the result of diligent tending and necessary pruning.
(But also literal shit…
Because death + decay are nature's very own fertilizer)
How gardens grow more splendid with each turn of the hourglass, but only through fair, consistent, and well-balanced doses of management — with duty, humility, and symbiosis in mind, and for a good far greater.
Boundaries and preventative measures protect from the corruption of invading pathogens and uninvited weeds, which would, left unchecked, blight the landscape and overtake a delicately balanced, intentionally cultivated ecosystem.
And that brings us to Saturn's rings. Of which there are 7… and 7 visible planets… how curious!
(Astrological + Occult principles make such obvious cases for themselves with even the most basic of clear eyed observation that it never ceases to amaze…)
As our Outermost visible Sphere, Saturn represents not only boundaries, but levels.
Saturn has been around since before time and death were even a twinkle in the primordial void's eye.
There is nothing She has not seen, or does not know, that She will not see + know over and over again until beyond any ultimate extinction… because even if everything else blinks out, She shall never.
And for this reason Saturn also represents mastery.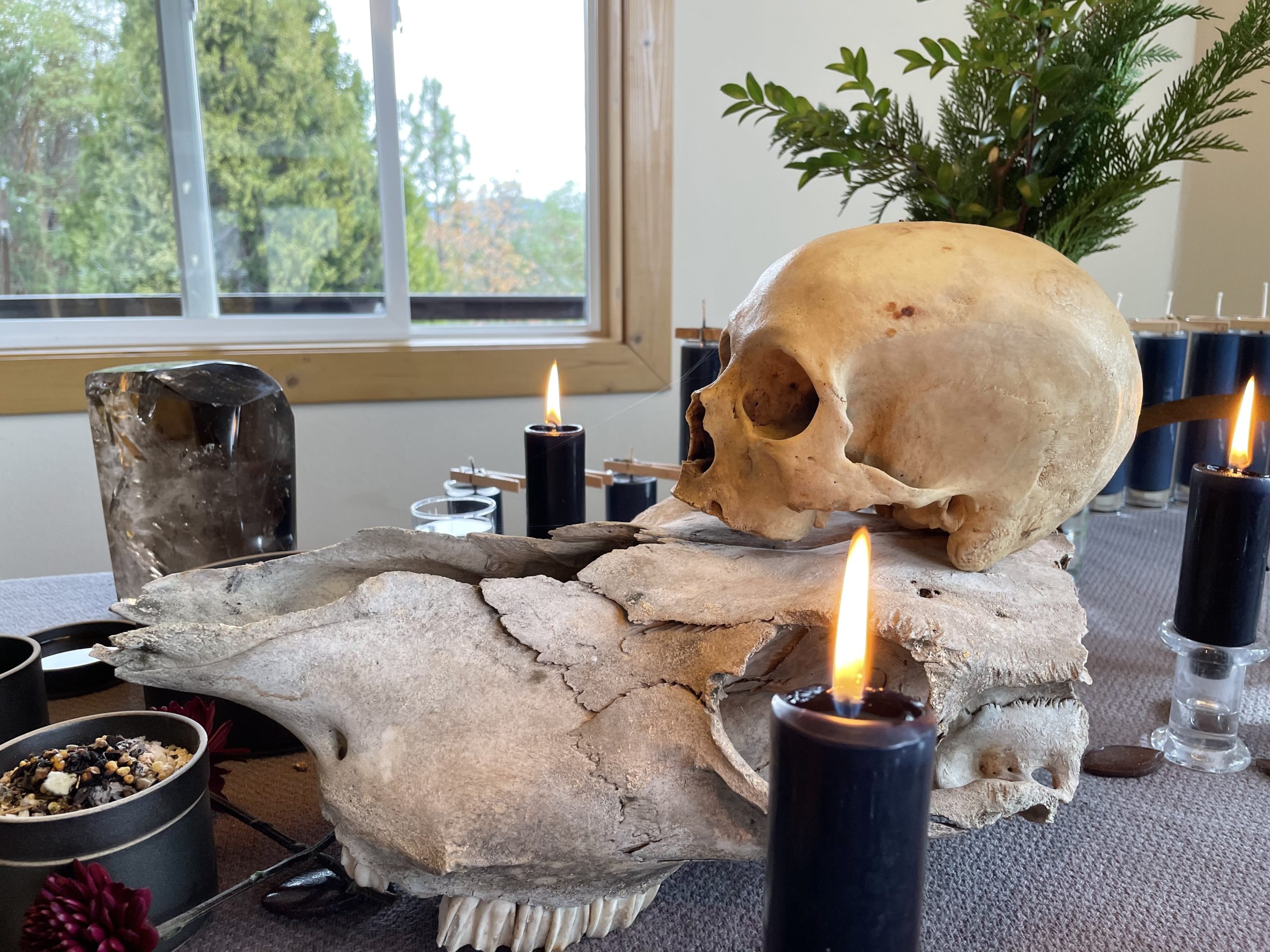 The well-aged among us are Saturn's favored children — living links to history, more self-sufficient and sustainable ways of living, and a great deal of wisdom.
It is childish near-sight (and an insult to Saturn) to diminish or mistreat them, and inversely, taking care of and bringing joy to the elderly is excellent Saturn remediation.
This seems like an important cultural point to make in a time where every other -ism is so vociferously policed, yet ageism and ageist insults run rampant in online spaces populated by youth in magic and astrology.
And Elders come in many forms…
There are those who are chronologically older (than us, or than most other people), and then there are Elders of Arte. Saturn would have them all treated with due respect.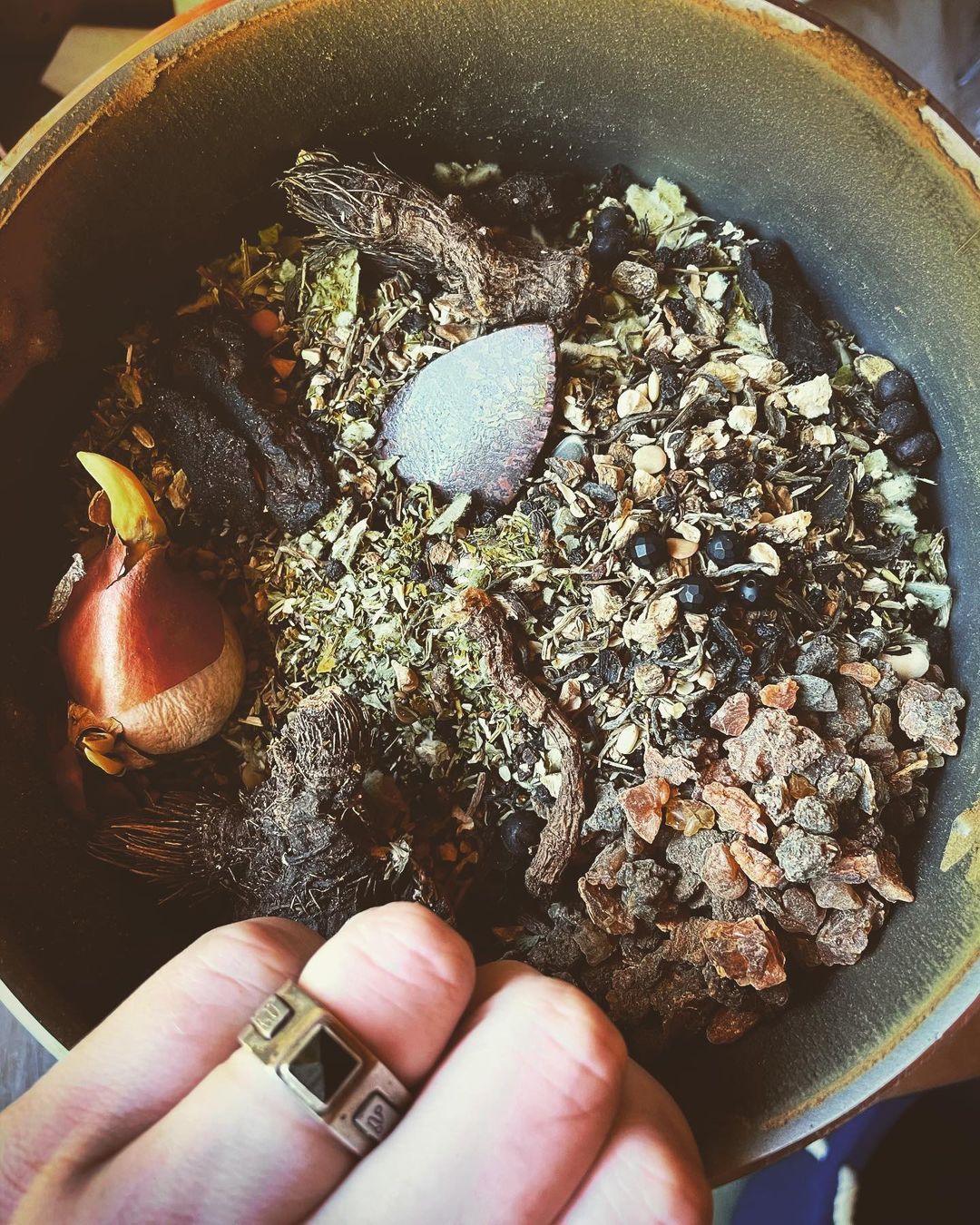 Do not wait for the elderly to die to give them their flowers.
Ancestral work requires tending the living, and the pre-deceased among us.
Getting back to the main point…
Saturn in a vacuum is a heavy and corrupting force. It represents obligations, strictures, judgements, debts, deficits, low and stagnant energies, dark and desolate places, isolation, depression, illness, misfortune, poverty, disability, and ultimately — death. It is reasonable to suggest that those are objectively not experiences most people would choose for themselves or their loved ones to be dominated by.
Luckily we do not live in Saturn's vacuum…
We live in a well-balanced Solar eco-system comprised of 7 Spheres, which counterbalance one another.
Saturn in Exaltation receives his directives from Venus, who typically insists that he take a just, even-handed, and diplomatic approach to all things.
In rulership (as in Capricorn), the planet is STRONG, but it does what it feels like unchecked.
And, for our purposes, we do not want Saturn to be unchecked.
We want it in constant consultation with benefics, who can temper its most negative, punishing, and fascist impulses.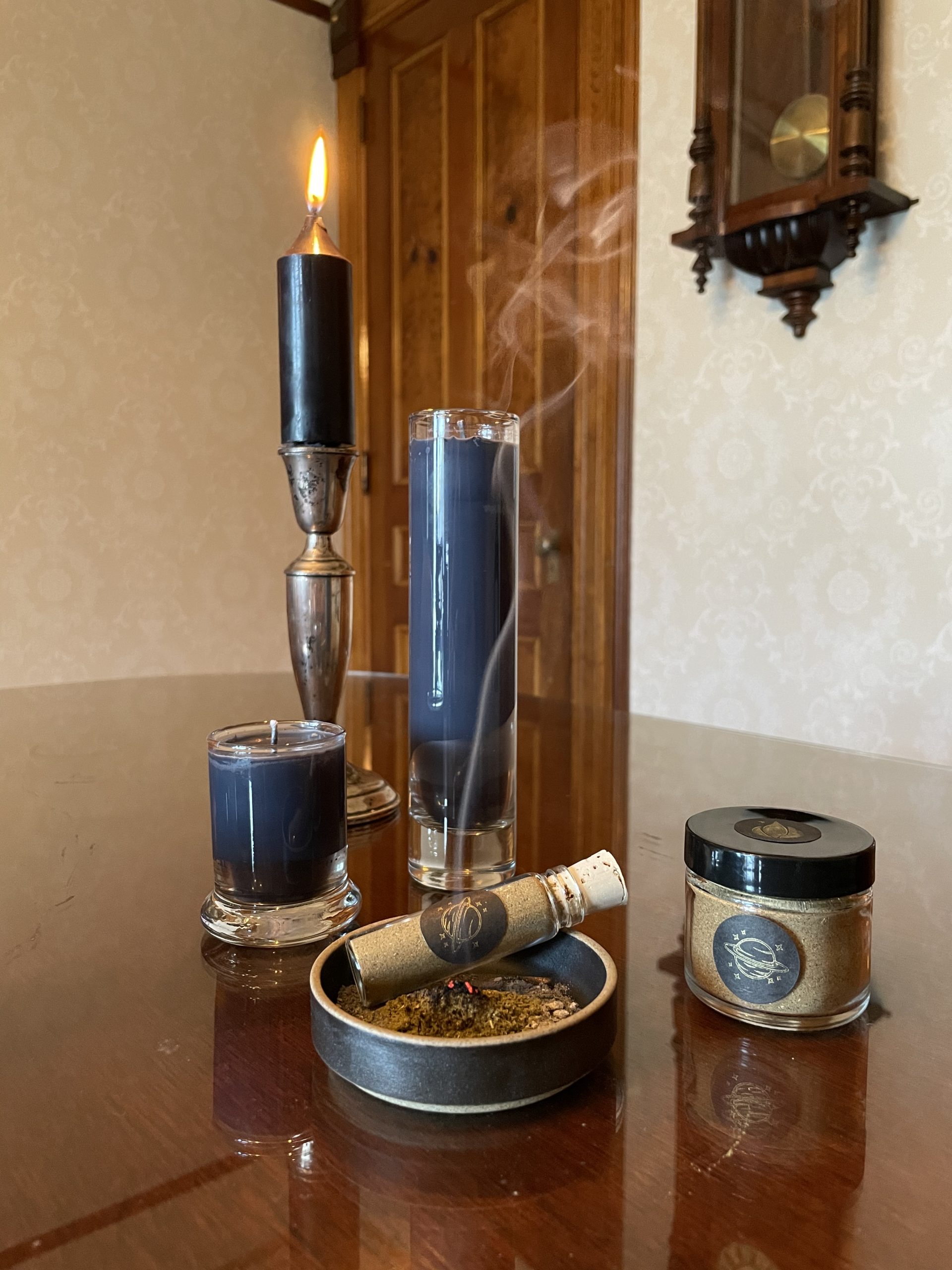 ESPECIALLY if we are using talismans and materia for personal benefit, self-development, and self-help, rather than cursing someone as brutally as planetarily possible (which I don't recommend, btw, but that's another piece).
On the flip side, the wise astromage seeks to minimize Saturn's influence in electional charts for benefics (and pretty much everything which is not Saturn) to the maximum degree, because its influence would only diminish and hamstring their results.
Which finally brings us to the election for this series, chosen in consultation with long-time astrologer and practicing occultist Austin Coppock.
It features Saturn rising and in Capricorn, in tight conjunction with the Greater Benefic.
Jupiter is utterly decimated here, but he is in full service to Saturn, constantly advising him to be less of a judgmental curmudgeon/ dick.
[The electional chart is always the photo gallery of each individual offering, btw]
Jupiter also rules the waxing second quarter Moon, brimming with light, which has just left an aspect to Venus, the Fairer Benefic. Luna is hyper goaded, providing staying power and support, but from the the third, where she Rejoices. Saturn has regained its speed and is no longer brooding over its direct station from a couple months prior.
The ingredients, fumigations, and prayers used for this series reinforce the most positive (read: least malefic) outcomes possible, being composed of roots, stones, beans, and bones in possession of Saturnian virtues (long-life, good boundaries, insulation from exterior forces, strength, fortitude, humility, minimalism, focus, dedication, stillness, &c.), while omitting the harshest and most toxic features possible.
The goal, like Temperance edition Mars Oil, was to create the most productive, supportive, and workable vector for Saturn's energy possible, to smooth and support our relationship with the Outermost Sphere.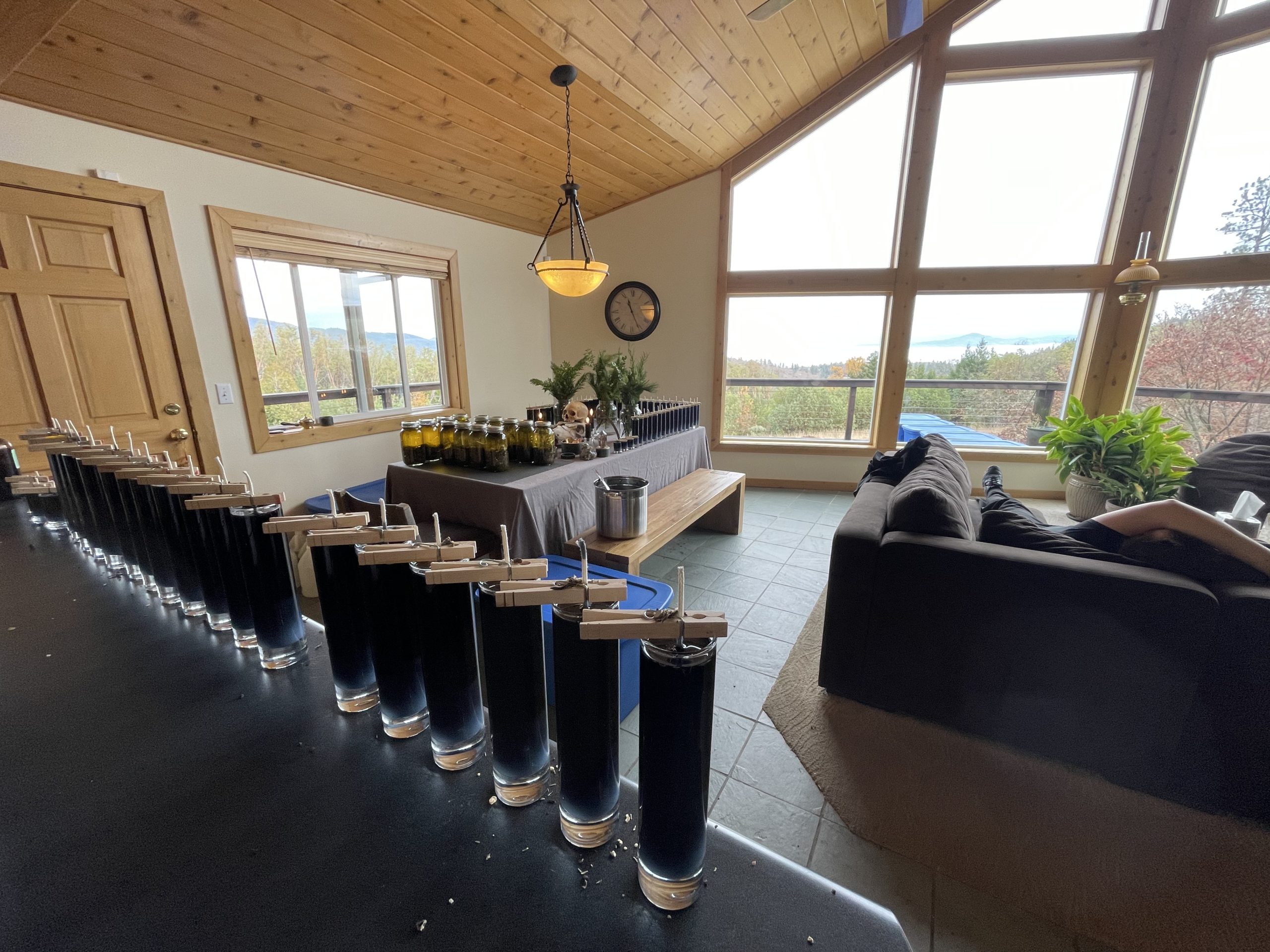 In learning to work with the energies of this series, we become better adapted to the experience of Saturn transits and Saturnian circumstances, which serves as a form of remediation. It helps us get "right" with the order and brutalities of Nature, and find our way through tough terrain, emerging stronger, more self-sufficient, and wiser than we otherwise would.
On a practical level, this series is great to apply before meditation, to still the mind and invite Void-space. It can also be used for ritual observations during Saturn's day + night (Saturdays, Tuesdays after Sunset), and hours through anointing or offering.
Its other primary functions include making things real, or of the world, developing a deeper understanding of the Saturnian sphere for educational purposes, reinforcing boundaries, binding (ourselves or others), protecting the interior, being more serious about the important things (and the inverse!), becoming less co-dependent and better able to function in isolation, and learning to be calmer, stiller, speak, and over-divulge (and indulge) less often.
Absorbing and contextualizing negativity, furthering our relationship to death, the elderly, and the Ancestors, becoming more patient, developing a sense of stewardship and service to one's obligations, cultivating deeper discipline, humility, and better follow through, improving administrative capacities and structural intelligence, and minding one's own GD business.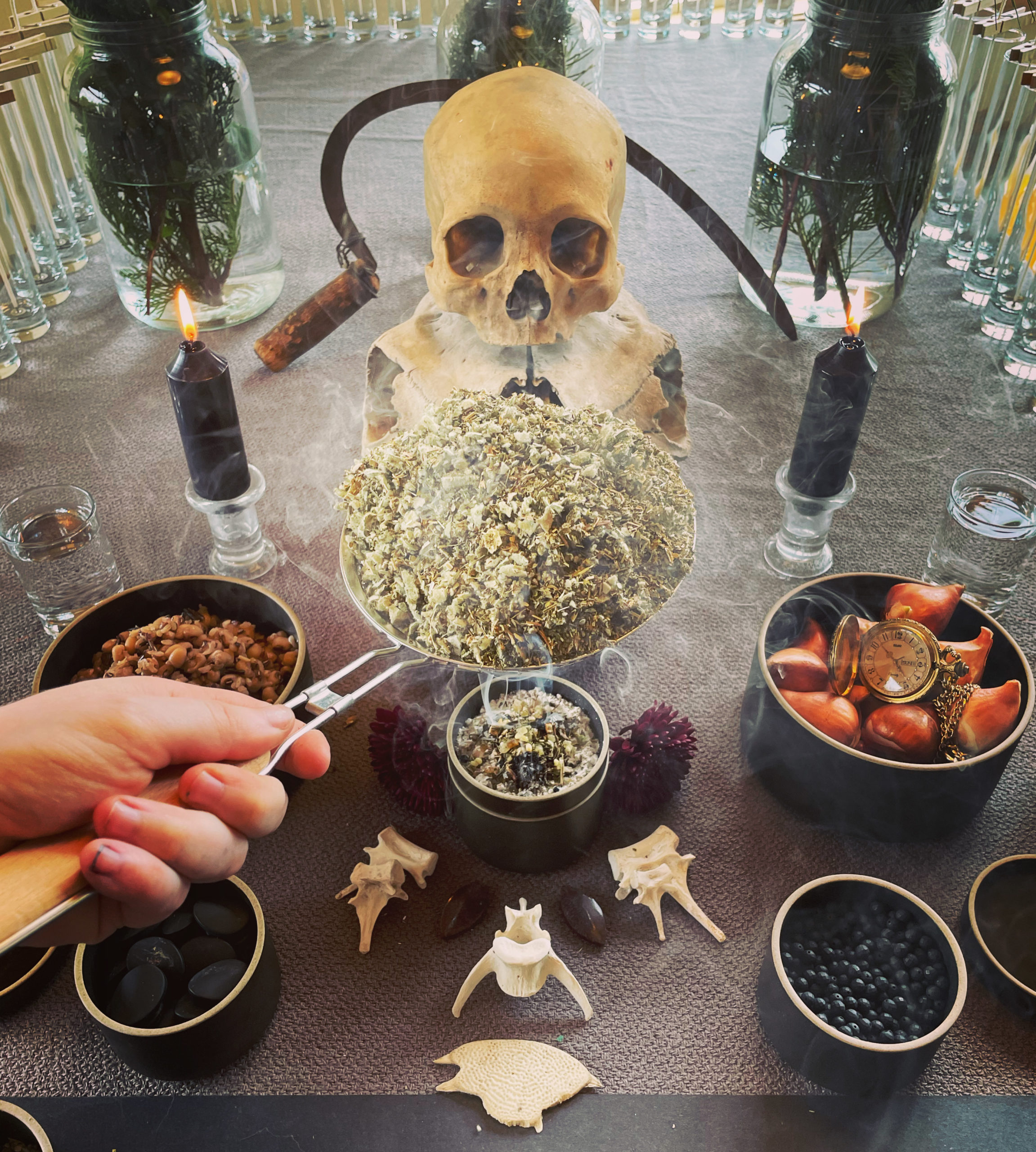 Like all Sphere + Sundry offers, there can be an adjustment period…
Saturn registers as very heavy on the surface, but the deeper into its catacombs you venture, the better it feels — the more we are able to appreciate the virtues of being alone without being lonely, for instance, or how lack of stimulation, quiet, and darkness are the foundations for meditation, contemplation, and rest, rather than sources of boredom and punishment.
Kronos helps us accept the things we cannot change, to complain less, to chop wood and to carry water. Above all, it makes us stronger, and more durable.
We do recommend balancing or alternating application of Saturn materia with other more beneficent and healing series, for while Saturn is an excellent delineator of boundaries and has helpful things to offer, you'll likely want to fill the interior space of your self + sphere with all of the GOOD things you wish to protect and hold together, rather than become an empty husk in possession of a blown out shell. We do not necessarily recommend daily application of Saturn unless it feels very right for the individual. Cease application (or move to 3rd party application) if you experience significant dips in vitality, joy, joint pain, coldness, lack of blood flow, or, uh… death.
Just kidding! This won't hurt too bad 😉
Just be mindful, apply with intention, and go slow.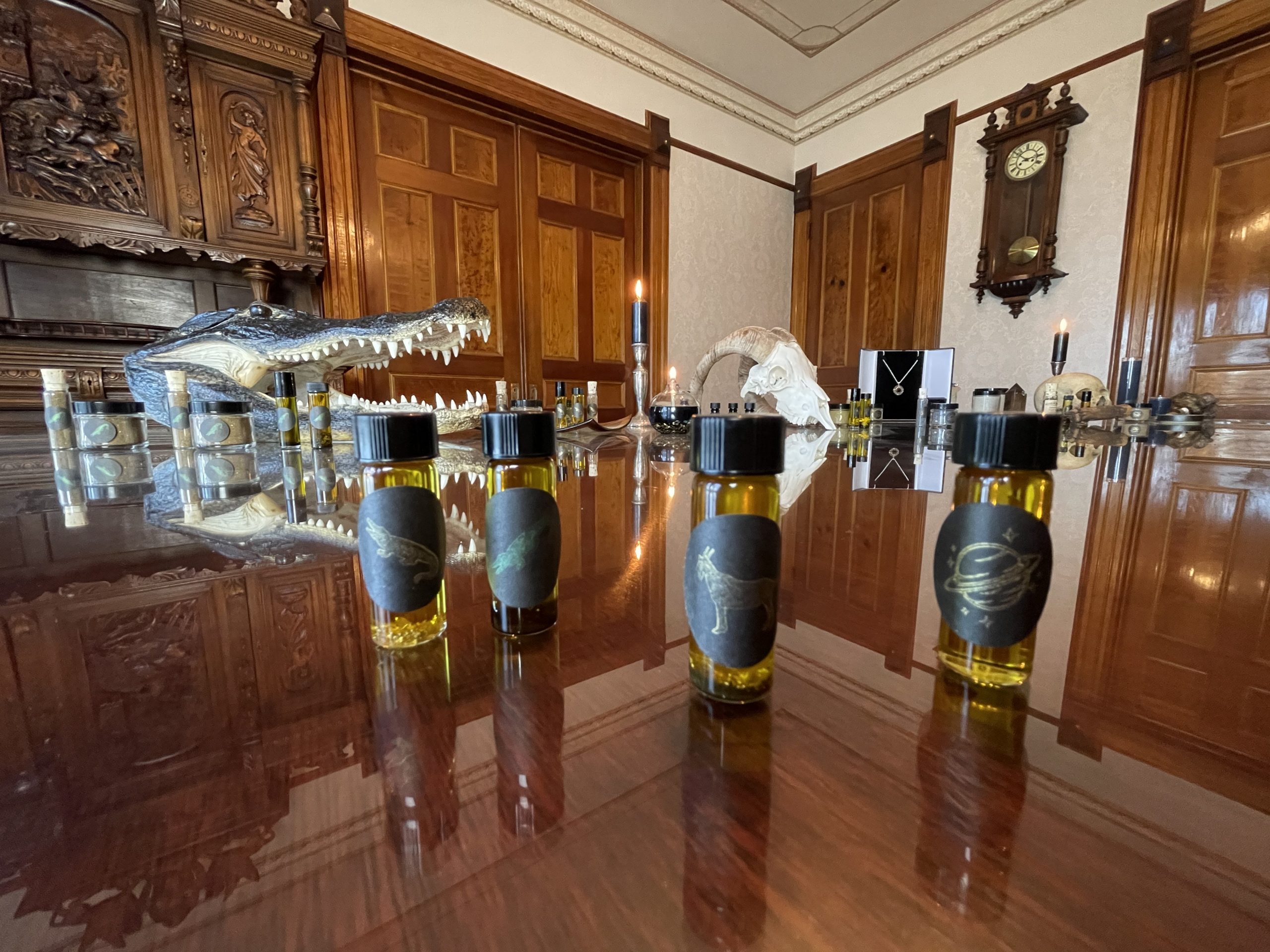 We welcome back long-term collaborators Elizabeth Barrial and Tony Mack, and thank them for their diligence, professionalism, and mastery of their respective Spheres. It is, always, an honor and a privilege.
Logistics…
This is the first launch we've had since initiating the Plus Members program. The vast majority of those who submitted pre-sale applications will be very happy, having gotten most or all of what they wanted. We will be prioritizing the sending of Plus Member's packages as invoices get paid, and will begin emailing ASAP.
There are already plans in place for improving this process in the future, but for this cycle at least, we will need to generate payment links for pre-sales (emails coming in hot as we speak). You are welcome to place additional orders through the website for consolidation, just please add a note reminding us you have a pre-order waiting.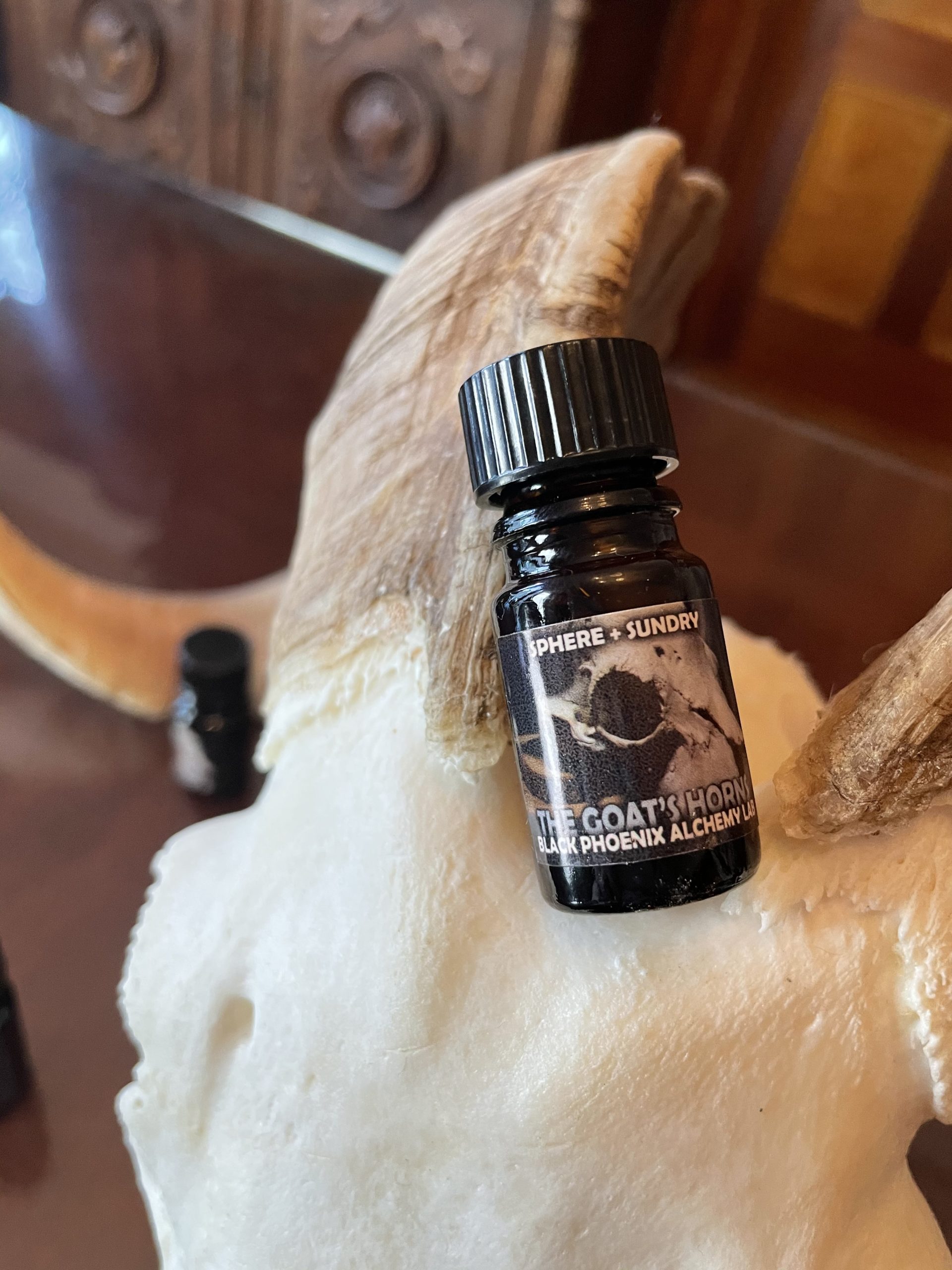 General fulfillment will begin no later than Thursday, June 3rd and continue until all packages are out the door. It typically takes at least one full week to finish orders from launch day alone, since they come in like an avalanche, but up to two full weeks to finalize all shipments. The Shop will go dark again sometime in the next two weeks. We will re-open after taking a brief recovery period and refreshing low stock across the catalogue.
As a personal aside, THANK YOU for everyone's patience with today's insanely late launch.
There are probably 3 entire pieces worth of content that was generated and cut from this (and this is still WAY too long).
Saturn is such a gigantic topic, and these mysteries are so rich, and so deep.
This launch cycle has been… so fucking brutal… to be honest… for myself and the S+ team, but we're all stronger for it — and we are thrilled and honored to FINALLY get to share the fruits of our Saturnian efforts with those who wish to partake of it.
One more initiatic ordeal down, a lifetime to go…
The other pieces will be put out as articles or made into a book, which leads to a couple final things: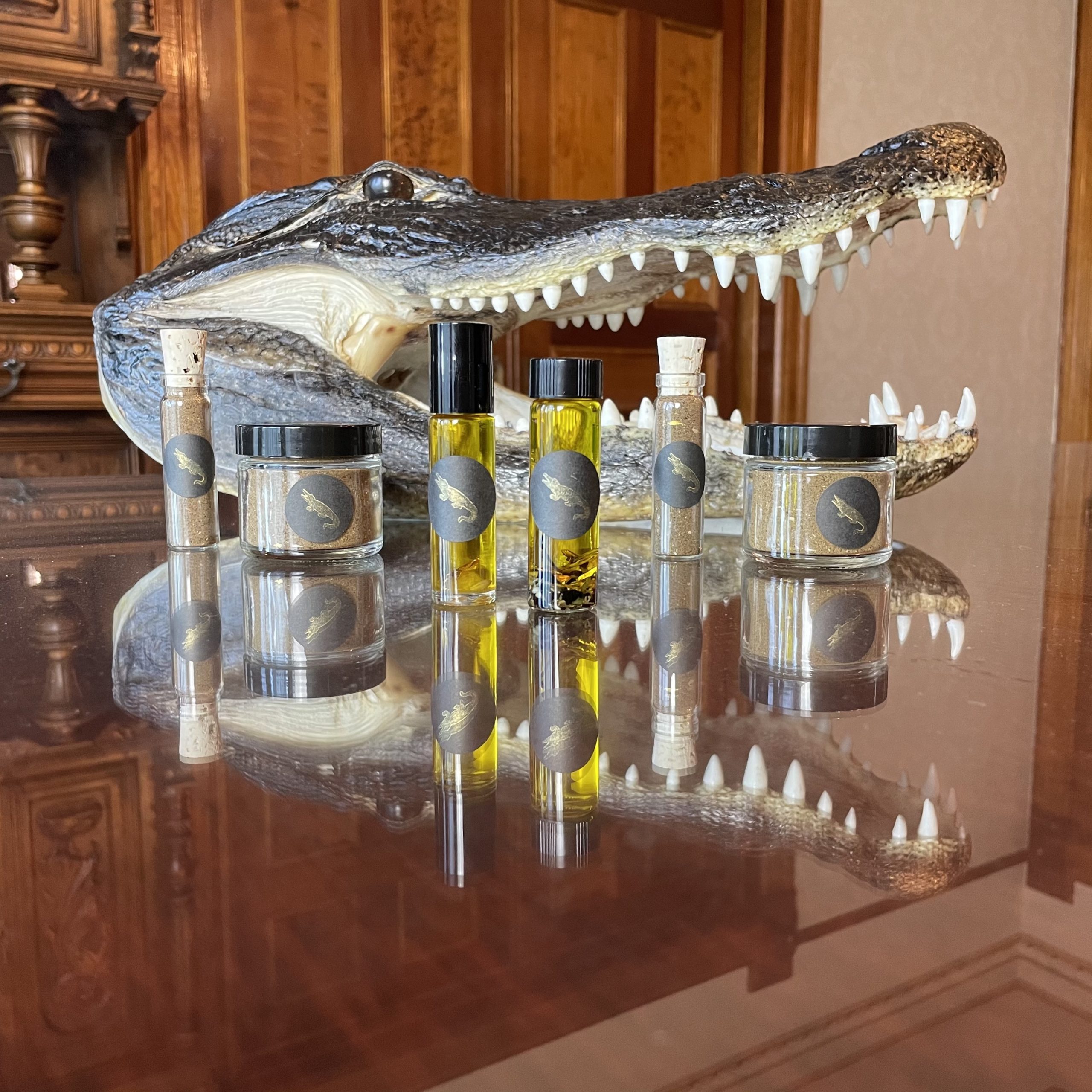 I have been mostly off of social media for a while now, moved my own Community off of Facebook, and have spoken openly about the harms it is doing to individuals and to society.
(To learn more, please visit the  Center for Humane Technology + watch The Social Dilemma on Netflix).
The fun and connection it provides is hard to give up (and for that reason even feeling how/ knowing as I do — do not desire to abandon it completely), but technologies are one of the main things we would likely be happier and healthier for erecting boundaries around, hence mentioning it in the Saturn writeup.
Following up on some of the changes and plans I laid out in the Age of Air piece:
There is a lot of Deep Work ahead, in the form of writing books, compiling courses, and the like.
Until completing at least some of those projects, I cannot justify spending much time on social media, or responding to DMs on any platform outside of what work absolutely requires.
Please resist the (understandable) urge to take necessary myopia on my behalf personally, if you do decide to write or engage and don't hear back. There are simply not enough hours in the day (and have not been for some time).
My efforts at this point are best devoted to providing service and value for the maximum number of practitioners and clients possible, rather than on 1-off interaction. I am deeply appreciative of everyone's support and understanding.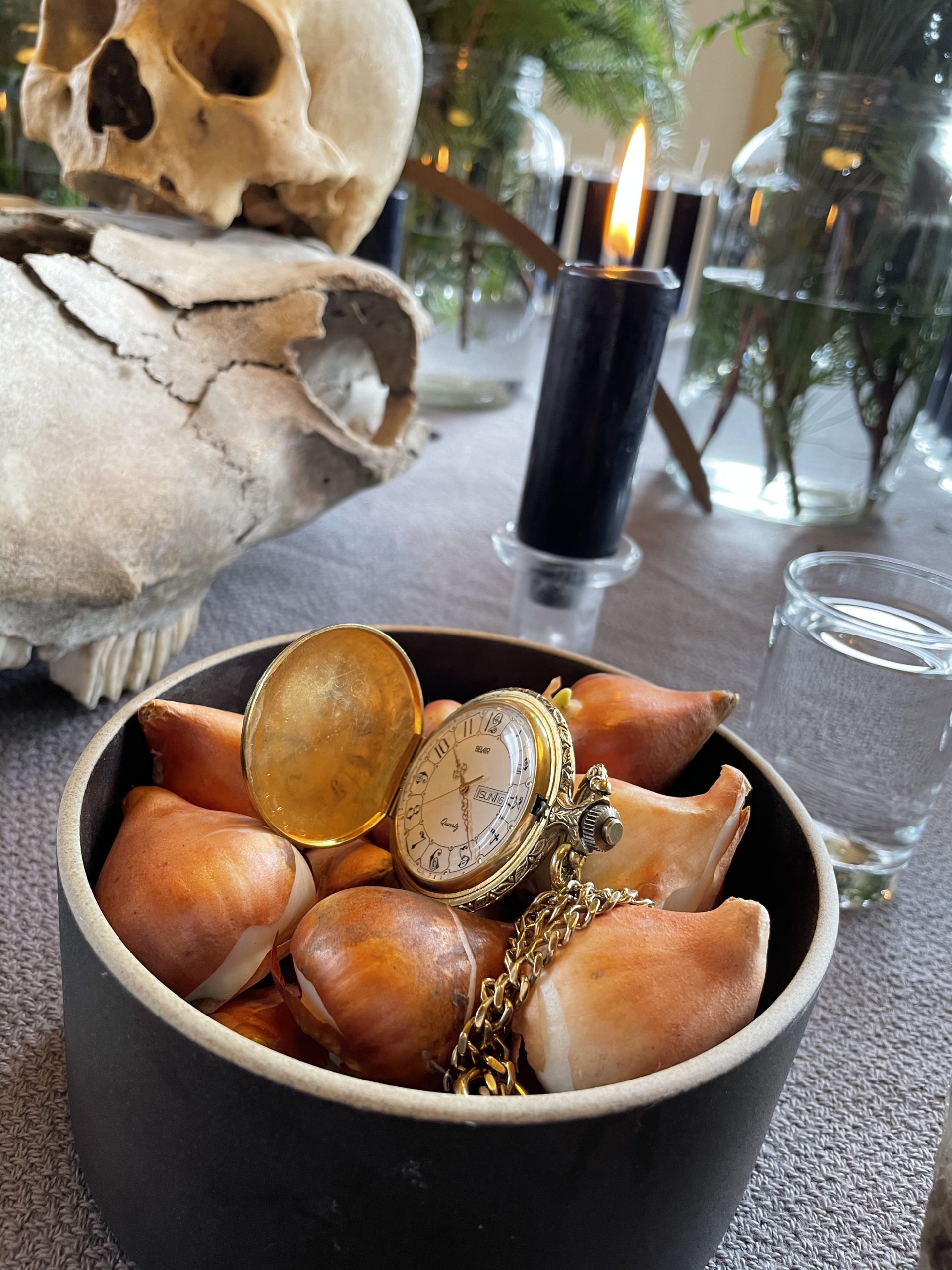 Sphere + Sundry has been undergoing some major internal changes over the last few months, shifting from a sole proprietor + one helper to a small business that employs 4 people aside from myself, provides great pay ($20+/ hr to start), and excellent health, dental, and vision benefits to everyone full time.
I've been in the process of training the team to  handle as much of the day-to-day as possible, and am eternally grateful for their efforts in helping to meet the needs of our clients, as I continue ensuring quality, consistency, and efficacy, and can focus on the layers of Work that are necessarily and exclusively my own.
They will be the ones handling most customer service needs from here on out, and will escalate larger issues to me. Please note that it may take a while to hear back if it requires a written response from my end.
We also have a dedicated Plus Member Coordinator, to ensure everything goes smoothly as the program continues growing.
Thank you to the those who make all of this possible. Your support means the world to us.
I remain, as ever, a committed stewardess to the magic, the materia, and the wellbeing of those in my care. I'll be in and out of orbit for a bit, but will return with all sorts of good stuff to share with you all.
Each order comes with basic instructions for use, timing suggestions, and a prayer. It also includes an invitation to the private client platform, for ongoing support from creator (at least some of the time!) and very welcoming community.