Anointing Oils, Asclepius IV: Divine Coterie, Available, Flagship

Sphere + Sundry's classic Asclepius Oil formula, given new life as the Moon conjoined the fixed star of the Divine Physician,

Ras Alhague

, while applying to a trine with its ruler,

the Greater Benefic

, from the Nakshatra

Ashwini

— represented by eternally youthful twin doctors (

Ashvins

), who — in addition to tending to the health of the Gods, the sick, and the unfortunate, have further associations with medicine, good health, daybreak, and the sciences. Organic 100% extra virgin olive oil, rose of jericho (

Selaginella lepidophylla

), ecologically and respectfully wildcrafted sage, and ritually harvested incense cypress from Jove's hour on the Sun's day, untreated carnelian, and resin of frankincense. Anoint areas in need of healing, including acupuncture and meridian points which correspond to connected organ systems, as-needed (as always!). For chronic ailments, create a "treatment plan" for routine application based on planetary hours connected to natal or general astrology, or in stride with the

TCM body clock

. [We can workshop these together in the Client Community!] Application aids in purification, transformation, and facilitation of inner-alchemy. Increases one's general bandwidth/ tolerance for stressful circumstances, while expediting the assimilation of experience into wisdom. Layering with other influences helps mitigate symptoms, if Antares or Mars tends to result in overheating and headaches, for instance. It tends to help other Powers (and our own energies) run "cleaner" and with less buffering, clearing the way for better outcomes. Apply before bed to promote

dream incubation

, as well as healing and initiatic visitations from Gods, Ancestors, and whatever Spirit-Beings you call. Excellent for routine use by day and night, but may also trigger the need for sleep (or increase its duration). Arrives in your choice of standard 1/2 oz glass vial for $65 (with an optional dropper cap kit), 10 ml "flawless glide" steel rollerball for $52, or 5 ml mini for $26.

$

26.00 –

$

65.00

On July 18th 2018, Sphere + Sundry released its
4th
series. One featuring an obscure fixed star.
Today — 4 years, 11 months, and 7 days later — we gather for the release of its 4th iteration.
In these strange times.
Where so much is changing.
Where,
In order to navigate the world without becoming ground up  by it and fuel  for it,
We must  make,  take,  and  become
as Medicine.
Strange times 'round here, too…
Thema Mundi, our latest series, was the 44th non*release.
Said like that 'cause it's still in utero…
Stuck between Part I of that write-up and the deep blue sea, for Saturnian purposes [keeping the lights on + the workroom occupied], Asclepius IV had to debut.
And for magical/ remedial purposes, it really is perfect timing.
Astrologically, we've got the Venus retrograde in Leo coming up.
Practically/ politically, world events and technological developments are… well.
However you'd describe them.
Firmicus Maternus opens the Thema Mundi section of Ancient Astrology in Theory and Practice like so:
"Petosiris and Nechepso in this doctrine followed Aesculapius and Hanubius. To them Most Powerful Mercury entrusted the secret. They set up the birthchart of the universe as follows: [lists placements]… in the book of Aesculapius which is called Myriogenesis." 
Previous write-ups have mostly discussed Asclepius's role as the Divine Physician, but have explored less his function as one of prime Initiatiatory and Illuminating forces for the good of Mankind.
That he is a figure many ancient texts attribute great wisdom, magic, and knowledge to, alongside the coterie of names mentioned above.
There is a lot else to say… about alchemy and snakes shedding skin and peacocks pulling out their tail feathers and phoenixes self-immolating prior to rebirth and birds eating snakes and chimeric lions and the Agathodaemon and the movement of breath in the body and kundalini and hamsa and trees and spinal columns and  yoga flows and that which is low-lying and high-flying and toxicity and technology and so much more.
But what is important to know, is that this series will help with all that ails. And it is fuel for growth, transformation, and the honing of wisdom via silence, and empowerment via incubation. And dream, no doubt.
And it also serves as a vital personal x magical primer for engagement with Thema Mundi.
The election for Aslcepius IV may not register as terribly impressive at first blush [see below or image galleries], but it's a sssneaky dual-Zodiacal one, in signature Austin Coppock style. Of which, he shares:
In order facilitate proper access to Asclepius, the operation occurred while the Moon was conjoined Rasalhague, the star of the divine doctor.  The Moon's applying aspect is a rich trine with its sign-ruler Jupiter, which is in its own decan and powerfully placed in the first house. However, it is the lunar mansion/nakshatra that Jupiter resides in which makes this election special.
The 1st mansion is always said to indicate a good time to make and take medicine, but the association with healing is much more explicit from a Vedic perspective. This nakshatra is called Ashwini, and is named so for the divinities which reside there— the Ashwin twins. The Ashwins are a handsome pair of divine doctors, capable of restoring health to even the most decrepit. Thus, the design of this election was to interlace the two primary stellar indicators of divine healing into one moment.
Further reinforcing this theme was the presence of the minor planet Chiron in the 1st house, with Jupiter.  The sainted centaur was not only a legendary doctor in his own right, but also quite explicitly the one who taught Asclepius the healing arts.
With indicators for Asclepius, the Ashwins, and Chiron all aligned, who could ask for a better moment to conjure an entire team of celestial physicians?
Luna has good light but is waning (ideal for energy clearing and reducing symptomatology), and the nakshatra Ashwini has further associations with good health, eternal youth, daybreak, radiance, and the sciences.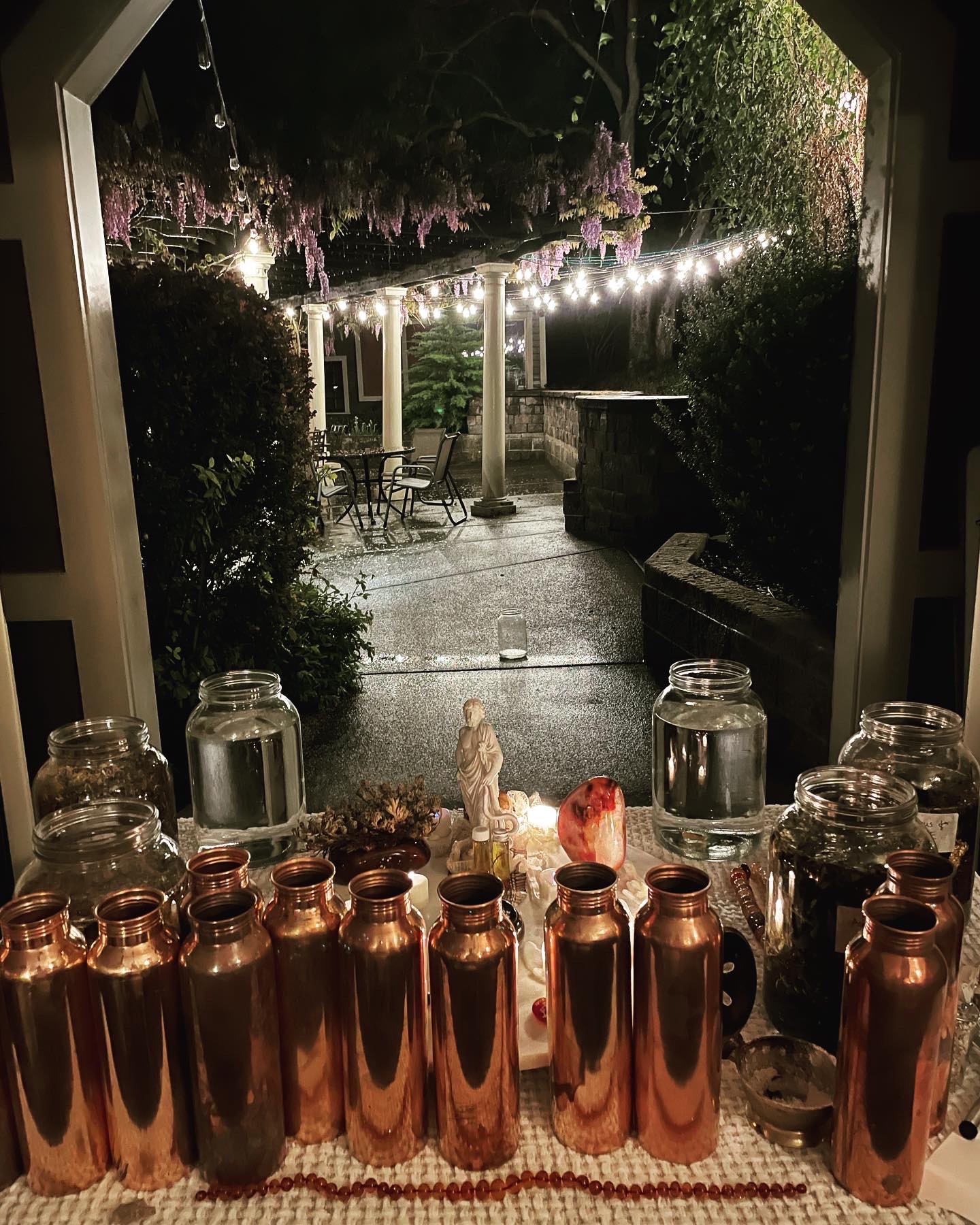 The elephants in the firmament are Rahu sharing Ashwini with Jupiter and Mars in Cancer ruling the 1st (from the 4th), which we'll briefly address since S+ elections are such useful models and case studies.
The mechanism of Asclepius is that of alchemical transformation. Without venom itself, the source for anti-venom, that medicine would not exist. Had the snake not entered Eden, there wouldn't be a need for either, but in a world as it is — prone to all manner of literal and metaphorical snakebites, it's medicine we need.
Rahu is the Dragon's Head, wherefrom fire and venom originally issue. That's why it's associated with intoxication and delusion (myriad medical compounds cause these), along with shady dealings and endless hunger (addictions).
Serpents are legendarily cunning, manipulative, and aspirational, climbing the fruit tree's "ladder" to bring [divine] Knowledge of Self which lead to the "downfall" of mankind; its words a venemous snakebite to the ears x psyche of Eve.
In order to rise again, and to recover from such a massive blow [an allegory for any other…], we must extract from the venom of our wounds that which cures them.
Asclepius is not only a healer, but an alchemist. In order to prescribe medicine one must also compound it.
His famous staff can be seen as a branch from the fruit trees of Eden, the Serpent still, to this day, wound-round its steady girth. With it, as is his Apollonian birthright, he brings illumination and rebirth. By carrying with him the source for anti-venom, he is able to make medicine at will and as-needed.
By befriending the Shadow [Rahu], it ceases to wound, to poison, and to cause pain to its Keeper.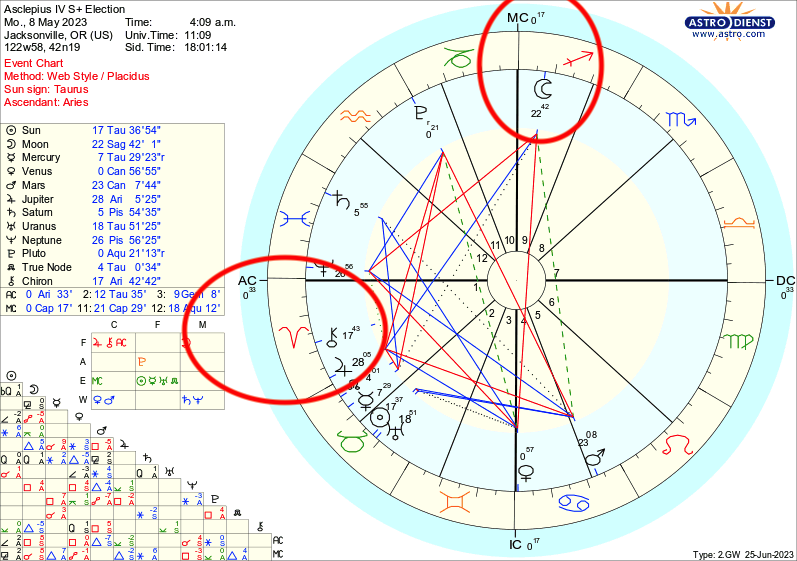 The North Node in this election *is* that Serpent, whose power is a vital aspect of the Divine Coterie.
An asset, but in this very particular case. Because of what this is. And what it'll be used for.
Keep in mind that this is a theurgic election, like Immortal Heart.
It transcends the strictly astrological, in ways most by-the-book talismanic elections for A Venus Talisman do not.
—
At this level, we are not *only* doing Astrology.
We are making life-changing, world-churning Magic for the Good of Mankind.
Magic,
which is Medicine.
It is,
In the vein-and-frame of Andrew Chumbley,
Mighty Dead of the Poison Path and Peacock Quill!
Divine.
             Art.
Mars in Cancer is being triaged by Benefics — its incoming aspect to the Ashwini Jupiter, and his co-presence with (but not conjunction to) Venus, allows her sway and say over its influence. Illustrious, laughter-loving Queen, clinging sweetly [as only a Cancer can!] to the IC of the chart, taking primary command of the house + angle's significations, safekeeping the peace.
Mars is a representative of the reasons we'll be needing this medicine in the first place.
The Garden's unwelcome intruder!
To cleanse our bodies [1st house] and our spaces [4th house] of that which afflicts them: energetically, mentally, spiritually, and physically. For again — without affliction, what need would there be for treatment?
Mars and Rahu *here* have overlapping functions. They each provide sources of toxicity which act as the base substance necessary for alchemical transmutation: 24k gold, upcycled from the earth's crude oil.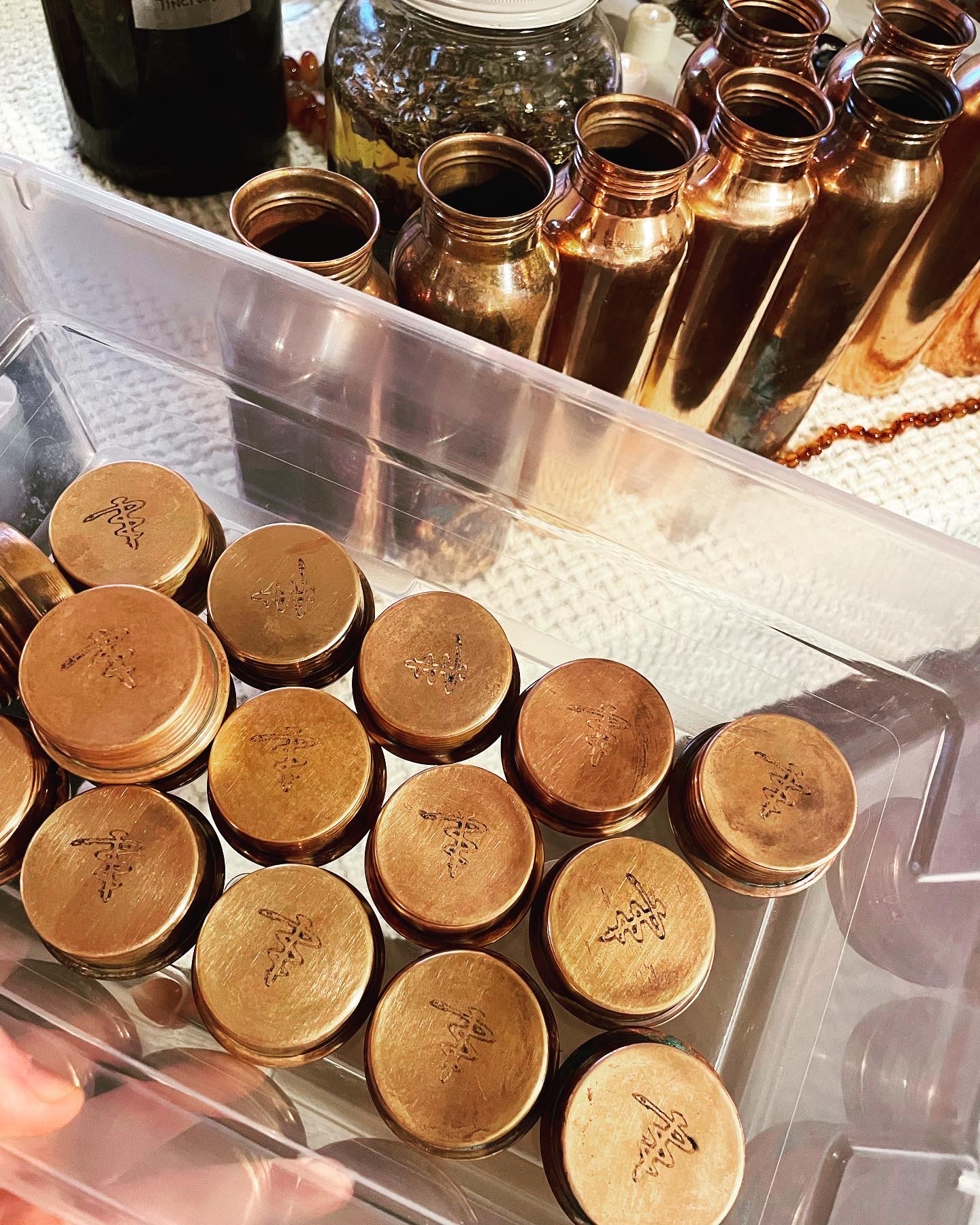 [That petroleum products in today's world are *so much* like actual goldmines is a nod to Rahu's impact on our times: the dirtying and degradation of our physical climate — and the instability which results — are reflective of the state of the human psyche, under constant siege by yet further Rahu significations — machines and technological advancement.]
Mars doesn't aspect the Moon, but the Moon still rules *it*, putting Luna on the viewing side of a two-way mirror, able to observe and intervene on him while he remains none the wiser. As the transformative power of Ras Alhague issues from her glowing gaze, Asclepius gains a direct line to issue remedies to the *fallen* planet [again, a call to Eden]
Perhaps through an *IV* [this series' namesake].
Needles… the Doctor's Snakebite!
Moving on from the artfully fitting aspects, allow us to return our focus to the election's myriad and uncomplicated virtues.
This iteration of Asclepius and Son of Apollo is the perfect mix of all which came before: not as cold as I, nor hot as III, with a less heaping "spoon full of sugar" than the one between. A perfect cocktail of Ras Alhague, Jupiter, and Sol, expertly mixed by our very own Coterie of Divine Physicians: Asclepius, the Ashvins, and Chiron, with the aid of Hygeia and dazzle of Aegle.
There are a lot of creative suggestions in terms of using Asclepius materia to support particular systems throughout this series' individual offering descriptions [worth scanning!], but the sky really is the limit!
For anything serious (and certainly before scheduling important procedures!), it's always best to consult with an experienced medically-oriented astrologer who can give prescriptions based on your own natal chart, whenever possible. Human Spirits are irreplaceable members of our real-life medical care teams/ coteries!
Kira Sutherland (who is familiar with Sphere + Sundry's catalogue) and Judith Hill are both incredible.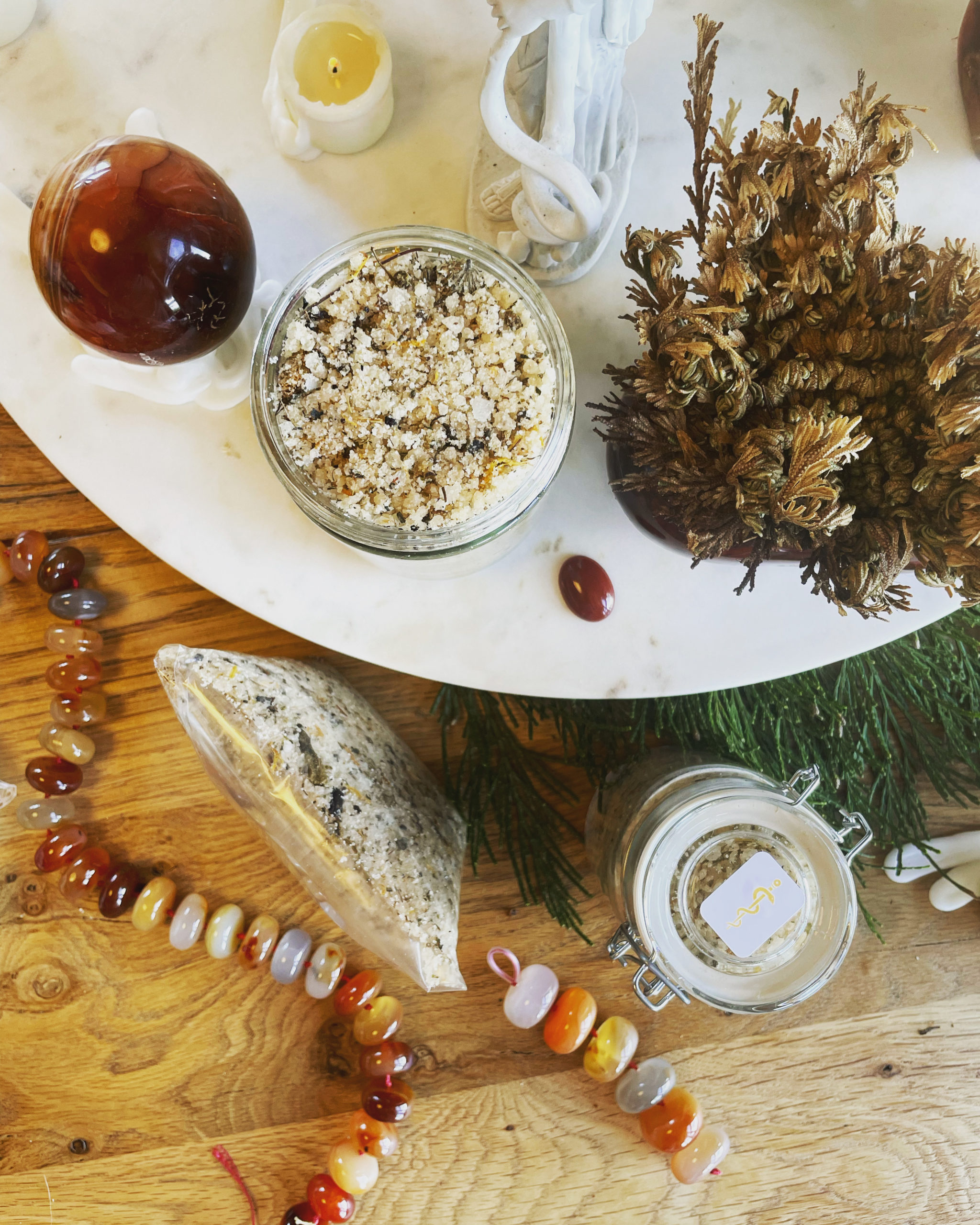 Note that engagement with this series and its offerings are in no way intended to replace actual qualified medical care.
Magic, belief, and spirituality are holistic aspects of effective treatment, never replacements for it.
Absolutely no claims are being made about its ability to cure, treat, or diagnose any disease, and obviously these statements have not been approved by any governing body.
This is all religious and educational in nature.
One of the ways Asclepius materia can be used is for aid in navigating our complicated modern medical systems, and connecting with qualified purveyors in a sea of overly-commercialized bureaucratic bullshit.
The best results from working with this — as always, will come from backing magical efforts and application with the real-world action necessary for making the fastest, most meaningful progress. Materia is but one tool in our collective kits, not a silver bullet [though it can feel like that sometimes!].
Medicine doesn't make itself.
We must *do the work* to compound and administer it.
This series is for inner-alchemy and personal development as much as it is for physical healing. Its potency is a vital match for the level of ongoing psychic, spiritual, cultural, and physical toxicity the times we live through will be famed for.
Apply this before yoga, breathwork, chi gong, and tai chi — all of which are incredible resources for physio-spiritual integration and development.
Get a lot of sleep, alone time, and keep well hydrated with high quality water while engaged with this series. Physical activity along the lines of flowing [writhing, dancing, again — yoga] and walking are super helpful. Perhaps initiating a practice of a lone stroll on the way to sunrise or sunset contemplation, could be of service.
There is a lot more to offer, but this is more than enough to get started.
ONE LAST THING, though.
Part of what this iteration of Asclepius has been shining a light on [for me], are the coteries we keep in an increasingly atomized, volatile world.
A team of great doctors is better than one, regardless of how good that one is.
Our relationships with one another are aspects between Sovereign Spirits… whether they be Alive, Dead, or Other[-than-Human]. Stars, Animals, Plants, and Planets.
The influences we court, the thoughts we think with, the people with whom we share our time and energies, all compound what we are, and what we're in the process of becoming. We are the medicine.
And so are our coteries.
Individuals are only as strong as the networks that support them. With that in mind, shifts are coming soon that reflect that ethos, and provide further scaffolding for the Community.
IN CLOSING… toxicity is the substrate for transformation. It in ourselves [our shadows], and in others, is nothing but grist for the alchemical mill.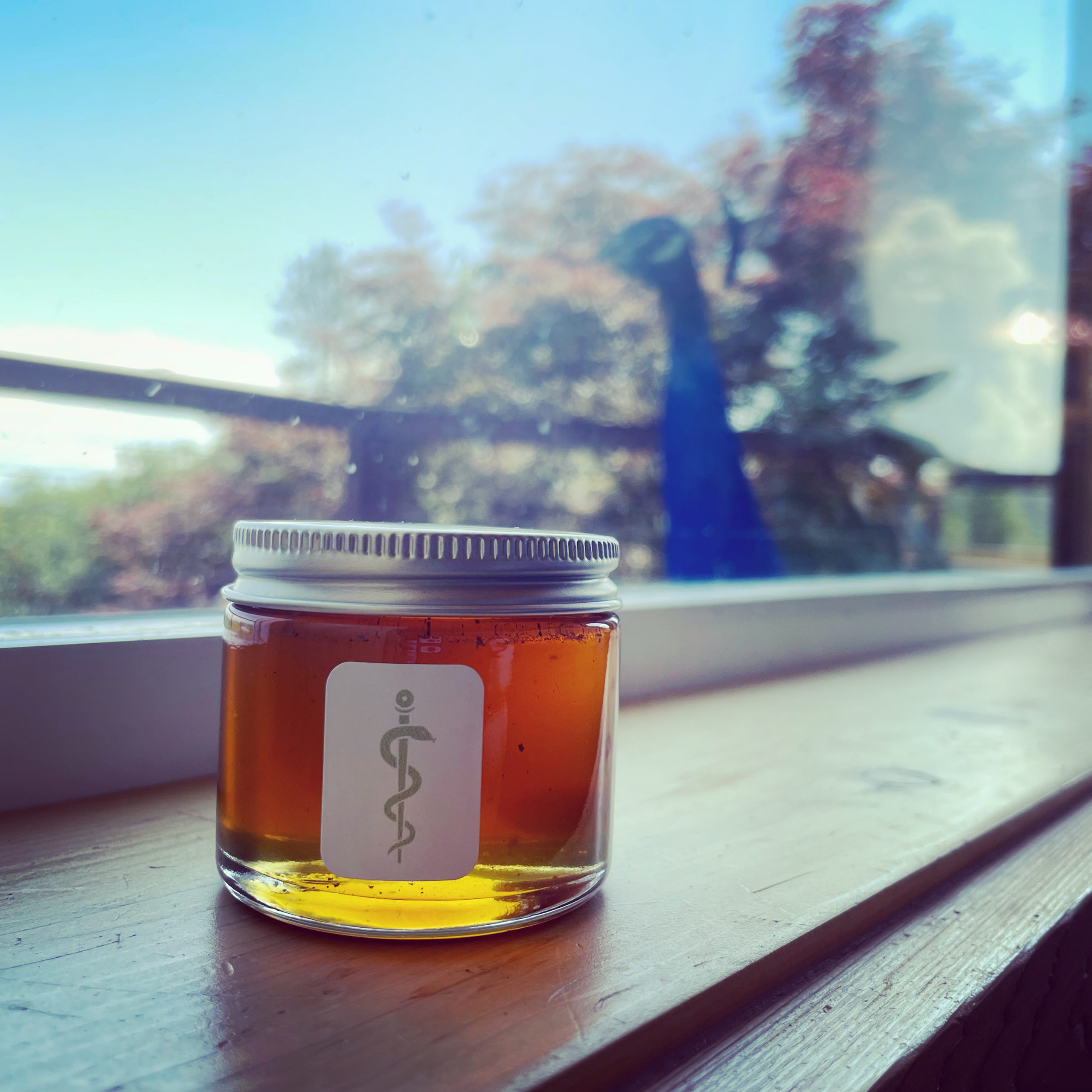 Moralizing has no purpose in magic.
Take what serves, and leave [or transform] the rest.
The poison is the cure. The wound is the healing.
Move through the oil fields, as the serpentine-current flows.
Shed that old skin, for the Mage has a prophecy:
You'll soon come to the correct conclusion
that you've outgrown it.
—
Formulas for these offerings remain practically the same as prior iterations, with only slight variation. Reviews from previous series have been consolidated on each page for comparison, and to gain a sense of Asclepius' track record for healing efficacy. All reviews reflect the anecdotal personal experiences and beliefs of those who were kind enough to share them.
If you'd like to learn more about these mysteries, I recommend checking out the write-ups for II, III, and I if you're still curious. Probably in that order.
Shipping is already underway for Plus Members!
Gratitude to the Coterie, in their many and diverse forms!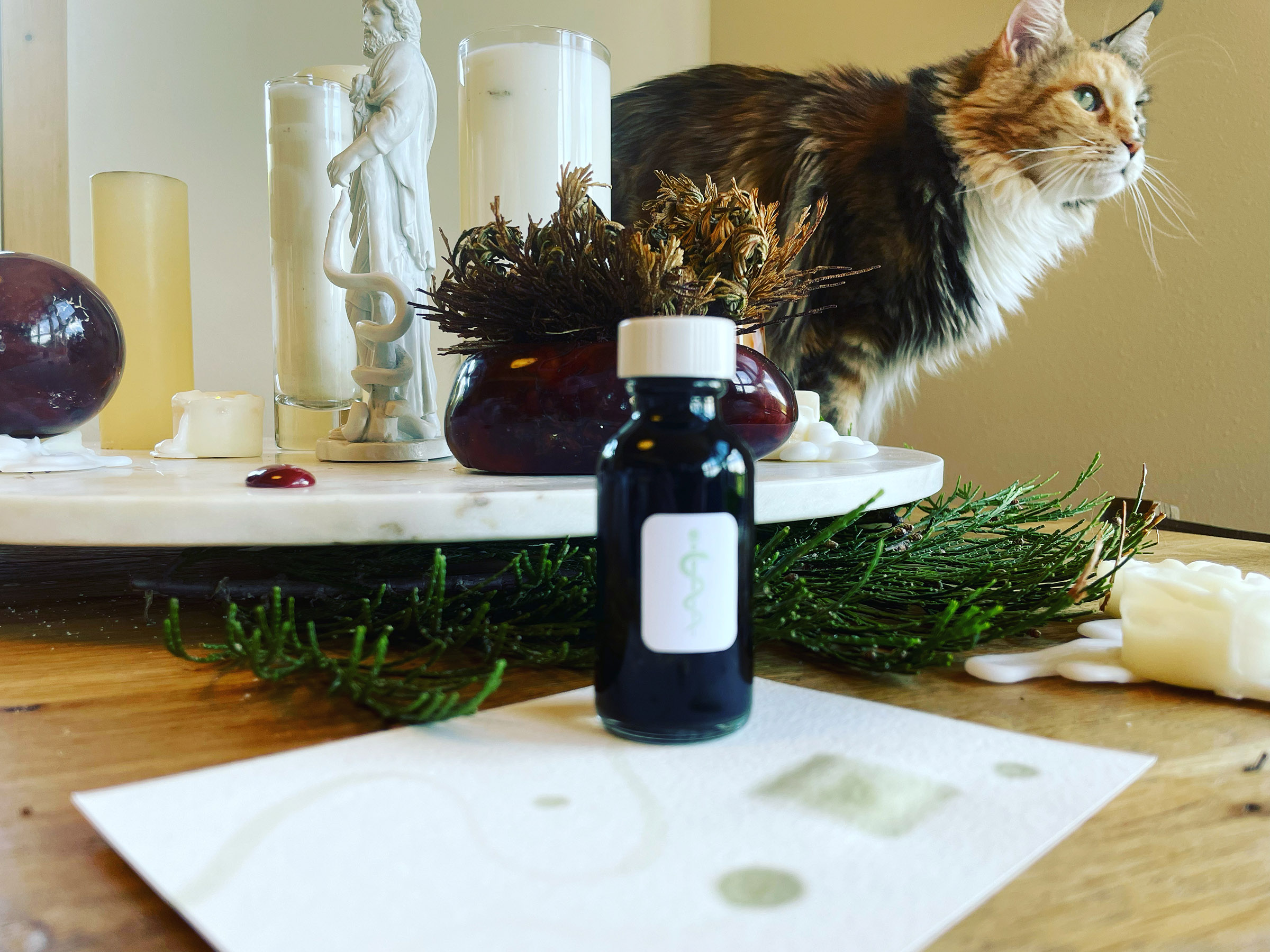 For information about processing times and current status updates,
please refer to the Announcements area of the S+ Help Center.