Anointing Oils, Available, Bath Bombs, Flagship, Incense, Powders, Spell Soaps, Venus' Aerial Delight

Beautiful, young Eirene is the Greek Goddess of Peace, Wealth and Plenty — a member of the second triad of the

Horae

, oft' depicted carrying a cornucopia, scepter, torch, and

rhyton

in works of classical art. In a world torn apart by ideological extremism (and isolation, e.g disconnection for how words and actions impact others), this subset is

for the Restoration of Faith — in Ourselves, and in Humanity

. A magical invitation to return to

orderly, pro-social sense

and

 right-relationship

. It provides a perfectly calibrated psychic Scale upon which to weigh our own needs and beliefs against those of the world around us, holding two spaces — equal and objective — and seeing clearly the result. How the scales rise and fall (when the bullshit has been taken off them) begs the question —

What is inequitable here? What is disturbing balance? Interfering with the stable possibility of true Peace?

The Eirene subset provides diplomatic gravitas and mental scaffolding to correct such dynamics, all the while issuing a cardinal edict to take action. "Harmony" is all too often established by

someone

selling themselves short — by sacrificing themselves at the altar of "not disturbing the peace" in response to others not carrying their own weight.

"That is not sustainable"

, the Scales say. It is the stoking of bitterness, simultaneously crippling opportunities for growth on both sides. Thus,

Eirene is for those who need to learn to stand up for themselves,

and/ or

 to sit tf down — have fun discovering where and which! Because: not everyone else is wrong. We are not always right. We *all* have our parts and needs in relational dynamics + human beings must learn to speak *with* one another again.

Be willing to correct

anything

that gets in the way of the most precious resource the modern world has hunted to the very edge of extinction — a sense of

Peace

. of

Equity

. of Right

Accord

. And therefore,

Plenty

. Apply to establish inner and exterior balance. To become more Gracious and Judicial in word, thought, and deed. Before yoga, meditative contemplation, or other activities that emphasize balance. Or difficult conversations, boundary setting moments, and times where honesty tempered by good faith make all the difference. Anoint the temples, back of the neck, the wrists, lower back, heart, and hips. Created during the Venus' Aerial Delight election window, with additions of dove feather, wheat stalk, freshwater pearl, ashwaganda, vanilla bean, olive leaf, and jasmine. Master root, deer's tongue, white lotus, slippery elm, corn flower, devil's shoestring, rosemary, and royal jelly powder (the nectar upon which the Queen Bee feeds). Ritually harvested peace lily, emerald, freshwater pearl, and 22k rose gold. The Oil is a combination of organic olive and jojoba. Lavender soothes agitation, hyssop makes way for redemption, and manuka offers grounded, Saturnian stability.

Eirene says: "In order to have peace, we must pave Roads to Redemption."

Roads which begin with honest, good faith conversations, wherein Hard boundaries and Soft boundaries can be established. The space in the middle, a battleground (or is it a garden?) wherein to establish our diplomatic aims. Advocate for yourself and others. Intervene where there is inequity. and do so from a place of Libran balance — well considered, thoughtful, and moderated, fortified with Saturnian scaffolding. Akin to

Venus in Libra

/ core

Aerial Delight

x

Immortal Heart

x

Deneb Algedi

, but a beautiful thing all Her own. Probably the most useful, life-changing offering I've ever made —

at least for this people-pleasing, boundary-challenged, self-sacrificing yet Mars-y Libra...

Learn Scale Gnosis, and practice the fine art of Diplomancy. Oil of Eirene arrives in your selection of a 1/2 oz glass vial with freshwater pearl, emerald, and 22k rose gold for $84, a 10 ml rose gold plated roller ($105), 10 ml rose quartz roller ($68), or 10 ml "flawless glide" steel roller ($68). Eirene's Incense and/ or Powder is available in your choice of 2 oz bulk pot ($90) or standard 1/2 oz vial ($30). We are beginning to roll out soaps and bath bombs for existing series! Sign up for the Waitlist to be notified when they become available. Soaps offered in a 3″ x 1″ disc for $48 Bath Bombs offered in a 2.5″ sphere for $33 Please note that the loaded herbal components in the spell soaps can make them slightly "scratchy" on the skin, which can serve to exfoliate, or, use your hands to work up a lather and transfer it to whatever areas you wish to wash!

Note that the Aerial Queen's subset is for more generalized Venus in Libra things — more appropriate for relaxation, enjoyment, and the like...

$

30.00 –

$

105.00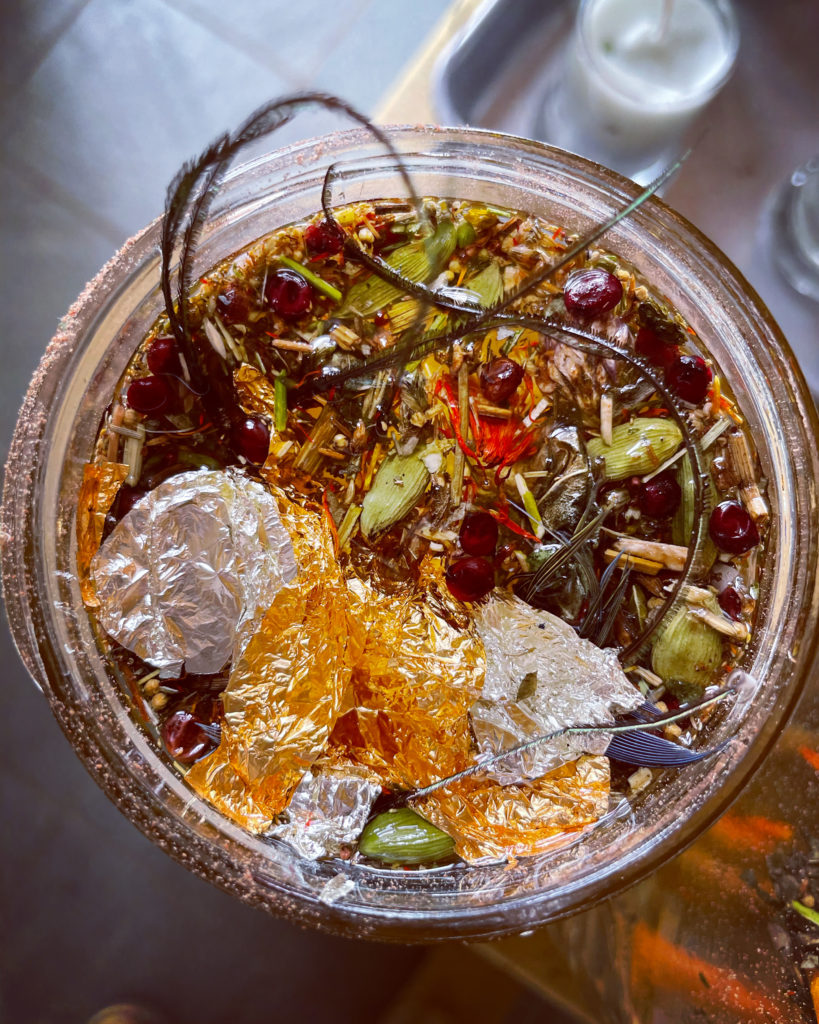 Oils are used to extract fat soluble elements from herbs and other ingredients, and act as a carrier that absorbs flavor, scent, and magical charge. They are applied to the the bodies of people and objects to anoint, bless, and generally impart their characteristics.
Sphere + Sundry offers ritual oils that carry the charge of rare, potent, and exceptional astrological elections.
They can be used standalone to support sympathetic activities, or used in conjunction with other items from their series, such as talismans, to recharge or empower. They can be given as offerings, used to dress candles, applied to anoint gemstones and metals, or used in any of the myriad ways ritual oils are typically utilized.
Our most frequently selected oils are extra virgin olive, argan, almond, and jojoba (technically a liquid wax), depending on which best correspond to the series at hand. Vitamin E is added as a natural preservative to extend shelf life. The base oils are always fresh, typically organic, cold-pressed and hexane free, kept in cool darkness until use and throughout incubation.
They are ritually poured over suffumigated herbs, resins, gems, and other natural materials in fleeting moments of astrological supremacy, making each election the natal chart of the oil itself, using a Picatrixian protocol. They are then sealed and marked with the right glyphs and names, before being set aside to incubate for a full lunar cycle (at minimum) with the other items in their series.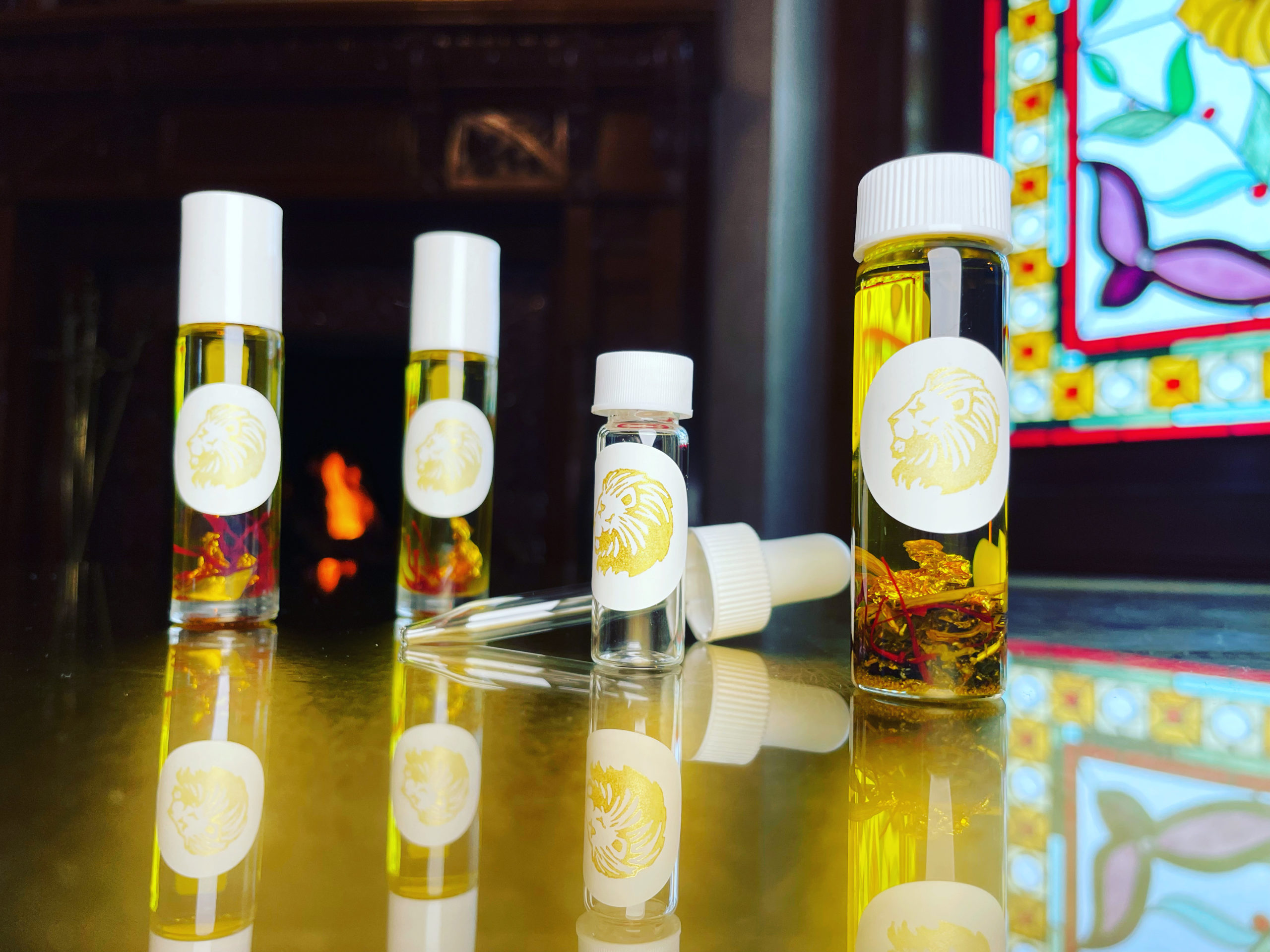 These are agitated during appropriate planetary days and hours to further compound their charge, and decanted with like-consideration into smaller vials for re-homing. Extra care is taken in the sealing and packing oils for transit to minimize potential for leakage. Oils are not filtered and often contain herbal residues, in addition to metal leaf and gemstone keepsakes.
While our oils are mixed with vitamin E as a natural preservative, to further extend their shelf-life we recommend keeping them covered and away from sources of light when not in direct use. Ideally on an altar of another dedicated space.
Oils may stain or harm the surfaces they are applied to. They can also cause contact reactions on the skin, especially if they contain hot ingredients. Always perform patch tests before broader application.
Sphere + Sundry's oils are available in 1/2 oz glass vials with optional Dropper Cap Kits — which come with dropper tops to replace the standard cap, in addition to a small vial labeled with a matching series glyph to store the slight excess of oil displaced by the dropper. We also offer limited edition 10ml rollers with custom gemstone rollerballs, with stones matching each series election.