As the Full Moon shone conjunct the fixed star Deneb Algedi on Thursday, August 15th 2019, this series was ritually created under its beaming light. What had been a calm, still evening before my entreaty to the star instantly became a blustery affair, threatening to snuff the candles, altar cloths billowing every which way. "This is like magic in the movies", I briefly thought, and recalled how the old books associated Deneb Algedi with violent storms, especially at sea.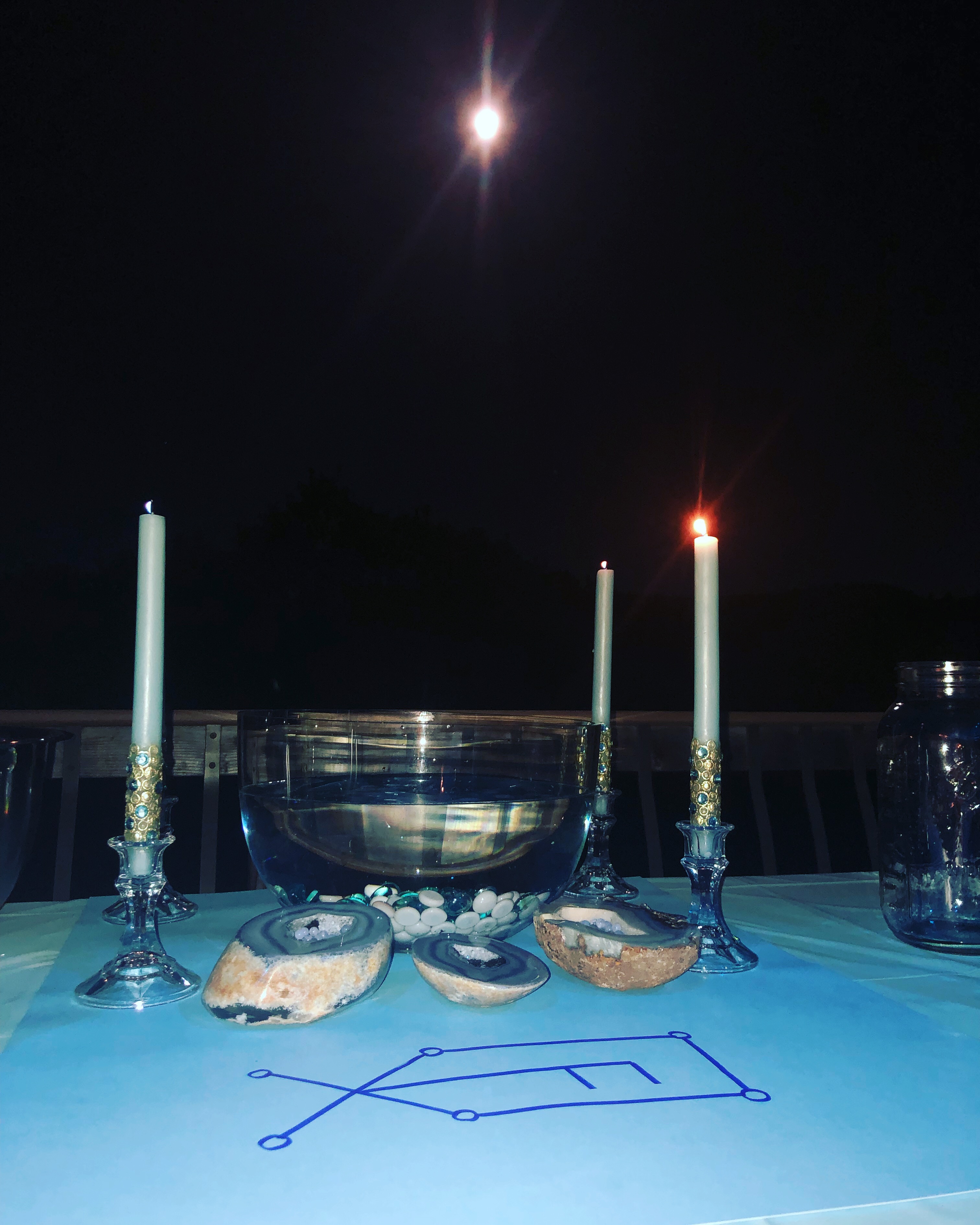 This star marks the tail of the goat in the constellation of Capricorn, though due to the natural course of precession, it resides now at 23° Aquarius. It feels very Saturnian-King, like an underlying primordial force of patriarchal order.
I'm really selling it, aren't I? Violent storms and patriarchy, everyone's favorite, 2019 (and '20)!
But the star also brings protection, the favor of the law and powerful individuals, and builds wealth. All of the things we hate entrenched power structures and bureaucratic systems for keeping to themselves, depriving the common folk of such important advantages. Witchcraft and magic, the great equalizer ; )
Deneb Algedi is said to possess the nature of both the greater malefic, Saturn, and greater benefic, Jupiter. Classically speaking, these were the outer planets, representing forces more powerful than the individual, which every person is subject to — the state, the law, and religion. In a time of monarchy, the King was an avatar of both, depending on whether you found yourself in his good graces or earned his ire. The favored were protected and made rich, while his enemies were crushed beneath the full weight of every tool at his disposal, the law itself being (functionally) as he pleased it to be.
We still live in a time of Kings and Queens, make no mistake, in a broader social capacity and in the sense of individual Sovereignty.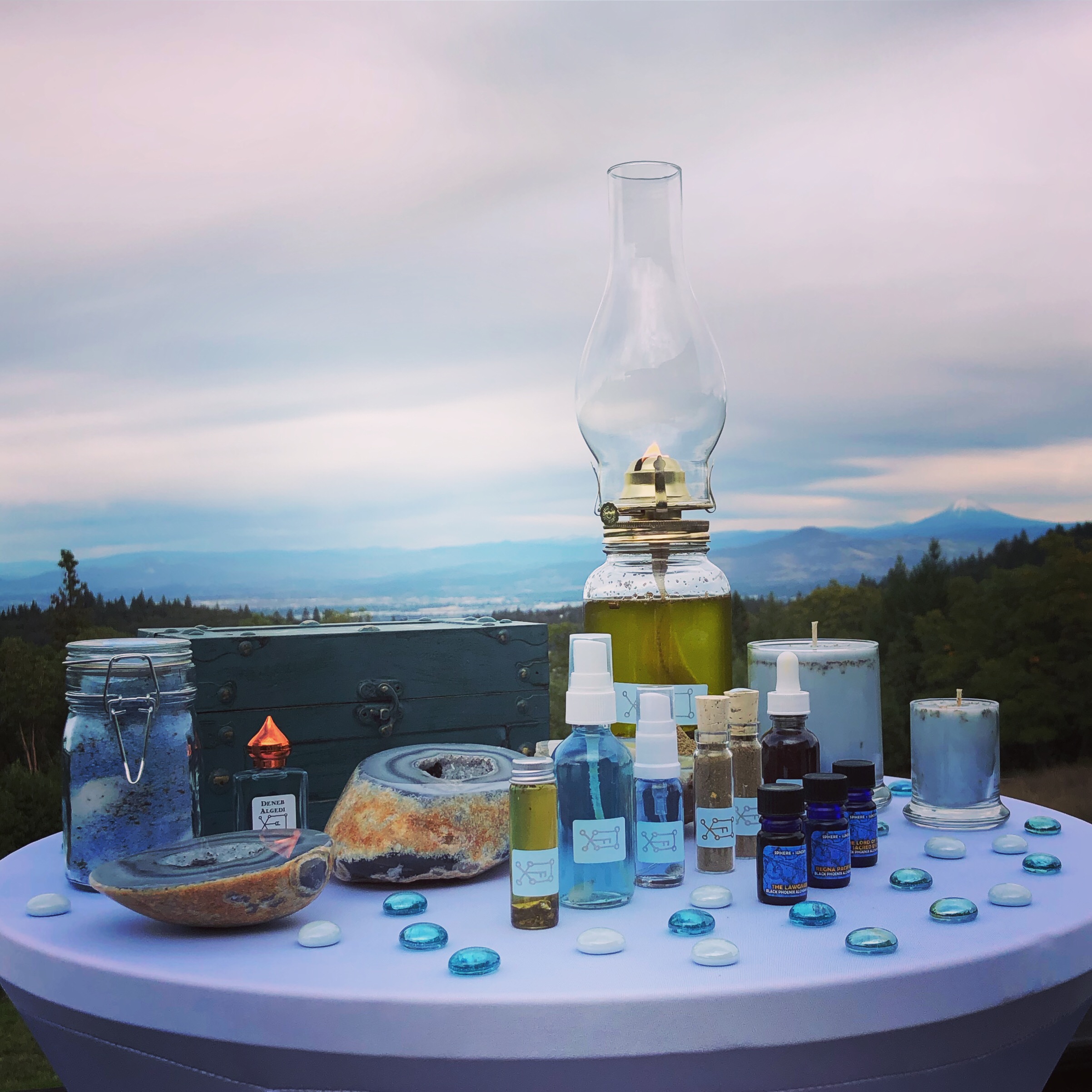 The letter of the law is one thing, but it is the people we encounter who enforce it that have the most direct power to impact our lives individually. For instance, when a policeman pulls you over, he has the option to be friendly and let you go… or, to fairly, respectfully issue whatever ticket you know you deserved… or, to trump up the charges and bait you into resisting arrest… or, to literally kill you in an act of "self-defense".
Regardless of how that plays out, the cop will likely be fine, because the cop is protected. He has the favor of the powerful. He has resources at his disposal. The likelihood of that scenario going badly increases the less protection, money, and power the police officer perceives you to have, to rival his own. Then it's up to the judge, who also has the state-ordained power to let you off scot-free, or throw the book at you. Often the conviction is less about actual guilt or innocence than it is which party the judge or jury prefers, and just how much.
It's a brutal world in which we live.
Deneb Algedi, in that sense, provides a form of… it wouldn't be wrong to call it "magical privilege". You may not be a rich white man, but what if the world treated you more as though you were?
It's important to note that this star doesn't keep the law away. A treasured friend, when asked what the Deneb Algedi series felt like from sampling it at As Above, described it as "Big Cop Energy". That's an easy first impression to get from a charge that's essentially, in D&D terms, Lawful Good.
Deneb Algedi is not individual cops, or judges, or the legal system as it corruptly functions in the hands of the power hungry, nepotistic, and biased.
It's the spirit of the right and the good. Stealing the property of others and assaulting or murdering them is — generally speaking! — wrong, and should not be accepted by civilized society. Deneb Algedi is the primordial law-giver, and invoking that spirit in your own sphere will help ensure fair treatment in the eyes of, and at the hands of, others.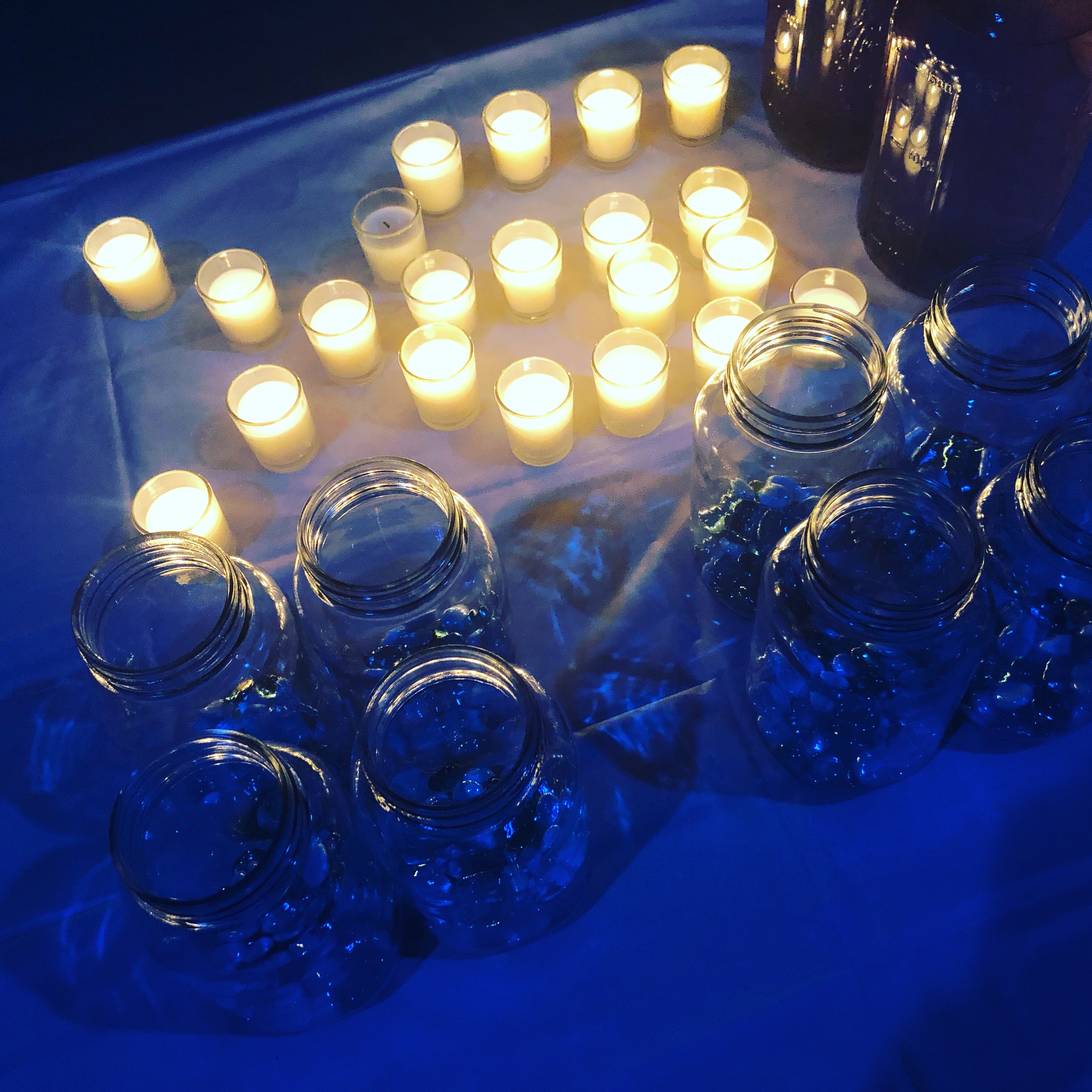 It can be of aid for those who are truly innocent, or willing to accept fair punishment for their wrong-doings and learn from their mistakes. It can also prove medicinal for those who have had bad experiences with law enforcement and the justice system, to help encourage fairer treatment in the future, certainly, but also to connect with the purer and better intended spirit behind whatever miscarriage of justice blighted their prior intersection.
[Note — if you are engaged in unlawful activity, are a liar in a major/ malefic sense, or a routine doer of bad deeds, it's probably best to sit this series out, as Deneb Algedi will be unlikely to find you deserving of his aid.]
Austin has described this star as feeling something along the lines of a stern-but-fair sky grandpa, benevolent to those in his charge, sagely and wise… but find him on the porch with intent to vandalize his property, he'll cock that rifle at you and might just shoot.
Intimidating, to say the least, but that's how people with bad intentions toward you should feel, if Deneb Algedi has any say in the matter. This star is said, after all, to repel thieves and protect one's home and assets, which was confirmed the day after the operation, when I got a fraud alert from my bank and was able to shut down thousands of dollars in attempted transactions.
It can be used as protection against the evil eye and to intimidate those who would slander or falsely persecute you. It can also be used for boundary reinforcement, physically and interpersonally, the cultivation of discipline and rightful living.
Some of these items possess a heavy Saturnian vibe — far less exciting, warm, and fuzzy than most of the other series Sphere + Sundry has so far released. It's stoic, grounded, and pragmatic. Something you use because it's necessary and you have a life to build/ protect, not because it feels amazing at the time. It promotes dutiful engagement with the world, and your role within it.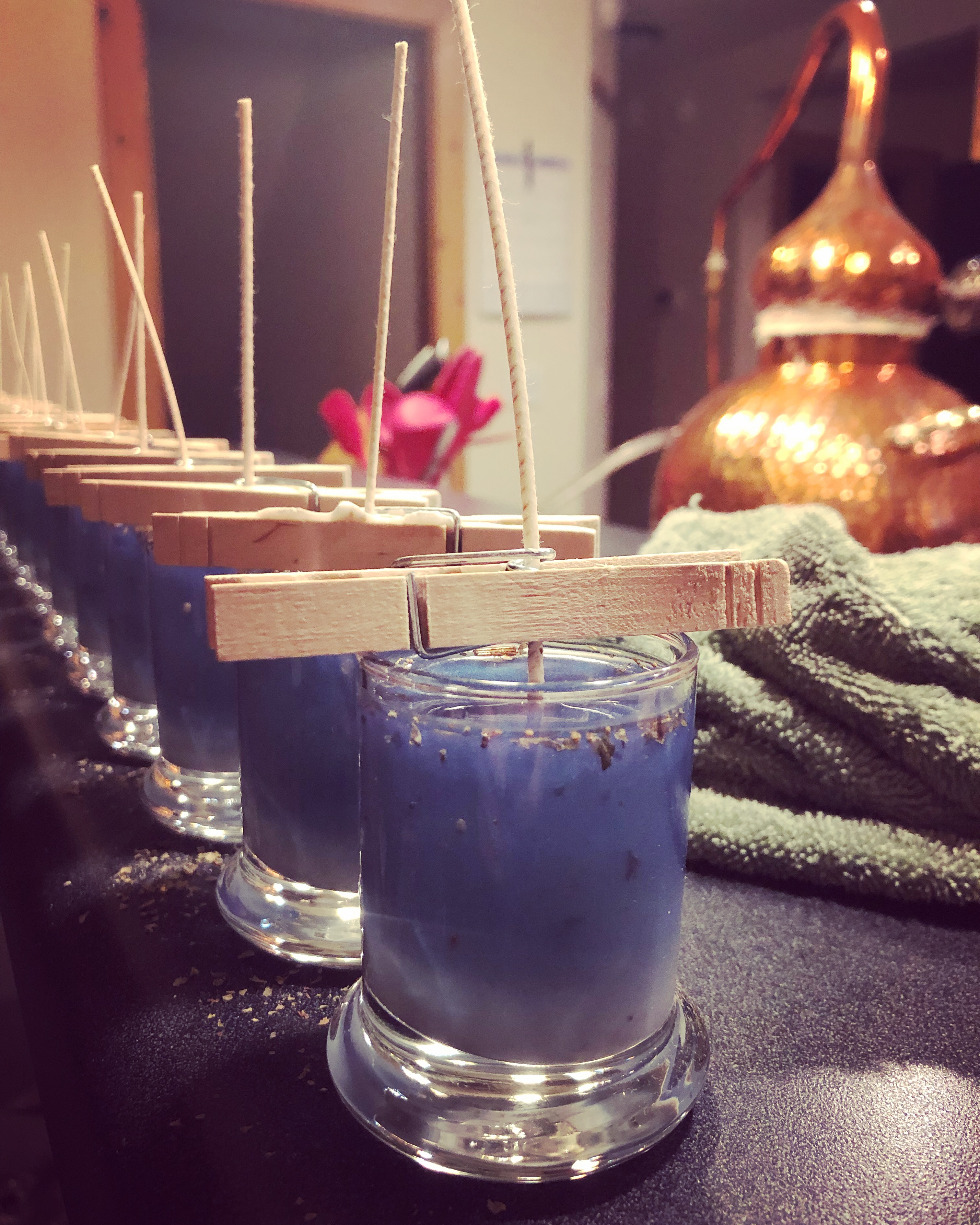 As is so often the case, when you erect fresh boundaries, it draws some people to test them. Shifts in power dynamics, upward social mobility, becoming richer and more successful, and carrying yourself with more self-respect will bring out the good in the outer world, but sometimes the nasty in one's personal sphere, as those around us scramble to figure out what our positive life-changes mean for (or about) them.
People who use a lot of benefic magic, and who lead benefic lives, come to find that the power found in a star like Deneb Algedi can be useful in protecting what they've worked hard to build, as people's envy and covetousness pose significant danger. In that regard, this series fills a huge gap in the Sphere + Sundry arsenal.
Collaborators for this series include Elizabeth Barrial of Black Phoenix Alchemy Lab and Twilight Alchemy Lab, who formulated three distinct oil-based perfumes for particular purpose on the equivalent election per her location.
Thanks and praise to Austin Coppock, our resident astrologer, for selecting the election(s).
Each order includes basic instructions for working, timing suggestions, and a prayer, in addition to an invitation to the private Sphere + Sundry client forum (now off of social media) for ongoing support from both creator + community.
Available, Deneb Algedi I, Sold Out, Talismanic Perfumes

[sf_iconbox image="fas fa-magic" character="" color="accent" type="boxed-four" animation="" animation_delay="200"] Sold out... but a new

trio of BPALs

are part of Deneb Algedi II 😘 [/sf_iconbox] Collaborator of unparalleled virtue, Elizabeth Barrial of

Black Phoenix Alchemy Lab

and

Twilight Alchemy Lab

, ritually crafted one of three limited edition perfume oils during the Full Moon on Deneb Algedi, 2019. Of it, she shares —

May the Name send its hidden radiance          to open the gates of deliverance to His servants—and shine in their hearts, which now are shut in silent darkness.

May the great King be moved to act in perfection and righteousness - to open the gates of wisdom for us and waken the love of old, the love of ancient days.

By the power of the hidden Name I-am-that-I-am, and by the dew of Desire and Blessing, the dead will live again...

I-am is the power of your Name in concealment, and one who knows its mystery dwells in eternity's instant.

Over the world, it pours forth abundance and favor, and on it all worlds hang, like grapes in a cluster.

Send the dew of blessing, the dew of grace; renew my dispensation, and grant me length of days.

Bring light to my eyes with your teaching, and let not the husks          that surround your hosts obstruct me. May Heaven and Adam's children judge me with mercy.

Sustain me with their strength and fortune - but do not leave me in need of the gifts of men. - Prayers for the Protection and Opening of the Heart by Ya'akov Hakohen, translated by Peter Cole

This oil possesses a pulsing radiance – the golden glow of a faraway star. It is an oil of protection and cleansing, of divine succor and true safety. This oil fortifies your defenses, repelling not just open acts of aggression or subterfuge, but also the bitter darts of cruelty, envy, and malice. It is a wall of resplendent force, assisting in protecting you from all manner of attack and violation. It is a defense against malocchio, hexes, curses, and psychic violence, and a method through which you can contain and retain positivity.

This oil is a protection that stems from your own personal and intimate connection with the divine. This is the flame that banishes the shadows. Enflame the oil with prayer.

Golden vegetal musk and golden oud suffused with Australian sandalwood essential oil (Santalum spicatum), bay laurel essential oil (Laurus nobilis), ethically-harvested frankincense essential oil (Boswellia carterii), palo santo essential oil (Bursera graveolens), lemongrass essential oil (Cymbopogon citratus), organic fennel seed (Foeniculum vulgare), organic ginger root (Zingiber officinale), grains of paradise (Aframomum melegueta), organic marjoram leaves (Origanum majorana), organic goat's rue (Galega officinalis), sweet marjoram essential oil (Origanum majorana), Spanish marjoram essential oil (Thymus mastichina), organic fair trade cinnamon bark (Cinnamomum verum), coconut oil, devil's shoestring, blue chalcedony, and lemongrass (Cymbopogon citratus), blessed thistle (Cnicus benedictus), black snakeroot (Cimicifuga racemose), and bay leaves (Laurus nobilis) from the TAL garden, plus bay leaves from Louisiana that were gifted to us by a dear friend.

This oil was charged and consecrated under the auspices of Deneb Algedi on 15 Aug 2019 between 12:25 and 12:56am in the City of Angels. Each bottle contains blue chalcedony chips.

PLEASE NOTE: this oil contains cinnamon bark and ginger root.

$42

$

42.00