Available, Exalted Venus II, Talismanic Perfumes

Elizabeth Barrial of

Black Phoenix Alchemy Lab

offers to

Exalted Venus II

a set of 4 Talismanic Perfumes, per her location —

---

CONDOLEO There should be no despair for you While nightly stars are burning; While evening pours its silent dew, And sunshine gilds the morning. There should be no despair—though tears May flow down like a river: Are not the best beloved of years Around your heart for ever?

- Emily Brontë A sweet, comforting oil: a balm for despair, a heart-healer, and a catharsis. White lotus absolute (Nelumbo nucifera Gaertn.), blue lotus absolute (Nymphaea caerulea), Egyptian neroli essential oil (Citrus aurantium var. amara L), Bulgarian rose otto (Rosa x damascene) and rose petals from the TAL garden, lemon verbena essential oil and herb from the TAL garden (Lippia citriodora), raspberry leaf and fruit compound from the TAL garden (Rubus idaeus), apple pulp and fruit compound from the TAL garden (M. pumila), Sumatran benzoin tears and absolute (Styrax benzoin), and zhi zi (Gardenia jasminoidis).

---

SQUAMA Is it a dream? Is heaven so high That pity cannot breathe its air? Its happy eyes forever dry, Its holy lips without a prayer! My God! my God! if thither led By Thy free grace unmerited, No crown nor palm be mine, but let me keep A heart that still can feel, and eyes that still can weep.

- John Greenleaf Whittier During painful and frightening times such as ours, we sometimes try to protect ourselves from the horror and pain that we are experiencing by (intentionally or not) hardening ourselves to the suffering of others and to our own suffering and effectively closing ourselves off. This oil was crafted as a protection from the ravages of personal and global grief by enabling you to keep an open heart, letting the darkness of the world pass through you without injuring you. Squama assists in helping you remain able to acknowledge and process pain with eyes that remain open and hearts that remain open while enabling you to continue to react with love to yourself and to others no matter how dark the world may become. .. let me keep a heart that still can feel, and eyes that still can weep. The scales of a fish may seem delicate, but they are incredibly powerful. They aid in both camouflage and protection, and this oil will also aid you in knowing when to stand your ground, when to fight back, and when to fade into the kelp. Pink lotus absolute ( Nelumbo nucifera Gaertn.), white willow bark (Salix alba), whole vanilla beans and vanilla absolute (Vanilla planifolia), lilac petals and leaf (Syringa vulgaris), fig leaf and fruit from the TAL garden (Ficus carica), Sumatran benzoin tears and absolute (Styrax benzoin), double-distilled Indonesian vetiver essential oil (Vetiveria zizanioides), tuberose absolute (Polianthes tuberosa), and melon rind (Cucumis melo).

---

POMPILUS

Loosely inspired by remoras, this oil will assist you in befriending those who – at first glance – may seem to be your enemies, in finding (and charming) unexpected allies, and in guiding you to your destinations (literal, spiritual, and metaphorical) in safety. Rose geranium essential oil (Pelargonium graveolens L'Hér), geranium absolute (Pelargonium graveolens), Egyptian neroli essential oil (Citrus aurantium var. amara L), moth orchid petals (Phalaenopsis), Turkish rose absolute (Rosa x damascene), bergamot (Citrus aurantium), white tobacco absolute (Nicotiana tabacum), golden tobacco petals from the TAL garden (Nicotiana glauca), maidenhair fern fronds (Adiantum), Burmese red sandalwood essential oil and wood (Pterocarpus santalinus), lemon verbena essential oil and herb from the TAL garden (Lippia citriodora), cubeb berries and essential oil (Litsea cubeba), cinnamon bark (Cinnamomum verum), ruby red grapefruit essential oil (Citrus paradisi), and pink pepper essential oil (Schinus mole).

---

LEPOS

An oil of effervescent charm, quirky humor, captivation, and enchantment. The allure of the odd, the magnetism of Poe's "strangeness in the proportion," the amplification and cultivation of the strange things about you that make you uniquely lovely. Sweet fennel essential oil (Foeniculum vulgare ssp. capillaceum var. dulce) and bronze fennel leaves, flowers, and seed from the TAL garden (Foeniculum vulgare), white lotus absolute (Nelumbo nucifera Gaertn.), blue vervain extract, herb and flowers from the TAL garden (Verbena hastata), violet leaf absolute (Viola odorata), CO2 extract of cardamom and crushed cardamom pods (Elettaria cardamomum), apple pulp and fruit compound from the TAL garden (M. pumila), flouve absolute (Anthoxanthum odoratum), honey absolute (Apis meliferra), and spearmint essential oil and leaf from the TAL garden (Mentha spicata). This oil is NOT vegan.

---

Available for $45 each, or as a full set for $180

$

45.00 –

$

180.00

MONS(W)OON SEASON surges on at Sphere + Sundry with the debut of Exalted Venus II ~ a series so approachable and beneficly benign, it may well be considered one of the few universally applicable.
A palate cleanser of sweet simplicity…
Created the morning of Luna in Cancer, and funnily (fractally…) enough, on April 7th: the day which hosted the creation of our maiden Exalted Venus series just 3-long/short-years ago on the same date, 2019.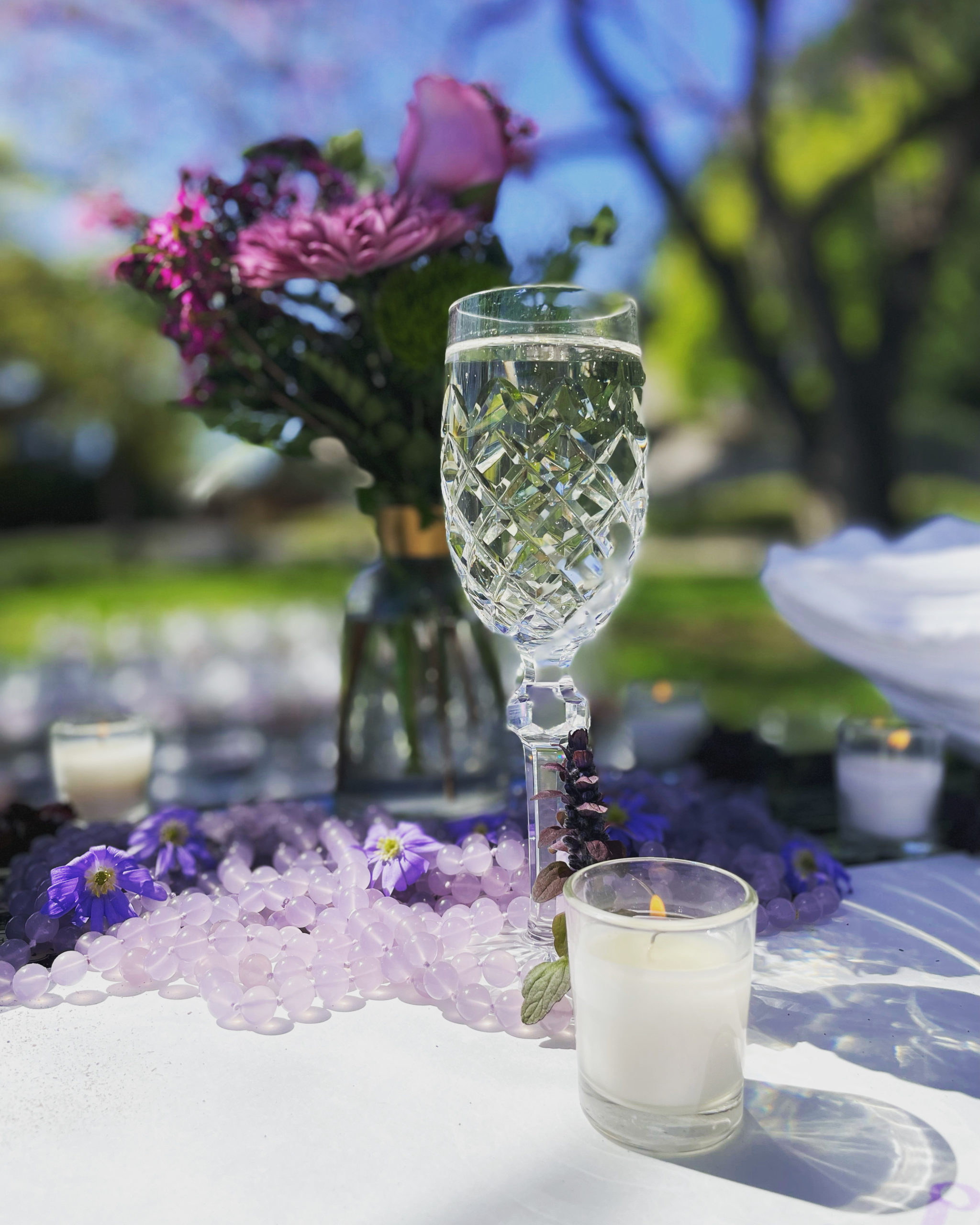 After recent deep dives into technically loaded, complicated descriptions, this *already* feels as nice to write and to release as I hope it will be for you, Dearest Reader, to take in, and moreover… to enjoy.
Venus here is lovely and flow-y and amenable, and ultra wearable ~ a Vacation in a Vial, and you should probably get some. The end ; )
almost…
It should be noted that the biggest difference between the 1st and 2nd series ~ for those already familiar, or in terms of reading and contextualizing reviews/ managing expectations ~ has many of the same notes and features, but is significantly less Neptune-y. Which is code for boundary-eroding, psychedelic, and excessively mind-altering.
I've mentioned in the Client Community before that in a world with time machines, that series would be renamed Venus-Neptune in a heartbeat, because the conjunction between the two was SO close, and the impacts SO palpable (despite no formal entreaty to the nebulous outer-one).
Some Clients reported the level of intoxication resulting from application rendered it almost unwearable, or wearable only under very specific, tightly controlled, and close-knit circumstances.
That is far less the case in this electional iteration (for the vast majority of offerings!), though Venus in Pisces does tend to prefer Herself intimacy and genuine connection over less personal alternatives.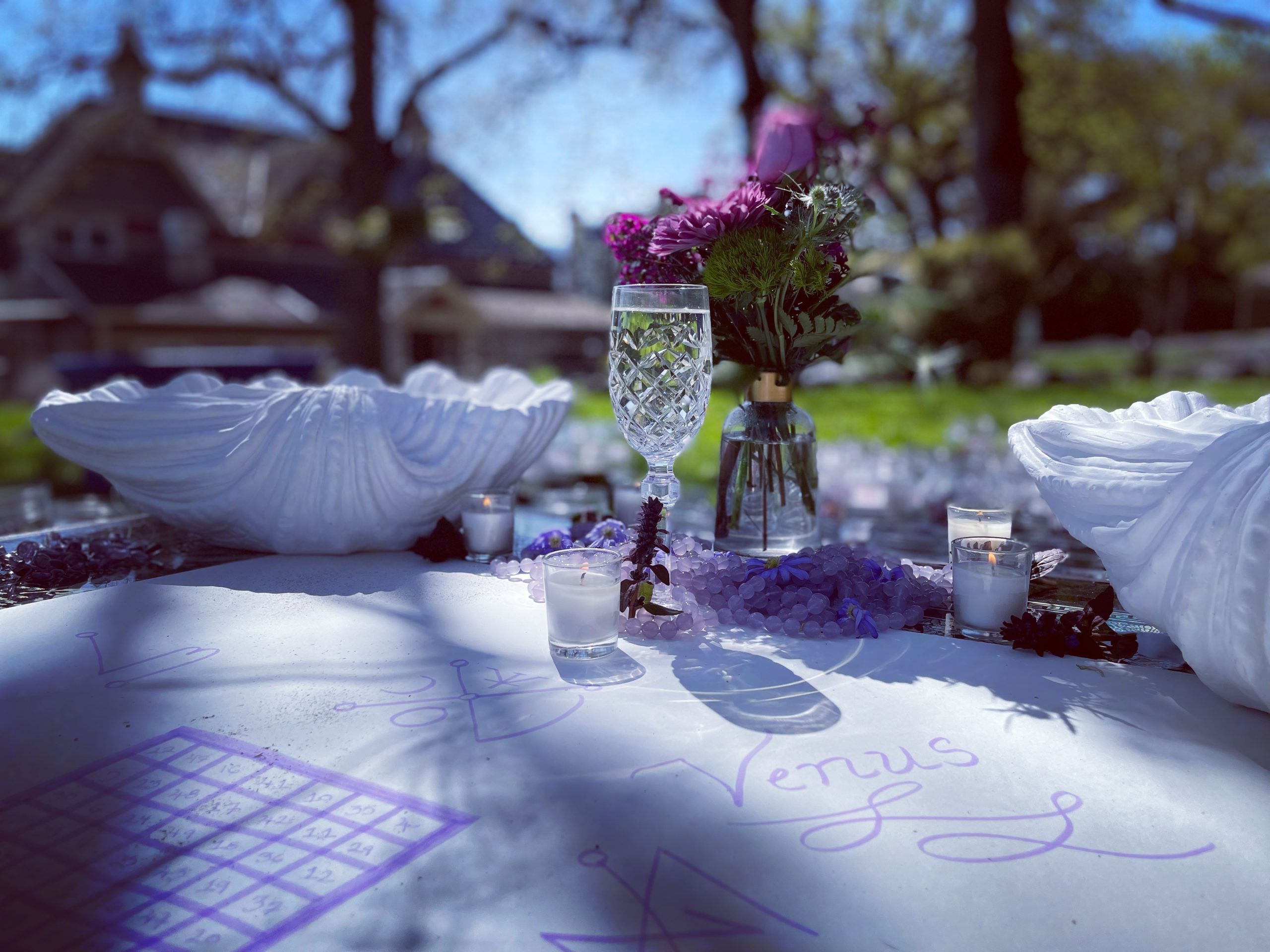 Venus here is the Morning Star on our Midheaven co-present with Her fellow benefic + sign ruler, Jupiter. Luna is vigorously waxing from Her place of Rulership, in close contact to Venus by trine, throughout the hour of Venus.
Jupiter being at the ready makes this slightly less flowery/ hyper-femme feeling than previous Venus series… still soft and seeking connection, but also more active, exacerbated by that amped, waxy Luna in Cancer. Something most people can likely wear throughout the day for stress relief and enjoyability without feeling too indulgent or lazy to function.
[For heavier, more profound state alteration of body or mind, apply multiple Forms, add Luna, or simply apply to multiple and larger areas. Such is a feature, not a bug, since it adds lots of flexibility to application. A testimony to Her mutable and amenable nature, akin to wearing layers of clothing in changeable weather…]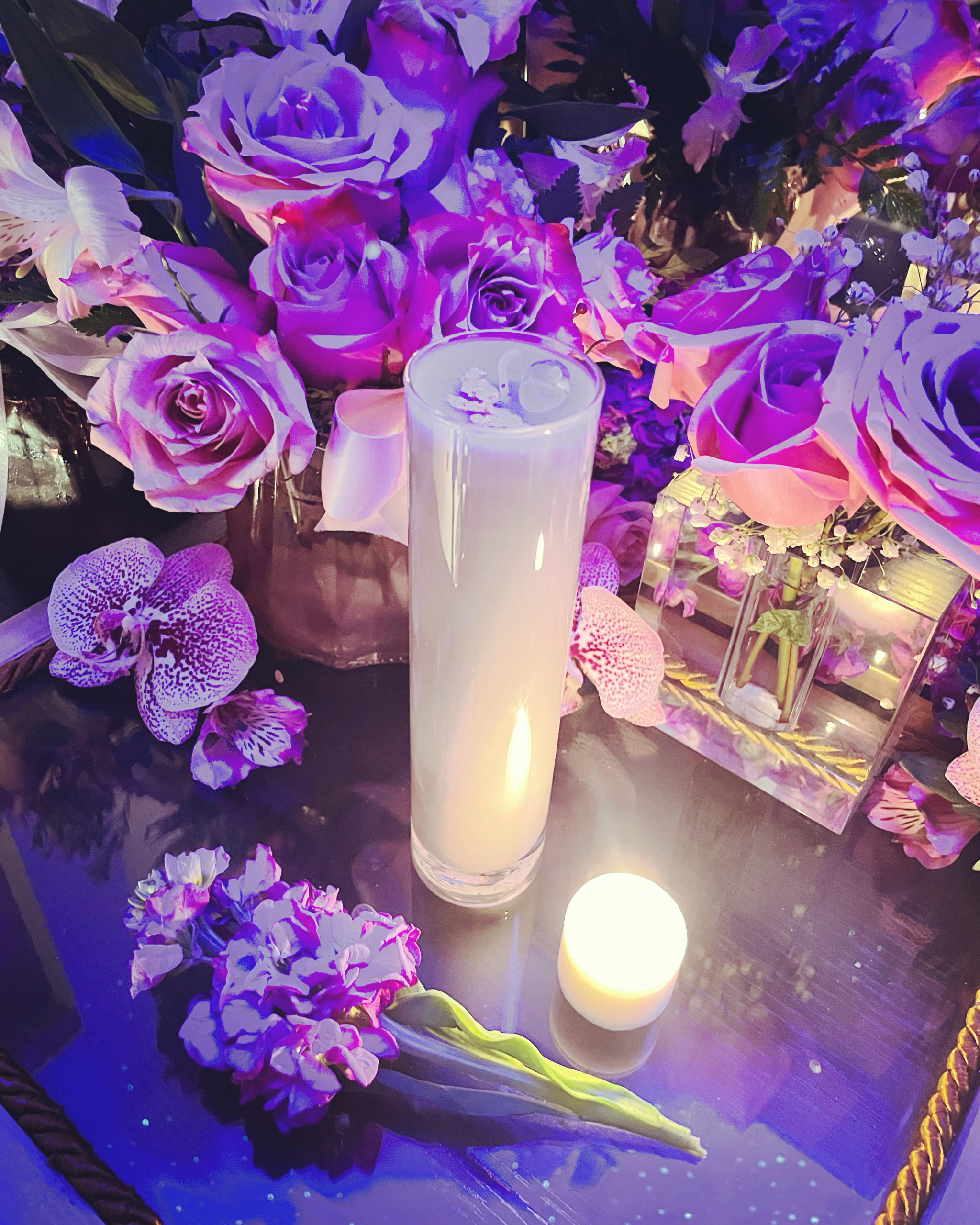 Venus doesn't mind putting in a reasonable amount of work here, so long as it's at Her own comfortable pace ~ though application is best suited to add depth and flourish to personal and social time, such as when off the clock, enjoying your spouse, fur babies, and family, creating/ crafting, or doing that which brings you pleasure.
Most are already familiar with what the Fairer Benefic is good at and for, and in Her Exaltation (backed by Jup-Jup!), She's simply better equipped to make good on those promises than in any other sign, and with less… specialization, than Rulerships.
She brings beauty, charm, charisma, enjoyment, sociability, an easy going nature, skill and interest in the Arts, glamour, connection, me-time, us-time, and siren-calls toward desires of the heart.
More than anything in particular, offerings from Exalted Venus II offer relief, respite, and renewal from everyday stressors. Hers are the sweetest, freshest of waters… morning dew upon tender leaves… gently flowing streams… the juice of a perfectly ripe fruit ~ perhaps your favorite fruit ~ releasing itself for the sake of your nourishment, enjoyment, and yes… pleasure.
Aphrodite, Aphrodisiac made flesh…
Venus is conjunct the Royal Star Fomalhaut here ~ which existing Clients will be familiar with, and others can learn about in its dedicated write-up if they wish. The Venus-Fomalhaut Oil included in this release combines and unifies materia from the two respective rituals; though the rest of the items were formally consecrated to Venus and Venus alone. Many are vegan, some contain organic honey. Check individual offering data to confirm.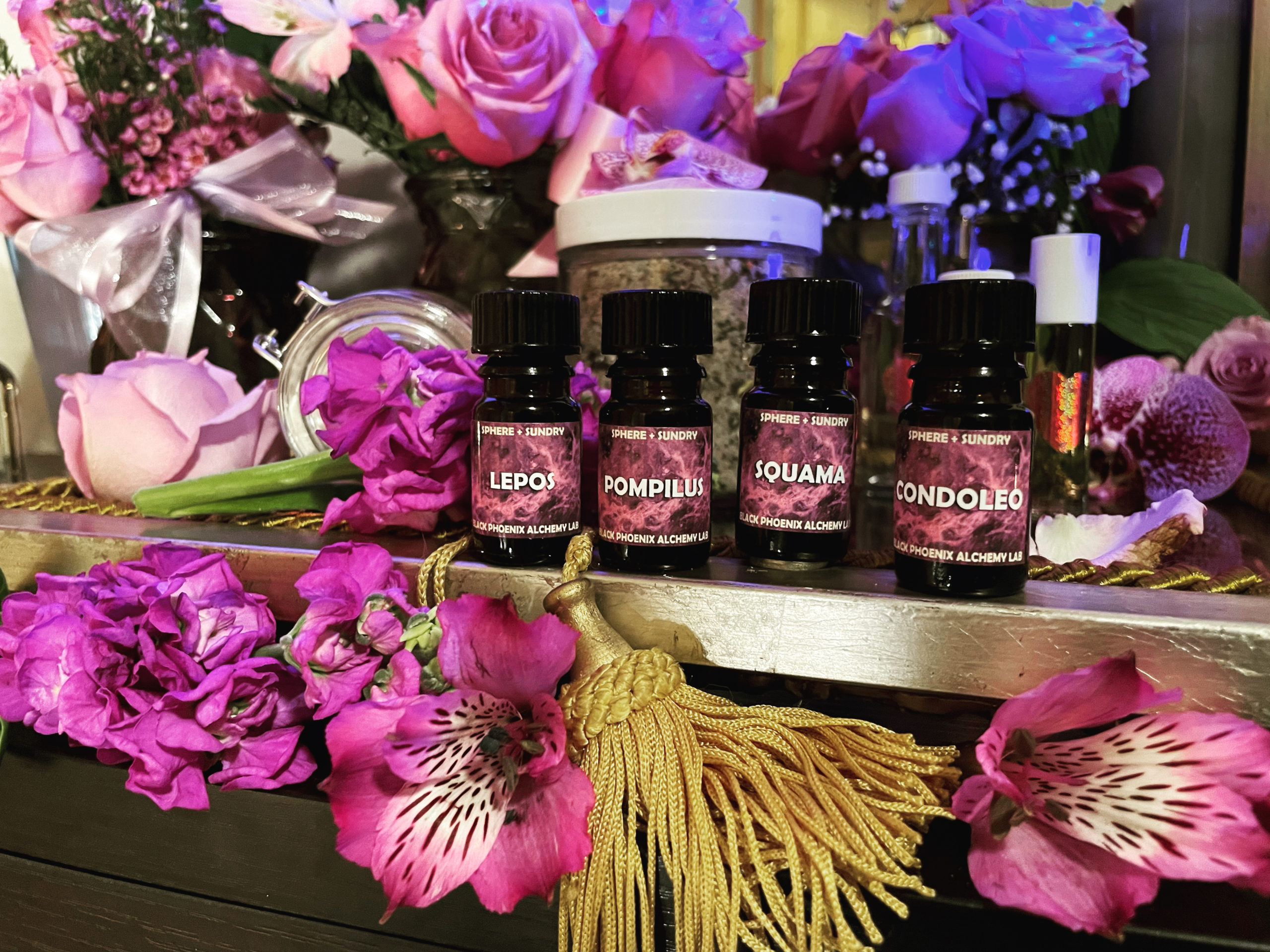 I know these essays are typically rife with disclaimers, but this really doesn't need many — it's safe and uncomplicated, *perfect* for those new to Talismanic Materia and/ or, the world of Sphere + Sundry. Wonderful for gifting or recommending.
Venus energies can sometimes attract unwanted attention, so watch that depending on where you're wearing it and with whom. Deneb Algedi makes a great spiritual body guard if need be, and since Venus is the great moderating force, She'll pair nicely with just about anything. Jupiter in Pisces, Luna in Cancer, and Fomalhaut will have an especially *chef's kiss* symbiosis.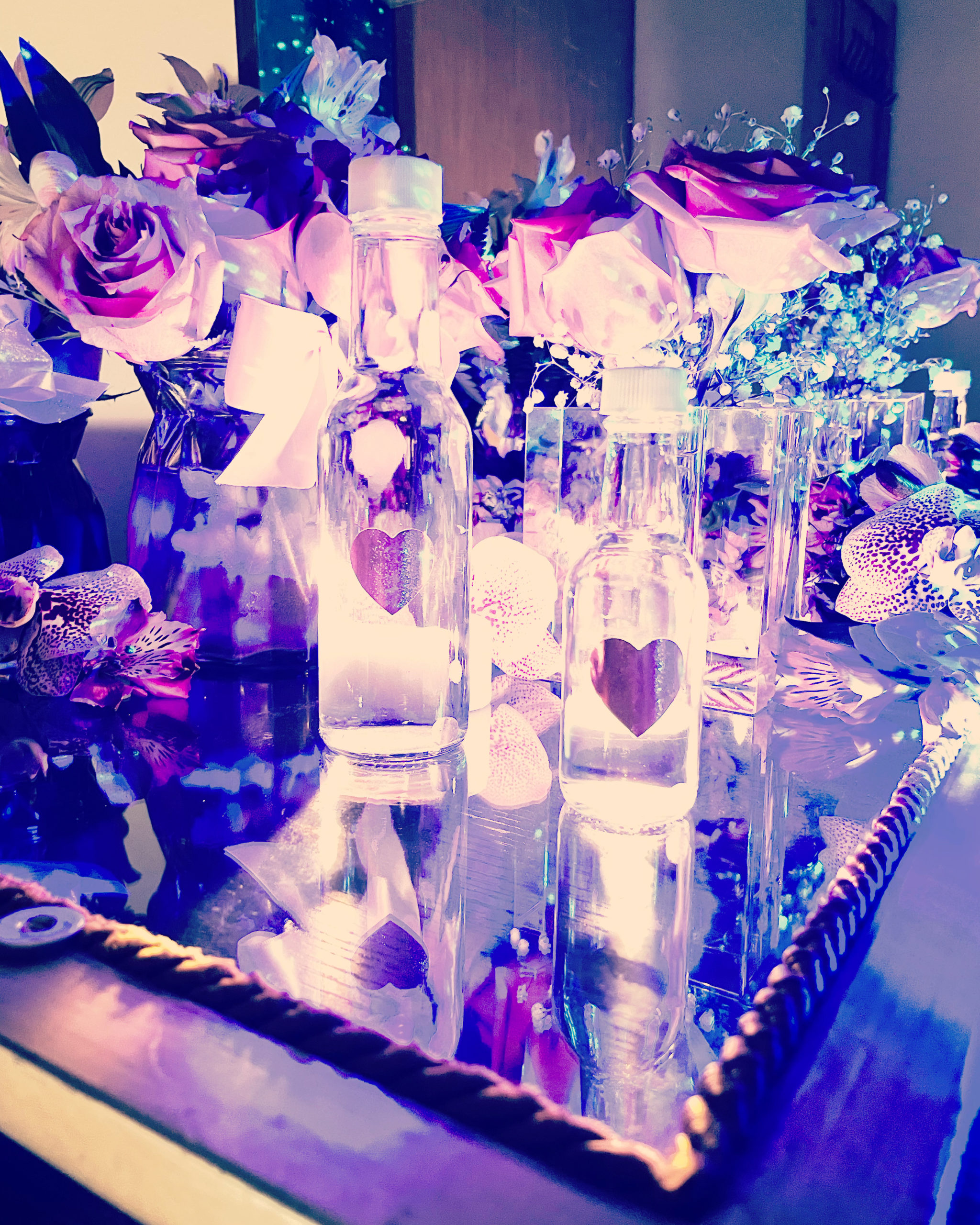 EVII is also a wonderful ally for those who work in socially demanding, tipped professions, and for anyone who wishes to soften and sweeten the way they're treated as they move through the world. Venus tends to draw gifts, upgrades, compliments, and favors.
Application begets relaxation, release, and cozy-fication of any atmosphere. It's easy to take in an ~amorous~ direction, solo or partied, but only if you so wish. It's light and lovely, and I think you'll <3 it a lot.
Great thanks to Austin for the election, Tony for the bling, and Elizabeth for the bouquet.
Gratitude and appreciation to the Sphere + Sundry Team, who works their cute little everythings off to make this magic a reality for so many!
Each order arrives with a sweet treat, basic instructions for use, timing suggestions, and a prayer, alongside an invitation to join our warm + welcoming Client Community.
For information about processing times and current status updates,
please refer to the Announcements area of the S+ Help Center.