Anointing Oils, Available, Immortal Heart

Organic and wildcrafted motherwort, lily of the valley, linden and elder flowers, blessed thistle, honeysuckle, bloodroot, white lotus, meadowsweet, milky oats, and more, ritually fumigated with frankincense and benzoin on a New Moon in Virgo III following prayers to the Divine Mother for unconditional love, nurturing, protection, and emotional support. White gold, cape amethyst, saltwater pearl, and mother of pearl in jojoba, sunflower, and sweet almond oils. Left to incubate for a full Lunar cycle before being decanted into individual vials and co-mingled with rich essential oils of a grounding, comforting, and reassuring nature. Anoint the front and back of the heart to invoke feelings of safety, calm, and instill a sense of the Divine Mother's love, as though being wrapped in a cozy security blanket, fresh and warm from the cosmic dryer. Invites emotional authenticity and expression without the anxious states, shame, or shyness that often accompany upset, allowing for deeper understanding of the self and one's beloveds. Promotes embodiment and helps facilitate states ripe for therapeutic progress. Apply to the self or consenting others, or tools used in healing processes, before engagement. Assists with inner child work, re-birthing, re-parenting, and re-framing therapies, especially in regards to upbringing, raising one's own children, or matrilineal repair. Serves as a midwife for mourning or grieving. May elicit sadness upon fresh encounters. Continued engagement will oversee the integration of unprocessed, undigested emotions (Samskaras), clearing the heart of the minefields which lay there. Applications during periods of active trauma may reduce their ability to embed themselves, enhancing real-time processing and integration. Helps to override the Fight or Flight impulse, increasing the odds of maintaining one's presence and composure in stressful circumstances. Encourages a softer, kinder, more compassionate demeanor, in alignment with Divine Feminine virtues. Patience, understanding, and emotional bandwidth grow exponentially under this influence, especially over time, making for better listening skills. Excellent for therapists and those in service to the healing arts, or anyone on a journey of emotional self-improvement. Authentic self-care, in a bottle. Soothes children, pets, and adults alike; improves sleep and invites gnostic, healing dreams in accord with Immortal Heart's divine arcana. Adds a grounded humility when layered with other types of magic or materia that are more ego driven and achievement oriented. Each glass vial includes 12k white gold and keepsake pieces of mother of pearl heart and cape amethyst, along with vitamin E to preserve. The rollers are especially good for drawing sigils and glyphs upon the body. Offered in a 1/2 oz standard glass vial for $66 (with optional Dropper Cap Kit), a 10ml precious metal roll-on in 16k electrum (a gold and silver alloy) for $108, or a cape amethyst roll-on for $54.

$

54.00 –

$

108.00

Originally slated as a re-up and expansion of the Grief sub-set of The Ancestral Series (inspired by demand for the Grief Salts in particular), this operation was scheduled for the evening of the New Moon in Virgo III — a decan to do with grieving, loss, and the corruption time visits upon all matter — as the Sun set on September 16th, 2020 opposite Neptune.
As I began immersing myself in the planning and acquisitions R&D phase, something became clear —
It was to be More.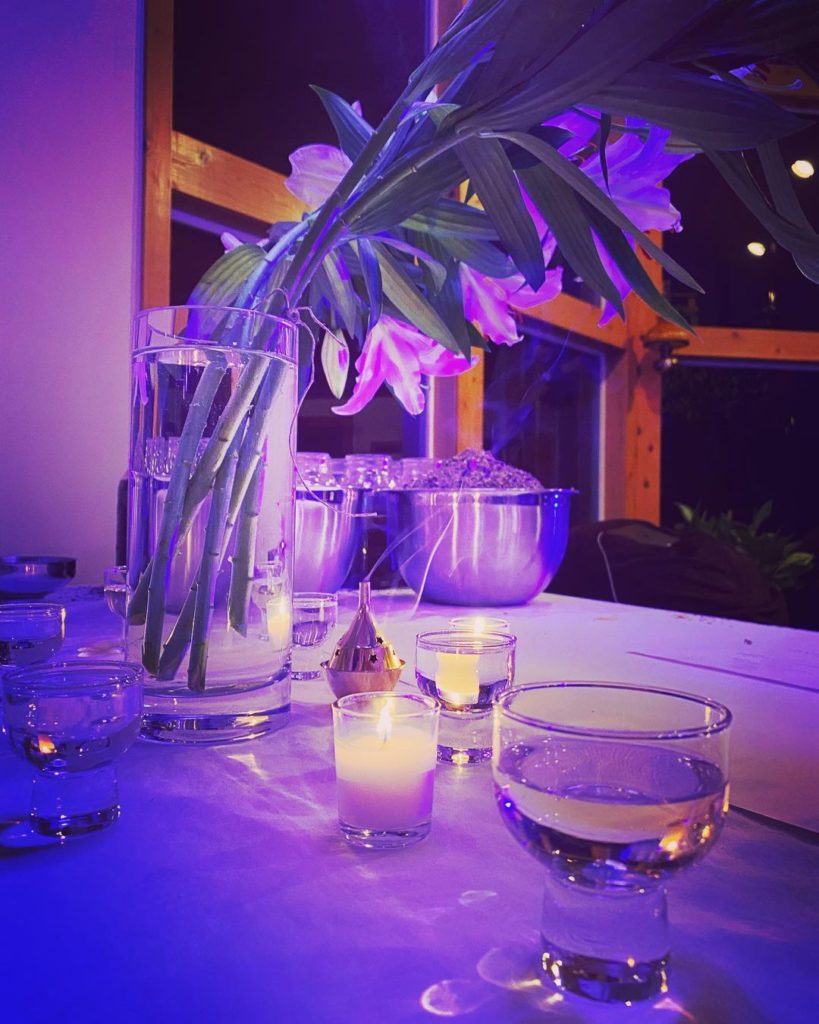 A salve for the incarnate Human Spirits suffering this volatile turn of Ages — navigating a world of increased scarcity and uncertainty, among the loss of loved ones, security, and life as we know it. So much worth mourning is not yet dead, but in the process of dying. Composting and integration must take place before new life can spring — yet winter has still not come, and there is work to do.
Hard emotional work, to save ourselves and society from collapsing into fuming piles of dysfunctional hopelessness and tormented, fearful outrage. But as myriad quotes re: getting one's own house in order before making plans for the wider world go to show, the place to start is at Home.
Where the Heart is.
The ritual opened with a 3-page prayer, penned to the Divine Mother as an invocation of Her most nurturing, healing, protective, loving, and dedicated forms, asking that She tend to us in our times of need. That She help midwife the sadness, pain, and trauma we are all in the midst of laboring, delivering something better than what came before.
That She sit with us at the bedside of our Grief, issuing the balm of Her love and dew-like understanding, restoring Us, Her beloved Children, to the self-realized states of emotional, mental, and spiritual wellbeing any good Mother would do all within her power to ensure.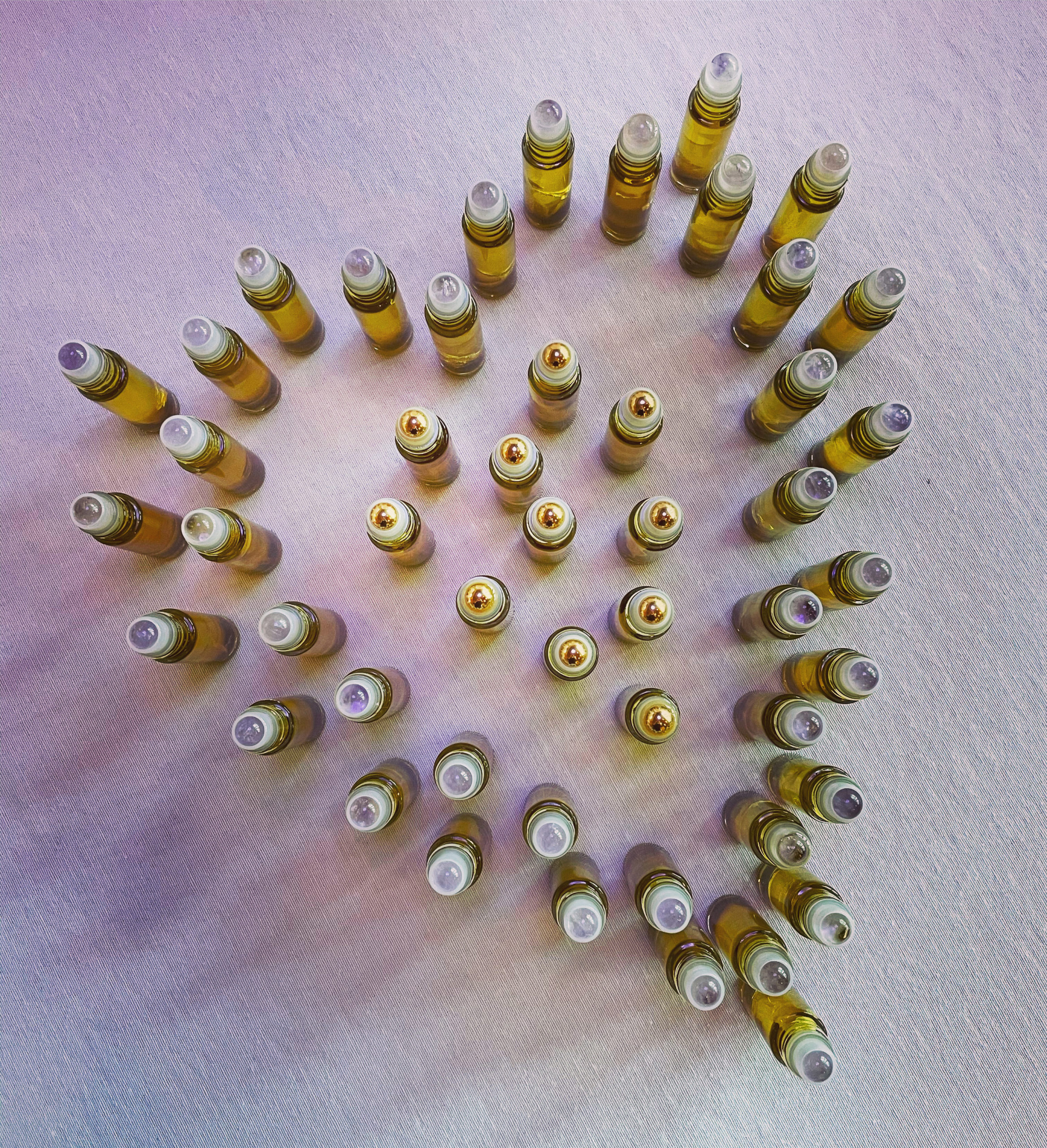 And because such Goddess figures are limitless and perfect and unbound by the all-too-human constraints of incarnate parents, they offer an idealized magical and energetic succor beyond what any of our lived experiences could have possibly provided. The Mother all of us needed — and still do — whenever, and wherever, we happened to need Her.
Offerings of white candles, lillies, fresh spring water, and a fumigation of frankincense co-mingled with benzoin were given under a lavender spotlight, to the heartbeat of a healing drum.
This series, moreso than any Sphere + Sundry has so far released, is most Theurgic in nature. While my personal approach to magic can be characterized as animistic astrological theurgy crossed with a particular strain of traditional witchcraft and seasoned with a touch of chaos magic (not a mouthful at all!), the charge of this operation relies less on the specific *election and more on the blessed empowerments of the attending Spirit Patronesses — Our Ladies of the Immortal Heart.
Among them include Divine Mother figures from any religion the world has ever known… the Blessed Virgin, Kuan Yin, White Tara, Hestia, Rhea, Durga, Yemaya, and Others, mentioned in no particular order.
The Immortal Heart can be used to connect with any aspect of Loving, Perfect, and All-Protective Mother Goddess', Spirits, and Ancestors that tend to you, or straight from the bottle in any non-denominational context — for offerings from this series carry the charge of an unadulterated and nurturing Divine Feminine current, before it became decanted into streams which were then given names in service to particular cultural contexts and traditions.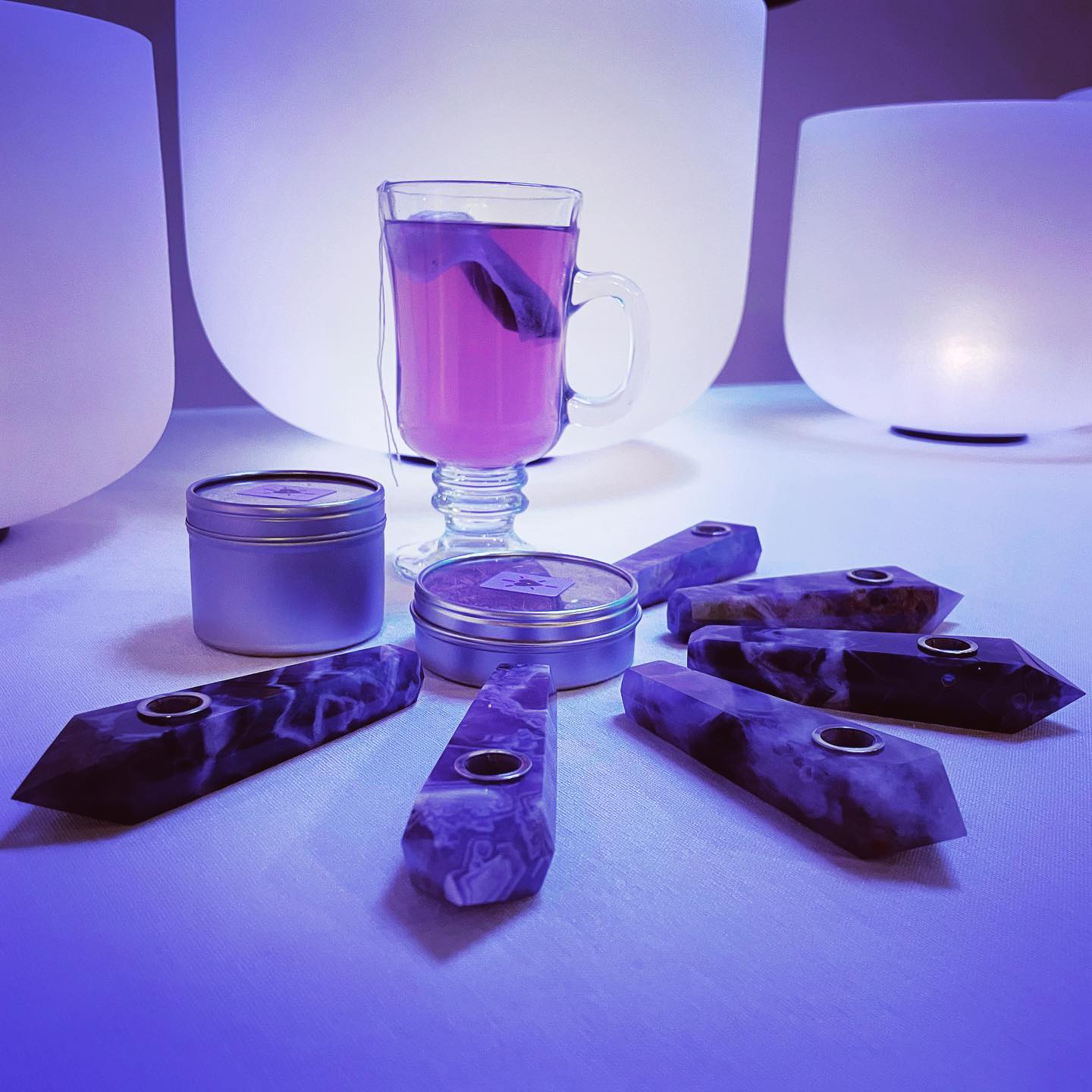 Because this series is something more… proprietary… than astrological magic alone generally is, the Immortal Heart took a lot of journeying, meditating and dreaming to understand. After weeks of cloistered application of it, to the exclusion of all other talismans and materia, I shall do my best to convey its effects here, and do them justice. I do anticipate, however, that everyone's healing journey with Immortal Heart will be very much their own, and look forward to exploring its arcana as one flock — in the world, and in the client forum.
This is a series for coming into right relationship with one's own Heart, and for the deep healing of emotional wounds. It can be used for re-birthing and re-parenting ourselves in the Divine Mother's image; for inner child work; and for matrilineal repair.
It assists in the processing of Samskaras (undigested, unintegrated emotions), and in the metabolization of real-time stressors and trauma that may otherwise get stowed away in the body, fated to become them, often manifesting as ill-health down the line. Application in times of emotional tumult increases our capacity to work through what we need — and perhaps more importantly — release, that which does not serve.
Immortal Heart can be used for sanctifying therapeutic spaces, helping to facilitate profound connection and openness between Healers of all types and their Clients or Beloveds. Apply to the self, the treatment area, or consenting others before engaging in healing therapies or having conversations of emotional import, including in day-to-day personal circumstances, such as spontaneous or scheduled heart-to-hearts with a partner or loved ones.
The Immortal Heart casts an emotional safe-space around the wearer, akin to an energetic security blanket, fresh from the cosmic dryer. In Her presence we feel grounded, at ease, and protected — able to express and explore emotion without the anxious sensations that often accompany their intensity. Should tears flow, they do so freely and without shame, whether for joy or for grieving — blessed be the Divine Mother, with her infinite capacity to absorb them! Her never-ending patience, compassion, and heartfelt understanding!
Secure in the fact that we are safe and we are accepted, we come to embody these Divine Feminine virtues. We grow kinder, more compassionate, gentler, and more present — better able to love and to be loved, in return. For as the heart heals, it becomes supple, open, and above all — strong.
The healed heart can fly high or low, but is capable of sustaining any burden, and grows lighter and freer along its way. That is its wisdom.
Immortal Heart is best worked in tandem with other healing therapies, to assist in the process of release and make the burden easier on ourselves in the process of our recoveries. A Shakti acupressure mat and taking sound baths with crystal singing bowls have been immensely helpful for me, personally. There is something to be said for the pain-pleasure inversion of the faux-needle mat that pairs poetically with the magic and experience of heart healing, and I do recommend it.
Other potential supplements include therapy, breathwork, acupuncture, cupping, massage, hypnotherapy, NLP, tapping or eye movement therapies, energetic healing, engaging prescribed remedial mantras and practices (especially of a Lunar nature) — or whatever appeals to each individual.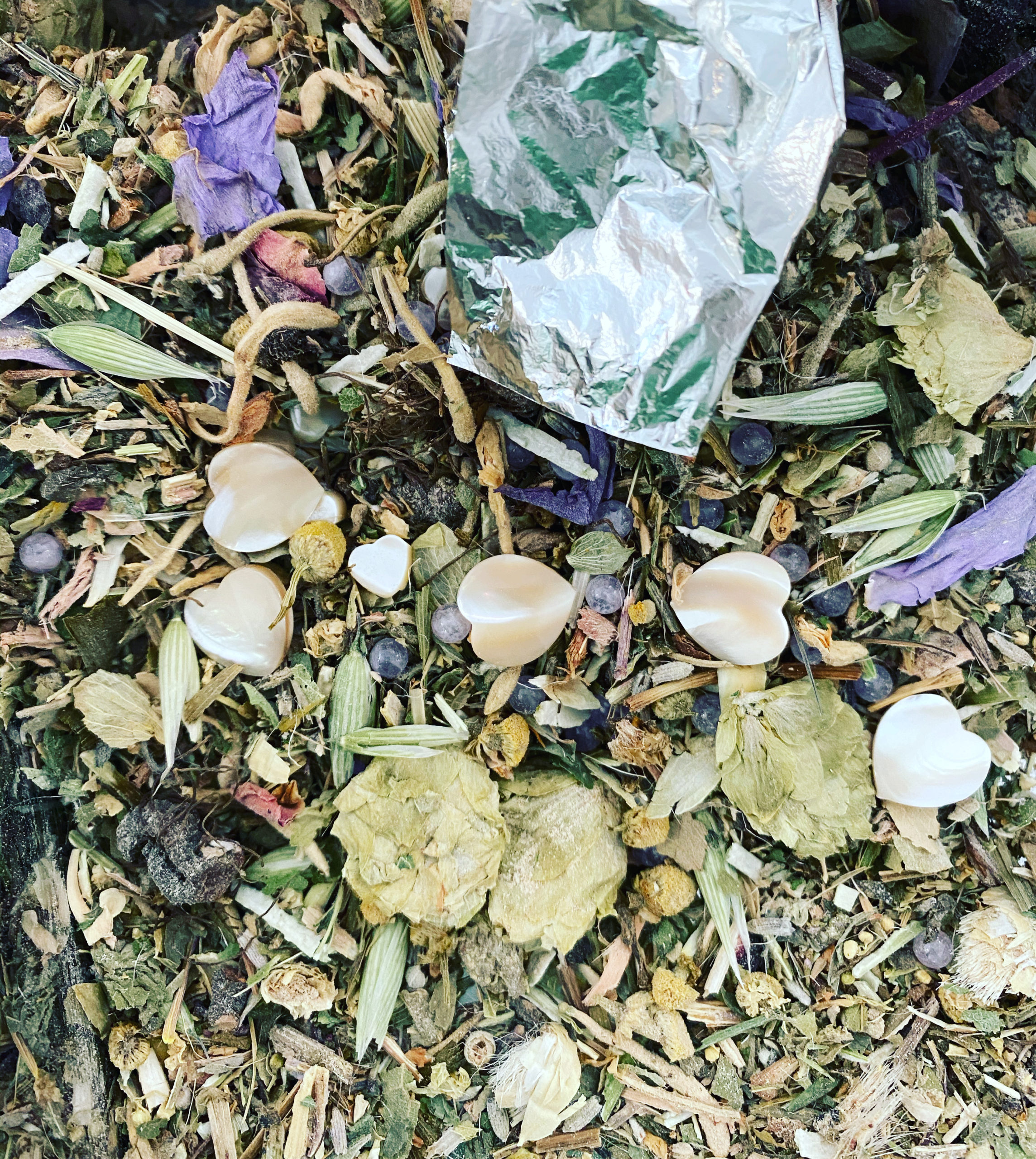 This series can be used for weeding the Garden of the Heart of negative thoughts and feelings, as they apply to ourselves and to others. It aids in healing issues which revolve around Mothering, the hatred of women, jealousy, competition, and exteriorized or internalized misogyny. It promotes acceptance and compassion, and actually challenges routine inner dialogues over time, interrupting to ask — if that is so… is it true… is it necessary… and is it kind? Thus, our thinking becomes organically re-programmed by our own intervention (if not the Divine Mother's).
The heart being the seat of intent (from whence the most effective prayers and magic sincerely issue), this materia helps clear and set the Altar of the Heart, and increases our ability to abide there, which ultimately makes us better practitioners, and more magical people.
It increases emotional resilience, embodiment, wisdom, and authenticity. Promotes humility and grounds the ego, making Immortal Heart a beautiful supplement to (or come down from!) other more aggro and egoic series/ magical processes (looking at you, Aldebaran!). It, like Asclepius, will probably pair well with just about everything.
Immortal Heart supports the grieving, mourning, and recovery processes in Ascending, Descending, and all-purpose capacities, regardless of the type of loss we are facing.
It decreases anxieties and dissociative modes of being; deepens sleep and invites healing dreams related to the Immortal Heart's Divine arcana; and promotes Self-Care.
Goose and bird omens have been constellating around Immortal Heart's application, which in regards to dosage should be administered slowly and intentionally to assess tolerance. Its influence builds over time, conditioning and tonifying the heart, increasing its capacity and leading to its liberation.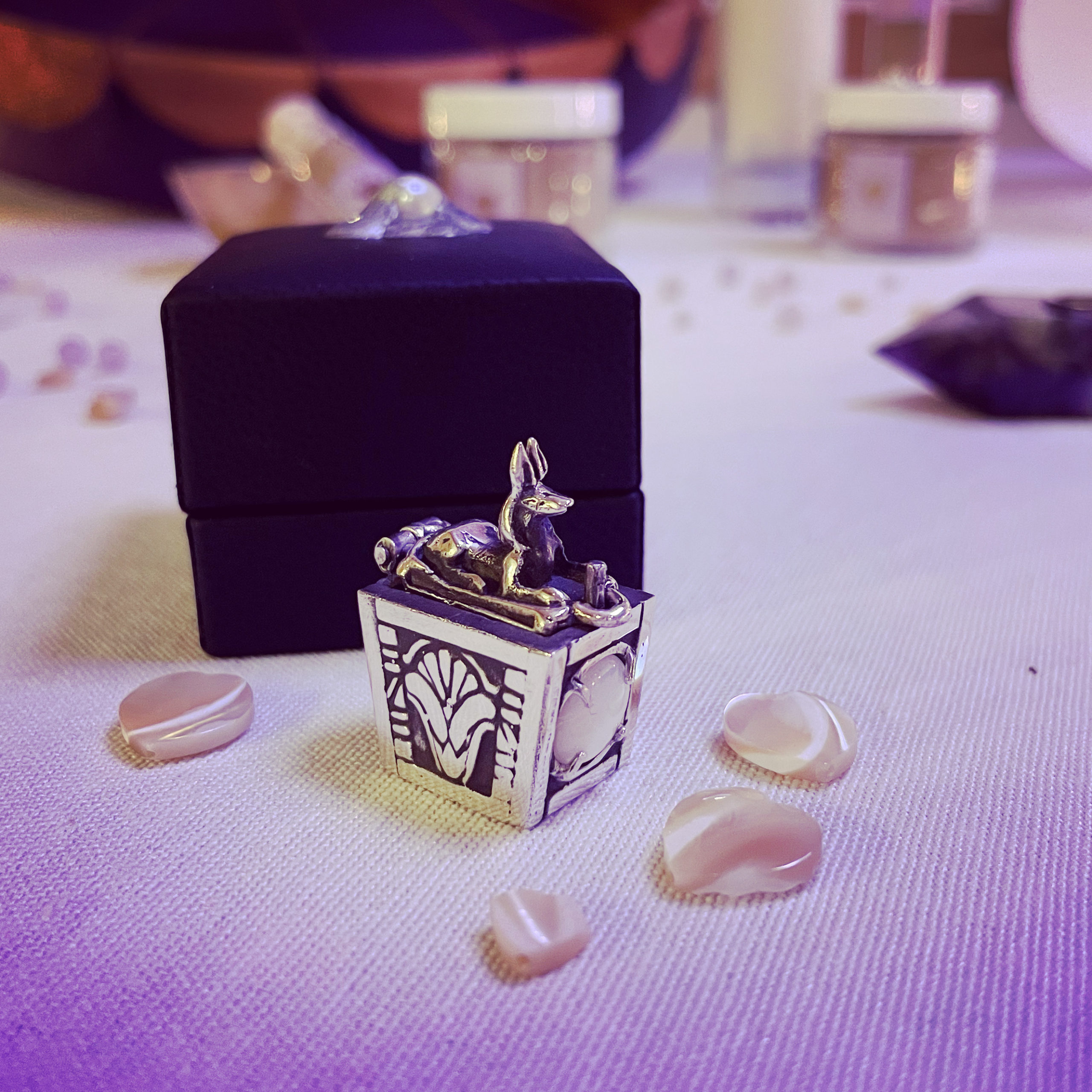 Let it be plainly stated, however, that this series is not a cake walk.
Immortal Heart is for those who wish to participate in the hard work of their own healing, and who have the time and energy it takes to see the process through. Pick it up and put it down as life demands, and be sure to offer yourself breaks and check if you are using too much, too fast. One drop upon the heart is what I recommend as an initial application.
I would credit Austin Coppock for selecting our time of working, but this is less of an "election" than a good opportunity to do some Theurgic Witch Shit in a decan I call home. Do not take this as an example of astro-magical excellence, for in an S+ first, Immortal Heart's astrology is fitting enough, but mostly tertiary. I do, however, credit him with being my bestest friend, dearest love, and father of my cats, so cheers to Austin always!
Sincerest thanks to the Blessed Mother Barrial of Black Phoenix and Twilight Alchemy Labs for offering to this series three heart-rending talismanic perfumes, and Tony Mack for the most adorable Anubis topped reliquaries the world has ever seen.
As always, each order includes basic instructions for application and a prayer, in addition to an invitation to the private client platform for ongoing support from both creator and community.
100% of Immortal Heart launch orders have been shipped, and we have resumed our routine operation of shipping within 0-2 postal days of order placement. A new section of the website has been created for checking the most recent fulfillment updates and administrative announcements.