Anointing Oils, Available, Quicksilver Tongue

Sundry herbs and ingredients for Mercurial, Venusian, and Jupiterian inspiration and artistry, including white tea, cardamom, coconut, lovage root, sandalwood, sweet pea, celandine, grains of paradise, sumac berry, red clover, passionflower, honey, rue, plantain, deer's tongue, and orange peel. Ritually harvested oak leaf, lambs ear, and iris petals. Liberty dimes, peacock and macaw feather, forget me nots, alloys of silver + gold (white gold), copper + gold (red gold), fluorite, opaline, and blue opal. These and more were fumigated and prayed over, immersed in organic jojoba and safflower oils, and left to gestate alongside the rest of the Quicksilver Tongue series since May 21st, 2021. Rosemary, lime, and frankincense. This is a somewhat subtle and flexible charge (compared to most of our other offerings!) — more of a grower than a shower — something that can be applied for a burst of happy, care-free energy that allows you to enjoy music and art more, socialize and converse in a playful and engaged manner, and leave worries and woes in the wake of a slightly altered-time warp, OR an anointing oil which acts as fuel for the development of Divine Artistry and Great Works over time. Hopefully all of the above! Incredibly versatile and yet "blendable" in the ways Mercurial x Benefic influences can sometimes be (it's easier to remember pain and strife than "you know what… that was a good time that passed by quickly!"), Quicksilver Tongue is a fantastic series for layering with others to potentiate and guide one another's expression and experience. Reduces anxious sensations, promotes states of flow, encourages playfulness. Anoint the self before socializing, or engaging in Art and Artistic processes (whether of your own creation or others). Likewise for any and all instruments of self-expression. The feet for dancers. The throat for singers. The brush for painters. The pen or keyboard for writers. Add to inks, paints, and the like. Meditate on teachings of the peacock, macaw, precious metal alloys, and opal. Apply before approaching Muse-figures. Please note that if one does not choose to devote themselves to Great Works, application is likely to result in the enjoyable passing of time... Offered in your selection of 1/2 oz standard vial for $77 (with optional Dropper Cap Kit), 10 ml fluorite gem or steel roller for $63, and 5 ml Mini for $31.

$

31.00 –

$

108.00
Quicksilver Tongue. The Peacock Series. Materia Magica of the Meta-Muse.
A Tropical take on Saraswati's Jyotish Yoga, in the words of its electional architect Austin Coppock:
The inspiration for this election is a specific combination of planets recognized in Vedic astrology as a Saraswati yoga. This imaginative, clever, and artful alignment is named for Saraswati, goddess of skillful speech, art, and knowledge, Bhu Shakti supreme, and consort to the creator Brahma. Her mantras are practiced by scholars, performers, and mystics alike, for the Alphabet of Creation is hers to reveal.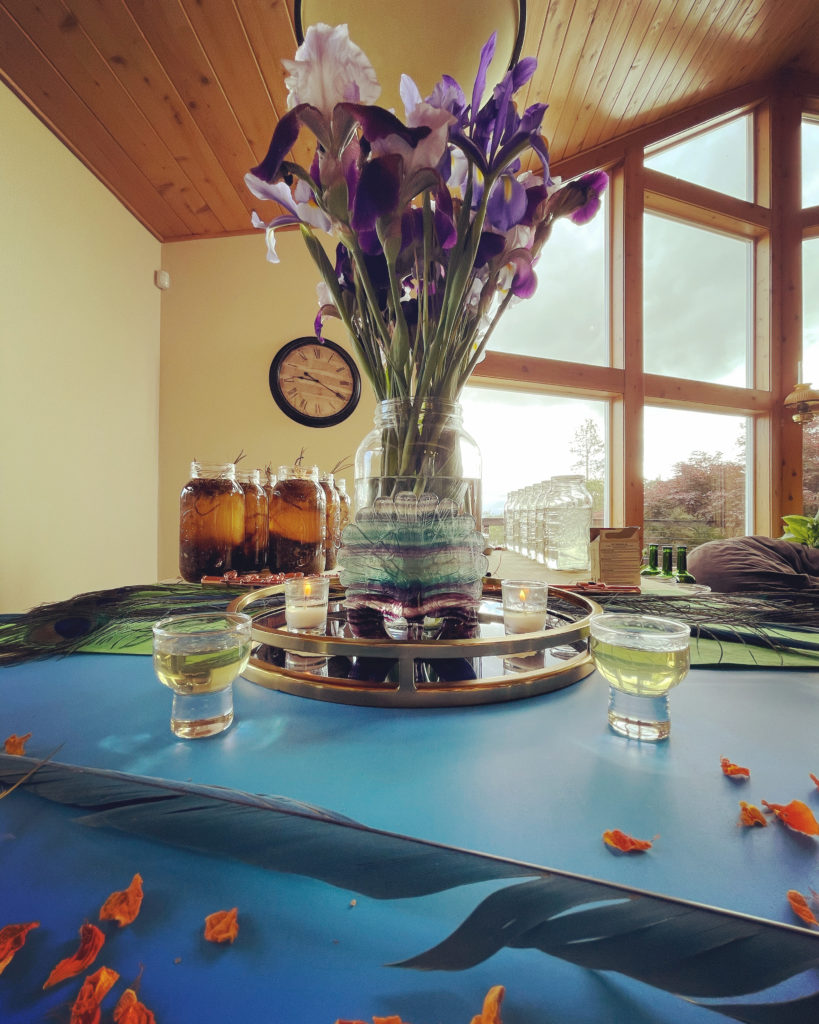 In Jyotish, a yoga is a yoking together of multiple factors. Yoga translates to, and shares the same root as, the English word "yoke". A yoga is formed when multiple factors join together to create a larger, systemic effect. As with oxen, the planets are yoked to the same harness, all pulling in the same direction. The principle is the same as with a team of horses hitched to a chariot, or dogs to an arctic sled.
In a Saraswati yoga, three planets are yoked together to pull the native towards knowledge, skill, and achievement in the arts. The three planets involved, Mercury, Venus, and Jupiter, each make a specific contribution. Jupiter, which must be in a sign where it has great strength, gives a love of learning, and also provides the artist within something irreplaceable- their own, uniquely cultivated perspective. Venus contributes a sense of aesthetics, and the ability to evoke the passions. Finally, Mercury is necessary for technical skills and cleverness.
Perspective, aesthetic sense, and technical skill operating together make one an artist at whatever they do.
To create a Saraswati yoga, Mercury, Venus, and Jupiter must all be in either Angular (1st, 4th, 7th, 10th) or Trinal (1st, 5th, 9th) Houses, and Jupiter must quite strong. Some astrologers allow for a 2nd House position, but this is debated.
The skies at this time had Mercury and Venus in the 1st House in Gemini, and Jupiter in Pisces in the 10th, thus qualifying for a tropical Saraswati yoga. Furthermore, Jupiter was in its own sign, Pisces, and Mercury was in Gemini, putting both in a position of great strength. Additionally, with the Sun in Gemini and the Moon in Virgo, the Saraswati yoga recurs from the perspective of both the Sun and Moon, magnifying the power of the configuration.
Planetary Days and Hours can, at most, highlight the effects of two planets simultaneously. This operation was conducted on the day of Venus, and in the hour of Mercury, targeting two of the three planetary players. To insure that Jupiter's influence was duly felt, Kait, our Mistress of Materia, included Jupiter-ruled plant matter harvested in its hour under the banner of the configuration.
Thus, with the planets in artful array, they were each conjured in turn and asked to contribute their respective blessing. Then rang out a non-denominational call to the Divine Artist, the Primordial Muse, the One who speaks, sings, paints, plays, dances, and writes realities into and out of Being. Who gave parrots their clever tongues, and serpents their forked ones. Who gave the birds their plumage and their songs. Who gave the sages their knowledge and letters. Whose peacock quill scratches runic, rainbowed calligraphy deep into the stubborn surface of the mundane world. Whose Quicksilver Tongue is tattooed iridescent with every letter of the Alphabet of Creation and Desire. Whose saliva is the most colorful of inks, the most delightful of medicines, the most intoxicating of drugs.
Playful, merry, and literary is the flavor. This creation pairs well with conversational occasions, as well as with the concerted study, practice, and appreciation of diverse arts. This series combines frivolity and depth, practice and play, as easily as alchemical quicksilver absorbs and alloys the potency of the other noble metals within itself. Early experiments resulted in conversational delight, afternoons of enraptured study, and an alarming excess of poetry.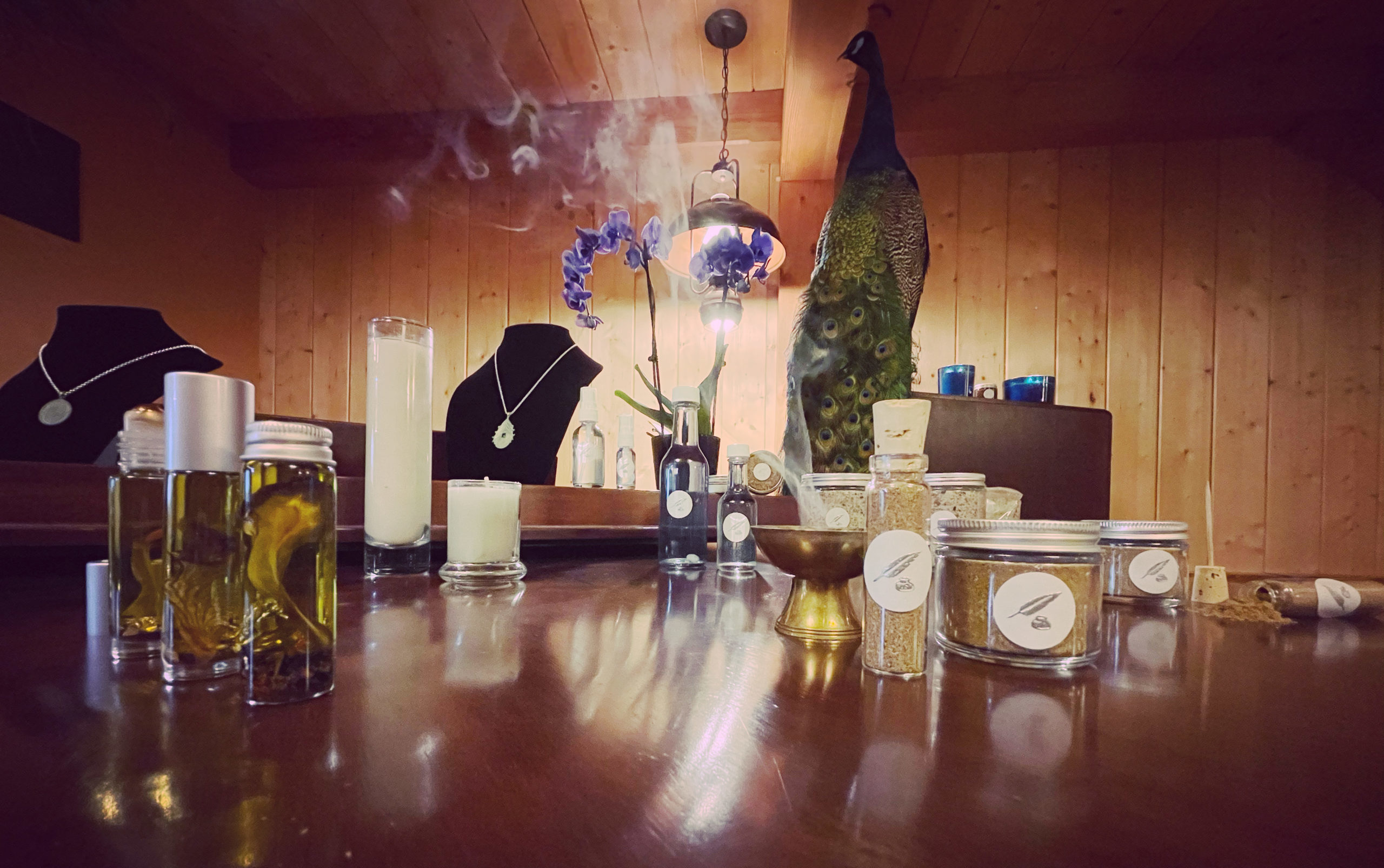 Despite how straight forward the above makes it sound, Quicksilver Tongue has taken a lot of somatic immersion and experimentation to understand, to even arrive at the point where a write-up could be written. There are a number of aspects to this, as there are colors, smells, tastes, and influences presenting within the seemingly infinite spectrum of feathers, herbs, spices, precious metal alloys, essential oils, and gems attending.
As an aperitif, one wonders for a fleeting moment if anything is even happening at all, before a feel-good wave of relaxed, potentiating energy washes in, and a Tao-like state enters the mind-chat.
The Mercurial and Venusian elements invite copious conversation, good humor, and a playful, immersive flow. It's a wonderful social influence, and is happy to remain that way if not pushed into deeper, more "productive" territories.
Meaning is both a play-thing and deeply felt, the influence of our patron Spheres harmonizing and alternating — musical notes, as played by the Divine Artist.
What does't thou wish to play?
Play is an interesting word — a type of magic, even.
Play was our first way of learning, as young ones — and still is! — even as the cruel world has done all within its power to de-nature our collective and individual ability to enjoy the process.
Kittens and cats long-retain their sense of play, earning them privileged positions of worship by Ancient Egyptians and Internet denizens alike.
Play results in fascination, of way-finding, and ultimately (at least in the case of some), of mastery.
All great artists pick up their instrument first as a play-thing, and continue playing their way into technical proficiency, into innovation, and the hearts and minds of millions, if not history books.
Bach, Beethoven, and Mozart all began playing the piano years before they would play their greatest masterpieces.
What remains true of all Greats is that they played it so well, the fabric of reality was forever altered, and the world shall listen ever-more. Ripples of these great works permeate all that comes after, and seemingly, all before.
Woven into the tapestry of all experience and creation… an open-source color palette from which to draw inspiration — each incoming artist a fresh canvas, upon which their own contributions shall be written, becoming one with the Mosaic of Being.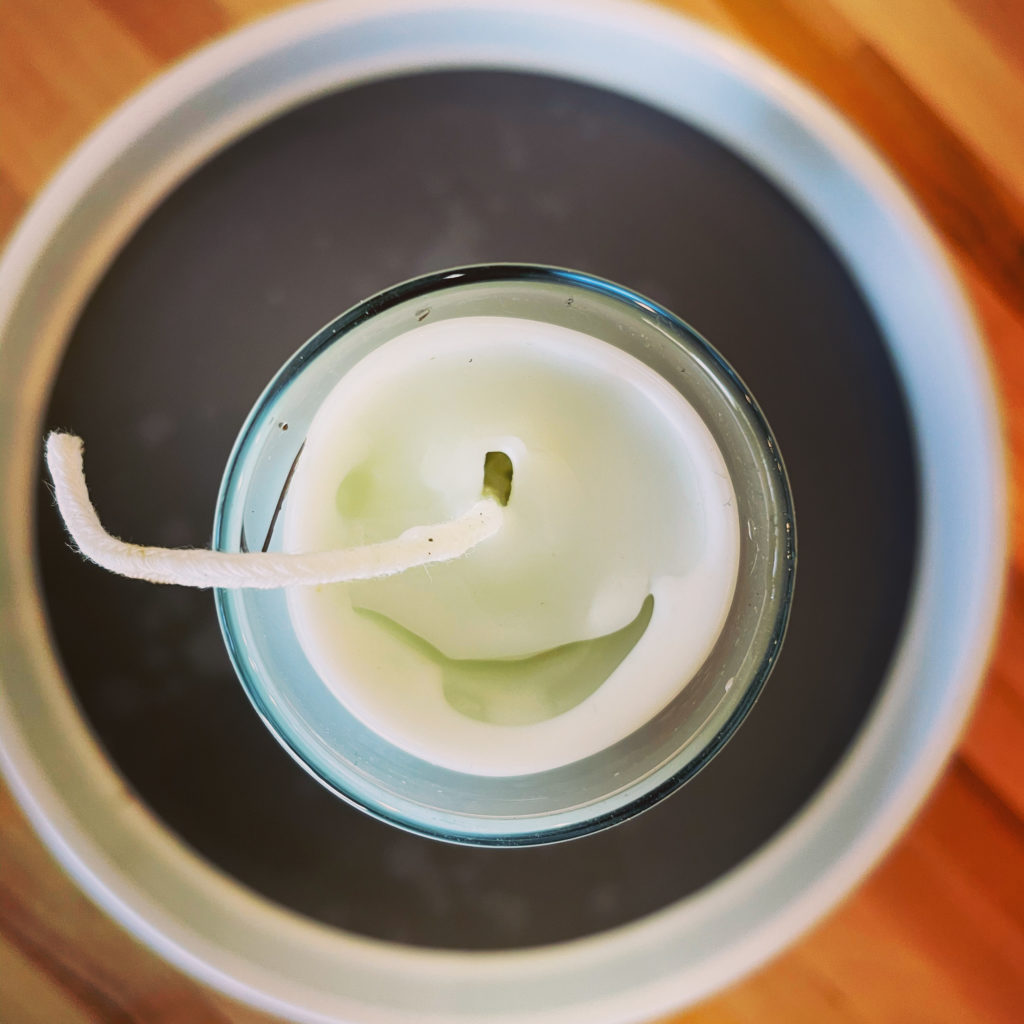 …realizing this ability to create in accordance with our own unique will and perspective is what makes us both Kin of the Gods and Envy of the Unrealized, usually both.
Quicksilver Tongue is passion and play in a bottle — batteries of energy which can be devoted to almost any experience in order to elevate it, and make it that much more magical.
(An unexpected feature is its ability to influence the experience of time, making it an exceptional play-thing for those interested in timeline switching + time magic in general.)
It has a subtle altering effect that one of the Helpers described as "like taking just one small hit", locating us in the unorthodox and adjacent-to-normal-reality but just outside the bounds POV that leads to the generation and appreciation of Great Art (and Great Magic!).
If all of this seems nebulous now, I encourage those who partake to revisit this write-up following application, and see where that leads you…
Remember that playing doesn't necessarily mean not taking a thing seriously — don't let such a misguided "adult" projection throw you off crooked-course.
To play means to explore… to be interested… to find enjoyment and nourishment throughout a process of engagement. It pairs presence with a lack of expectation.
Something we participate in and learn from — that rote attempts to extract value and prestige distract from, and by their very nature negate.
This is a series that, true to form, plays well with others (in terms of layering) and, like Luminous Crown, can be used almost daily, unfolding over time.
Helper: "Did you really just say the Peacock Series is a Grower and not a Shower?!"
Me: "Well yes… yes, apparently I did…"
_
Apply before engaging with the Art of Others or the creation of One's Own.
Spike inks and paints with a few drops of Quicksilver perfume, anointing oil, or tincture — use in sigil crafting, drawing, writing, and the like.
Anoint your instruments and canvases of choice, whether they be makers of sound or vision, digital devices, magical implements, or the living vessel.
Fumigate peacock or macaw feathers, talismans, and objects of inspiration.
Offer to the Muses, alongside prayers and praise.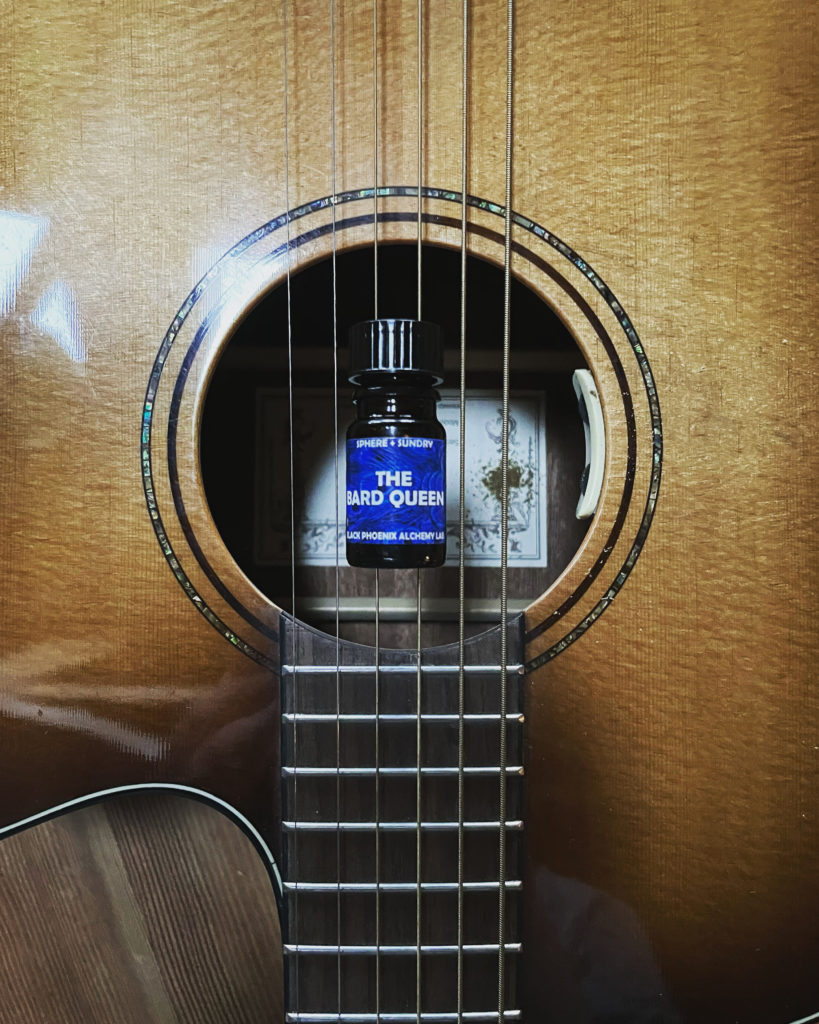 The sky is the limit…
Let the myriad quotes of Bob Ross be your Quicksilver guide!
An uplifting, inviting, and playful energy calls for exploration — and I for one, cannot wait to see what YOU make of it!
We thank esteemed collaborators Tony Mack, Elizabeth Barrial, and Austin Coppock for their masterful contributions, forever and always.
Gratitude to the Sphere + Sundry team for their devotion, attention to detail, and tremendous help serving our growing Client Community.
Logistics: Fulfillment for Quicksilver Tongue has already begun for Plus Members, and will persist uninterrupted until all orders have been dispatched. This is the first release where 3 or 4 of us will be packing simultaneously, so delivery will likely live up to this series' namesake…
Each order includes basic instructions for application, timing suggestions, and a prayer. The shipping confirmation email includes a tracking number + invitation to Sphere + Sundry's warm and welcoming client forum, where you may turn for ongoing support from both Creator and Community.
If you're in the mood for something spookier befitting the season, Sweet Darklings,
may we suggest the Hermanubis II or Ancestral Series…