Praise Jove! The Greater Benefic entered his own sign of Sagittarius on Thursday, November 8th. After all the tumult of 2018's less than stellar transits, this is a most welcome development, worth milking to the very last drop. For our part, we've created the Jupiter's Lightning Rod series, designed to potentiate Jupiter transits during his time in the Centaur's sign, draw and magnetize Jupitarian energies and spirits, and open the way for opportunities, both cultivated and unexpected.
This is not the finest election that Jupiter in Sagittarius has in store, it was simply the first, so there will be another sometime in the next year that is the official "Jupiter in Sagittarius" series. The difference is that this one emphasizes the God-Planet's association with lightning and the fire signs' emphasis on speed, getting us off to the races straight out the gate. Like lightning rods themselves, these items act as magnets for Jupiter's beneficent blessing, and attunes the user to his current wavelength.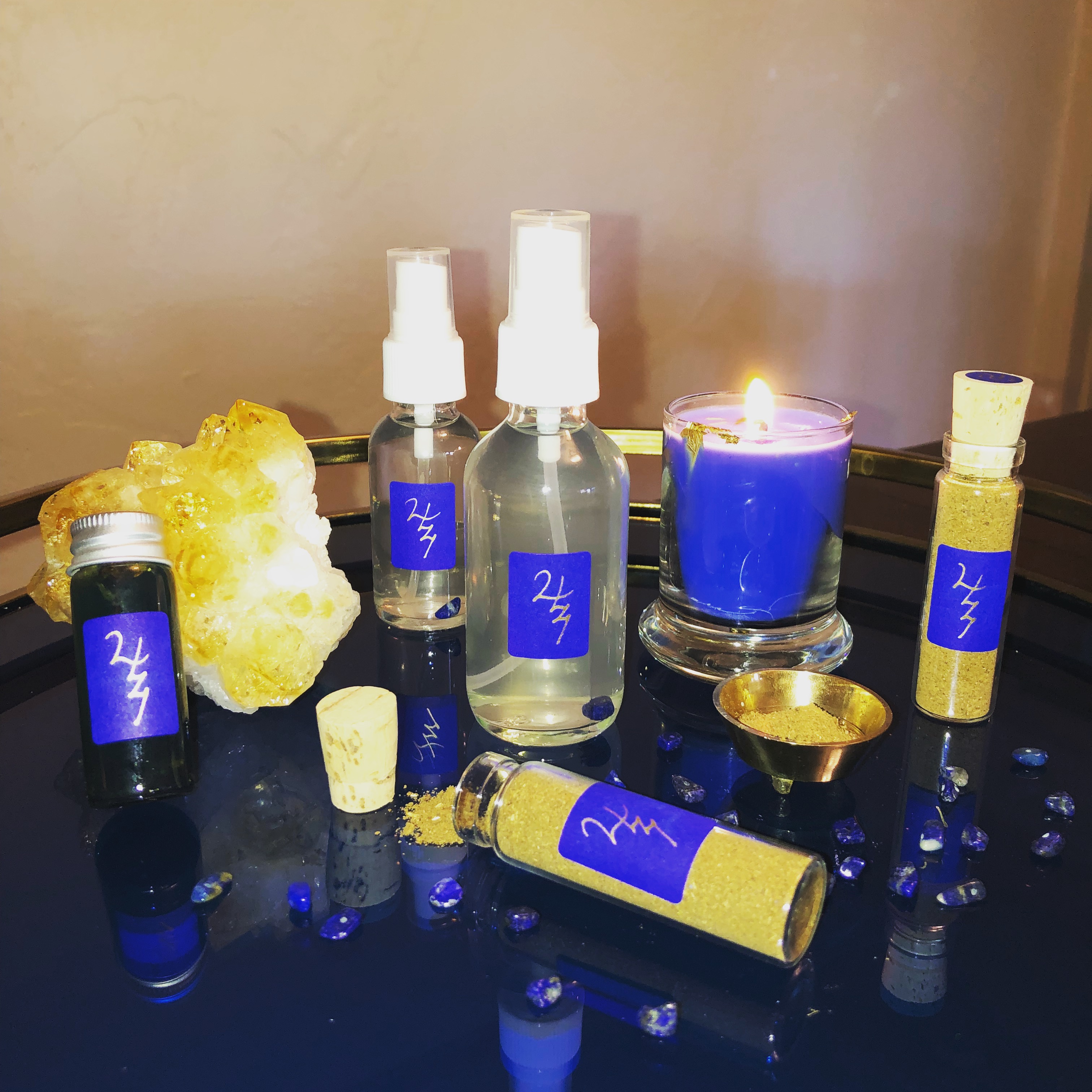 The election saw Jupiter conjunct the newly waxing Sagittarius Moon on the descending angle (chart in the image gallery for each offering). Under normal talismanic circumstances, we would be striving for a fuller Moon, but in the case of the objectives for this series, the fact that there is room for growth and an emphasis on newfound potential is fitting indeed.
This series was ritually created after an invocation of Jove's blessings, while wearing a degree of exaltation Jupiter ring on Jupiter's finger.
Jupiter is uplifting, inspiring, and promotes a sense of uprightness, wholeness and ambition within the self and sphere. These items have a productive, empowering, and balancing influence that aids in devoting oneself to growth upon their path, and within their life.
These offerings produce an invigorating, exciting buzz. They bring awareness around what Jupiter's time in Sagittarius can bring, and help you decide what you want to cultivate during this period (and in the long-term), motivating the creation of game plans, imbuing a sense of confidence and motivation to actualize goals.
They can be used to break out of old patterns and stagnant circumstances, acting to uncross and road open, in perhaps unexpected ways. Jupiter in Sagittarius has a protective and benefic quality that helps ensure the changes that manifest are for the best, and in the process can help facilitate learning, as Jupiter is the planet of wisdom. This series is primarily for those who are working toward big projects and goals (or would like to be!), the accumulation of wealth and success, or who need to break free from bad luck and make profound changes, as quickly as possible.
Every offering from this series features wood from a peach tree that was struck by lightning, in addition to fulgurite, a crystal formed by lightning striking the earth. Hundreds of dollars of saffron, the world's most expensive spice, and aloeswood, one of the most expensive incenses, along with 24k gold, lapis lazuli, and frankincense, appease Jupiter's opulent taste for the finer things, drawing wealth and, dare I say? Abundance.
Ghee, which is clarified butter, features in the Lightning Rod oil and candles, for Jupiter presides over all generous things, such as fats, and exalts in Cancer, associated with dairy. This ingredient aids in embodiment and manifestation of desire. Orange peel provides a bright, sweet quality, enhancing good luck and positivity.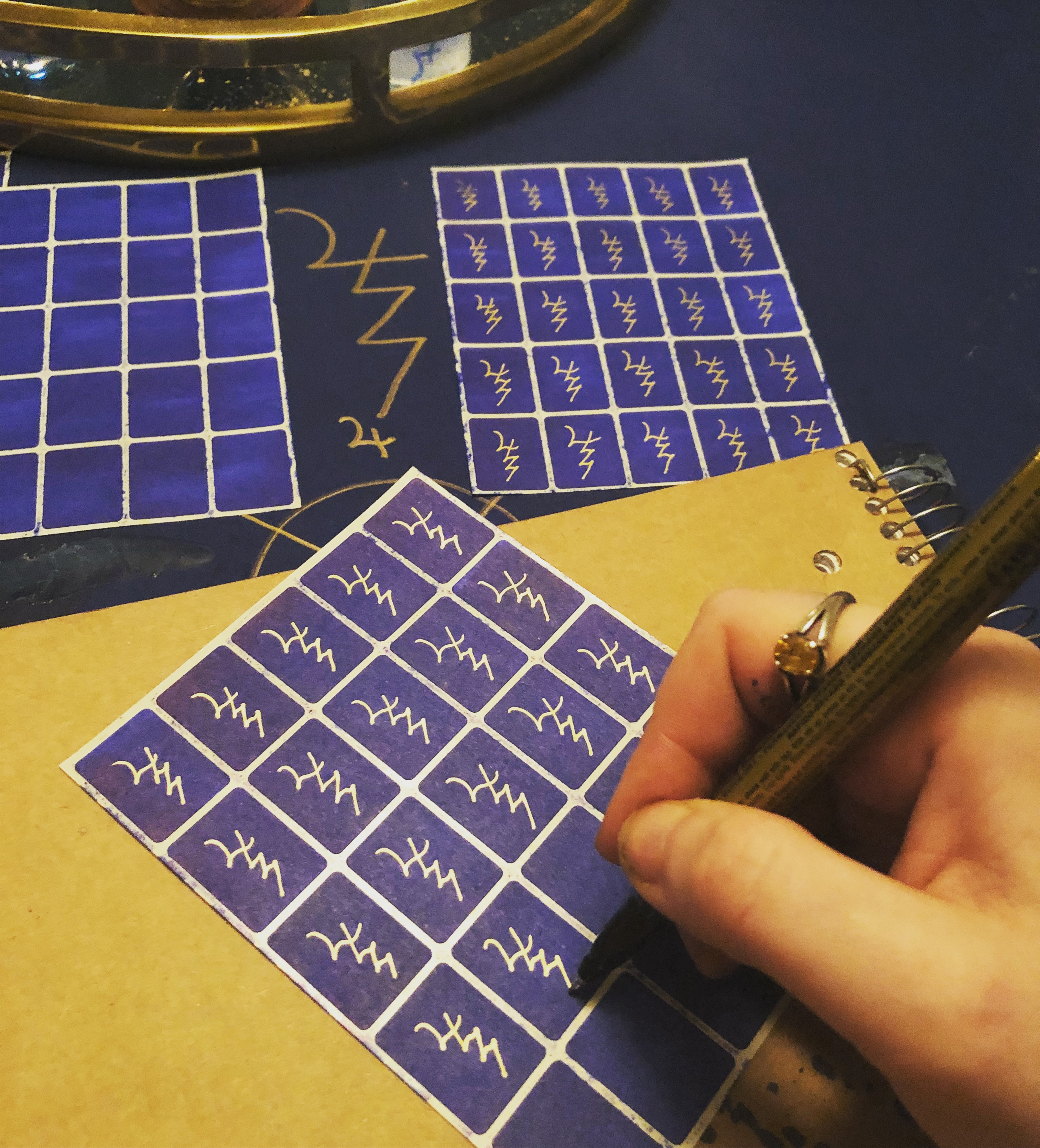 Warming, quickening herbs and barks such as cinnamon, allspice, and clove act to invigorate and empower, as well as provide a fitting sensory backdrop for the upcoming northern hemisphere's fall/ winter weather and Christmas season. The Jup-Juice spray, self-igniting incense, and Lightning Rod powder all smell of delicious mulling spices simmering on the stove, or warm spice bread, fresh from the oven.
Side effects, much like items from the Exalted Mars (sold out) and Mars in Scorpio series, are heating and invigorating, and may cause slight headaches, sweating, or skin reactions, especially from prolonged exposure. This is not intended for every day generalized or remediative use — wearing it that way will be hard on the nervous system (…lightning). As with all Sphere + Sundry offerings, potency is high, and a little goes a long way 😉
Jupiter items are good for building healthy blood and supporting liver function. They will likely prove medicinal for those afflicted by dark, hopeless states, as Jupiter is the planet of positivity.
Our esteemed collaborators for this series are Elizabeth Barrial of Black Phoenix Alchemy Lab, who offers two of her quadruply charged custom creations — a ritual perfume oil, Jupiter's Archer, and a Jupitarian Anointing Tincture, perfect for those times when you'd like to anoint something without getting it oily.
And last but not least, astrologer Austin Coppock, who helps Sphere + Sundry with all our elections and recently wrote an excellent piece on Jupiter's time in Sagittarius, and also offers a webinar on the matter.
It is an honor to work with such dedicated and talented artisans — thank you for lending your talents to the Jupiter's Lightning Rod series!
These items can be happily kept on Jupiter or wealth altars. Includes basic instructions for use and a prayer. For more information on Jupiter altars, offerings, and ritual timing, click here.
Anointing Oils, Available, Jupiter's Lightning Rod, Sold Out

Saffron, lightning struck peach wood, fulgurite, lapis lazuli, 24k gold leaf, frankincense resin, cinnamon, allspice, clove, orange peel, mullein, and other Jupitarian herbs were ritually suffumigated and combined with organic sunflower and walnut oils, along with ghee. This was lightly heated to expedite the extraction process and imbued with a natural blue-green cast. Blue and yellow are colors frequently allocated to Jupiter in the Western magical tradition, though in the Chinese 5-element system Jupiter is associated with the element of wood, which represents new growth and expansion, and is given the color green. Lightly scented with pure essential oils of sandalwood, cassia, and copaiba. Anoint yourself to draw opportunities and good luck, uplift and expand your perspective, and magnify the effects of Jupiter transits during his time in Sagittarius. Can be of service in helping you establish goals and game plans, connect with positive possibilities, and support growth, accumulation, and expansion. Use in Jupiter rituals or to help expedite works designed for success, opportunity, wealth building, and after uncrossing or clearings to promote good luck and gain the greater benefit's blessing. Arrives in a 1/2 oz glass vial for $68, or 5 ml mini for $24. This is final, final stock on Jupiter's Lightning Rod Oils...

$

24.00 –

$

68.00