IMPORTANT NOTE: Asclepius III: Son of Apollo is now available. The writeup for that series includes information on selecting which one of Sphere + Sundry's many Asclepius offerings may be best for you, based on your goals, constitution, or natal chart. Read this writeup first to learn about Asclepius, then head over to Asclepius III: Son of Apollo to learn about the various varieties! ⚕️
The second edition of the Asclepius series was created on February 27th 2019 as Jupiter and the Moon conjoined the fixed star Ras Alhague on the midheaven, Jupiter ruling the Sun and holding dominion over the 1st and 10th houses. As we well know, the Greater Benefic is especially empowered in his own sign of Sagittarius and grants aid and protection to all he touches. The chart can be found in the image gallery for each individual offering.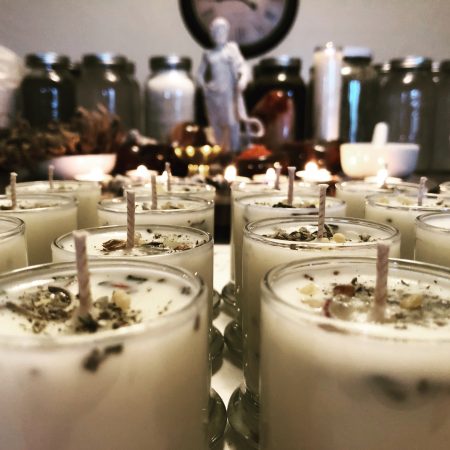 Jupiter takes 12 years to traverse the entire zodiac, making this same election, chosen by astrologer Austin Coppock, a rare opportunity. The formulations and effects are similar to the first edition, but with a gentler and more expansive quality that aids in reducing the typical symptoms of detox and purgation, making the process of healing and transmuting easier and more productive. Jupiter's influence makes these talismanic items excellent wards for magical prevention and the safekeeping of good health.
This edition also sees an expansion of Asclepian offerings in the form of candles, the original incense formulation made available in a self-igniting form, a powder, and healing clay mask alongside an additional hydrosol.
We're thrilled to welcome for the first time sorcerous blacksmith Cody Dickerson of Borealis Ironworks to Sphere + Sundry's team of incredible collaborators, who forged 13 talismanic snakebound rods during the same election per his location.
Esoteric goldsmith Tony Mack returns, offering us two variations of talismanic pendants featuring gold, electrum, and high grade carnelian — the preferred stone used in Asclepius talismans since the height of his worship — set over viper's tongue.
Also featured is Elizabeth Barrial, the animating force behind Black Phoenix Alchemy Lab and Twilight Alchemy Lab, who ritually formulated two triumphant limited edition perfume oil blends in dedication to Asclepius and his wife (or daughter, depending on who you ask!), the goddess Hygieia. Her symbol, the Bowl of Hygieia, is a cup or chalice with a snake twined about its stem, head poised to drink its healing contents, still used to represent pharmacists around the world today.
The altar for Asclepius II features gorgeous carnelian pieces from Haute Macabre's Carnelian collection, cleansed and charged in the headwaters of the Sacramento River in Mt. Shasta. This same water was collected for use as the base for both hydrosols featured in the series, distilled under the auspices of Jupiter and Sol.
For those unfamiliar, Asclepius is the ancient Greek God of medicine, born to a human mother and the Sun God Apollo. His name means "to cut open", as he was liberated from his dying mother's womb via the first cesarian section. He was raised by his father and tutored by the wise centaur Chiron — known amongst astrologers by his asteroid and "wounded healer" lore — in the ways of healing and medicine using plants, herbs, and stones.
He was also a master of prophecy, and it was said that with Medusa's blood and his serpent bound staff, the symbol for paramedics even to this day, he could call forth the resurrection of the dead. This shows Asclepius possessed the power and knowledge of transmuting poison into a cure — the means and production of anti-venom.
Some say he was the husband of Epione, Goddess of healing, and father to many, including Panacea, Goddess of the universal remedy, and Hygieia, Goddess of cleanliness and hygiene. He met his end being struck with Zeus' lightning bolt, because his teachings and medicine were seen as a threat to the division between Gods and Humanity, and the King of the Gods refused to suffer that disruption of the status quo, tipped as it was, in his own favor.
Temples of Asclepius date back to the fifth century BCE, where those looking to be healed would make pilgrimage. Ritual purifications and baths were taken before making offerings or sacrifices, and the night was spent in the temple so that healing dreams, or dreams wherein cures were revealed, could take place. These were then reported to the temple priests, who would help interpret their meaning and prescribe a course of treatment. It is thought that Hippocrates, regarded as the father of medicine and the namesake of the Hippocratic Oath, began his career in an Asclepieion serving in just such a capacity.
Asclepius in astrology is seen as the Serpent Bearer in the constellation Ophiuchus, the much hyped and falsely accused "13th sign" of the zodiac. In truth, our sky features many constellations that are not included in the 12 most famous that ally the signs, and Ophiuchus is but one. As is so often the case, however, where pagan gods, snakes, and occult powers are concerned, Ophiuchus is widely maligned and misunderstood, along with the fixed stars comprising his celestial figure.
The creation of Sphere + Sundry's first Asclepius series was begun on the 26th of June, 2018 when the Ascendant hit the first star belonging to Ophiuchus in Sagittarius, culminating and giving the final consecrations as Ras Alhague was rising. This fixed star denotes the snake bearer's head and is the brightest the constellation Ophiuchus has to offer. Bernadette Brady (super star lady!), in her book Star and Planet Combinations, says of Ras Alhague:
The themes of this star are that of the healer, teacher, or one who is wounded. With this star in a chart one is drawn to the healing professions, or at least has a natural gift in that area… Whatever the symbolism of this star in a person's life, the driving force of its expression is to repair that which is damaged, to heal.
Brady also points out that under Christian influence Ophiuchus became seen as Saint Paul, who was shipwrecked in Malta and bitten by a venomous viper. Acts of the Apostles (28: 3-6) within the Bible's New Testament reveals:
And when Paul had gathered a bundle of sticks, and laid them on the fire, there came a viper out of the heat, and fastened on his hand.

And when the barbarians saw the venomous beast hang on his hand, they said among themselves, No doubt this man is a murderer, whom, though he hath escaped the sea, yet vengeance suffereth not to live.

And he shook off the beast into the fire, and felt no harm.

Howbeit they looked when he should have swollen, or fallen down dead suddenly: but after they had looked a great while, and saw no harm come to him, they changed their minds, and said that he was a god.
Although the Christianized version of the constellation's figure was attributed to St. Paul, one cannot deny that Asclepius' status as a martyr, Solar affiliations, and ability to not only heal the sick, but resurrect the dead, also align him with the figure of Jesus Christ.
As part of the creation for this series, Asclepius was petitioned directly to bless each of the offerings and make them as medicine by his own hand. They are of course charged and qualified by their construction during the right window of space-time, but they are not 100% planetary magic as many other Sphere + Sundry series have thus far been, as they integrate the empowerment of a God for a portion of their mechanics and expression. They are blessed by the Divine Physician himself, as God of Medicine and martyr for the healing and empowerment of mankind. Their very procurement and use is an offering to him, in return for Asclepius' curative blessings.
In practical terms, these items are intended to provide healing and renewal of the body, mind, and spirit. The first step before any medical operation is to sterilize. The wound must be cleaned, and the scalpels and bandages free of contaminating factors, as should be the environment that will host the procedure. On a mundane level, lack of hygiene begets rot, rodents, and illness, among a myriad of lesser evils like stink and stagnancy. In order to restore perfect health, all impeding the body's ability to heal itself must be stripped away, for all healing is self-healing. The rest is but a simple matter of quarantine and facilitation.
As a result, the first effect that the offerings of Asclepius have is that of profound purification. The supreme clarity they bring can be instantly felt, and regular applications provide deeper benefit as further layers are washed and purified. Their cleansing effects are transmutative, helping the self and body craft the medicine it needs from the 'poisons', wounds, and trauma already in the system, both literally and metaphorically. These offerings help facilitate psychic and emotional metabolism and the distillation of wisdom and perspective from experience. They don't wantonly strip the undesirable in order for it to be discarded, they alchemically transform it into a rich compost, from which new life and perfect healing can spring.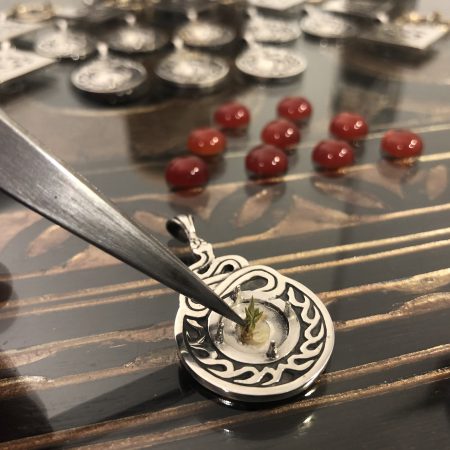 The cypress, western cedar, and fresh sage used in this series were harvested during the hour of Jupiter on the Summer Solstice after saying the harvesting prayer of Thessalos, transmitted to him in dream by Asclepius himself. This text was recently translated and published in English for the first time by Demetra George in her contribution to The Celestial Art, an anthology on astrological magic co-edited by Austin Coppock  and Daniel A. Schulke for Three Hands Press.
To learn about people's experiences with our flagship Asclepius wares, stop by the the "Testimonials" section of any offering, or The Gentleman Necromancer's in-depth experience.
As is the Sphere + Sundry way, the series was created and then left to incubate for a full lunar cycle. Our items are free of branding with simple hand drawn labels — the symbol for the Asclepius series being the serpent bound rod.
Each order comes with prayers and basic instructions for use, including suggested dates of working and application, along with an invitation to a private client only forum (now off of social media) for continued support from both creator and community.
Asclepius II (+ Jupiter), Series, Sold Out, Talismans + Reliquaries

Snake bound rods, forged during the equivalent Jupiter-Luna-Ras Alhague election by sorcerous blacksmith

Cody Dickerson

of

Borealis Ironworks

. Of his exquisite creations, he offers —

"So be Wise as Serpents, and Innocent as Doves." — Matthew 10:16

These relics are a visceral, ferrous expression of two primary principles observed within an occult framework : Salubrity and Resolve.

The Asklepian or 'Rod of Asclepius' consists of the serpent and staff. The serpent here may be said to represent both perpetual renewal & healing as well as the dual nature of pharmakon as both panacea and poison. The staff reminds us that in times of great need we must be willing to be supported. Their respective forms are expressed in hand-wrought iron, born of the hammer & anvil in flickering cacophony that is the ancient and venerable craft of the smith.

Some preparation of material took place the evening prior (cutting, layout, etc.) and final preparations were made during pre-dawn hours the morning of the election. Offerings of cedar, juniper, fir pitch and several native artemisia species were burned in the forge and a fumigatory rite of cleansing took place.

Enough material was cut and prepared for the 13+ relics to be forged, the serpent and staff to be officially intertwined during the beneficent interstice of this potent election. The election allowed a small but adequate window in which the work was to take place.

It was an intense fifty minutes. I can't recall the last time I worked with as much vehemence, but I did manage to meet our goal. And not without some violence against my own corpus for as the work concluded, I fell into an intense bout of very unpleasant nausea and vomiting, swiftly (and mercifully!) followed by a deep sense of wellness. This speaks precisely to the often purgative, sicken-ing nature of pharmakon and again -- to the dual-nature of the serpent as an embodiment of wisdom and rejuvenation.

As for the iron Asklepians and their care, I recommend only this: while the relics have been treated with a thin coating of wax, I recommend that upon receipt they are further coated in the accompanying oil formulated by Sphere + Sundry during the election, or one of your choosing, preferably that lends itself to the restorative and health-giving nature of Asclepius and the noble art of physik.

I pray these talismanic objects of virtue serve in whatever capacity you desire, be they employed as ceremonial foci or by iron's physical touch as a means of removing illness and dis-ease, thereby exploiting iron's capability in the eradication of foul spirit presences afflicting both body and soul.

Every talismanic rod includes a bottle of Asclepius II Oil for anointing and regular feeding. Mount above doors or beds to safeguard good health and act as a protective ward, or store upon altars or under mattresses for the same purpose. Available for $130 each. Only 13 of these most excellent specimens are being offered to the public.

$

130.00