Available, Butter Ocean (Jupiter), Salves, Sold Out

Jupiterian herbs for the promotion of relaxation and release, flow and abundance, fumigated during our Butter Ocean election and immersed in a combination of ghee and organic extra virgin olive oil. Left to incubate for over a year and a half, before being strained, and gifted the addition of organic beeswax and essential oils (arnica, amber, frankincense).

You know what else Butter Ocean is teaching me? That every single individual offering description probably doesn't require a rehashing of the series description + ground-up masterclass in how to use the stuff! Put it on... rub it good... and feel like you

too

are made of butter!

Crowned with white gold and lemon gold, offered in a 2.5 oz tin for $56, or if the Client prefers, a 4 oz bulk pot ($96). Infused (organic): comfrey root and leaf, borage, olive leaf, blue poppy seed, slippery elm bark, valerian root, catnip, blessed thistle, burdock root, echinacea, fenugreek, honeysuckle, hops, hyssop, linden flower, marshmallow, meadowsweet, milk thistle seed, mullein leaf, plantain leaf, wild yam root, yarrow flower.

$

56.00 –

$

96.00

Butter Ocean was the code name for Sphere + Sundry's second Jupiter in Pisces series (the other being Jupiter's Empyreal Vantage), which waited in the angel-wings over a year and a half before its gloriously disastrous, chaotic (yet timely!) debut.
When we began bottling and beta testing this cycle, I had posted on socials a brief timeline and snapshot of events leading to its creation. It was a *monumentally* busy time, and a curious sync now… that with how it panned out, its *launch* was too. But more on that in due course.
I had planned on a different write-up, but for now this will have to suffice. Sharing the following because there are a lot of lessons in how all this went (as there so often are), and it's still not finished (like whatever this is, is? Jove's got jokes!), aannd I kind of want to save what happened as a glorious monument to the biggest shit show of a Sphere + Sundry launch of all time. One hopes!
Here are Austin's notes on the election:
Jupiter is direct, in Pisces, conjunct Fomalhaut and the MC, and in a perfect trine to the Ascendant during the Day and Hour of Jupiter. The election is further sweetened by Venus in Cancer in the 1st house. The Ascendant is ruled by the Moon, which is waxing with good light, in a whole sign aspect with Jupiter and a perfect, within-a-degree sextile with cuddly Venus in Cancer.
and what follows is what the Plus Members were, uh… treated to, last night at the pre-launch. Admittedly zhuzhed up a bit. Do enjoy!
*ೃ༄
Remember how we all got to go on a blind date with our Aerial Queen?
Well… Butter Ocean is shaping up to be a bit like that, except it's more of a… text-blind… taste… test?
Words aren't wording and there have been a lot of technical snafus, but elections wait for no one! We're rolling with it like melted butter off a piping hot SOMETHING THAT'S NOT A FRESHLY BAKED ROLL avoid a double pun at all costs, KAITLIN.
I will replace this with something more appropriate when my brain isn't mashed potatoes, butter laden and delicious they may be! [don't tell Hannibal]
But Butter Ocean's wisdom is… allowing this to  actually  be okay. Perhaps  perfectly  so.
Not to white knuckle it.
To stay calm, and let the sugars caramelize.
A real-time showcase of how the simplest, most meaningful, most nourishing things  in life  don't actually require presentational perfection. But love and care, and a side of technique. The Talismans + Materia are what matter, and they are *chef's kiss*. The rest is little aside from simple, digital window dressing.
And it will coalesce as fresh churning cream always does — gently, and over time.
Lessons these excruciatingly potent series keep lashing me with time after time and time and time again.
Pre-Launch and Launch-Launch are both moving forward at the scheduled times regardless of text status. If anyone wants to read a long involved write-up first, there's no pressure to order before one becomes available. Or ever, at all.
Jupiter in Pisces is offering up a hard lesson in leaning  back  — into the slow, meaningful depth of it all. And you and hundreds of others get a front row seat!
Belly breathing.   Letting things be.   Letting the process lead the way.
And focusing on what Matters.
Not how it looks on the web-plate; but how nutritive, delicious, and memorable the meal ends up Being. And I do hope you well know by now, we always stick that element of the landing ; )
Looking forward to getting this medicine to those who need it.
Not going to let some giant chaotic mess in the kitchen delay serving one bit! Guests are at the door, so dinner, dessert, and the finest magical bubbly is officially on the table. Dig in should you so wish!
The preview thread from the Client Community will have to suffice for now.
Screenshots because the page kept not saving since apparently the website hates cool fonts. But I likes them! #jenesaisbeurre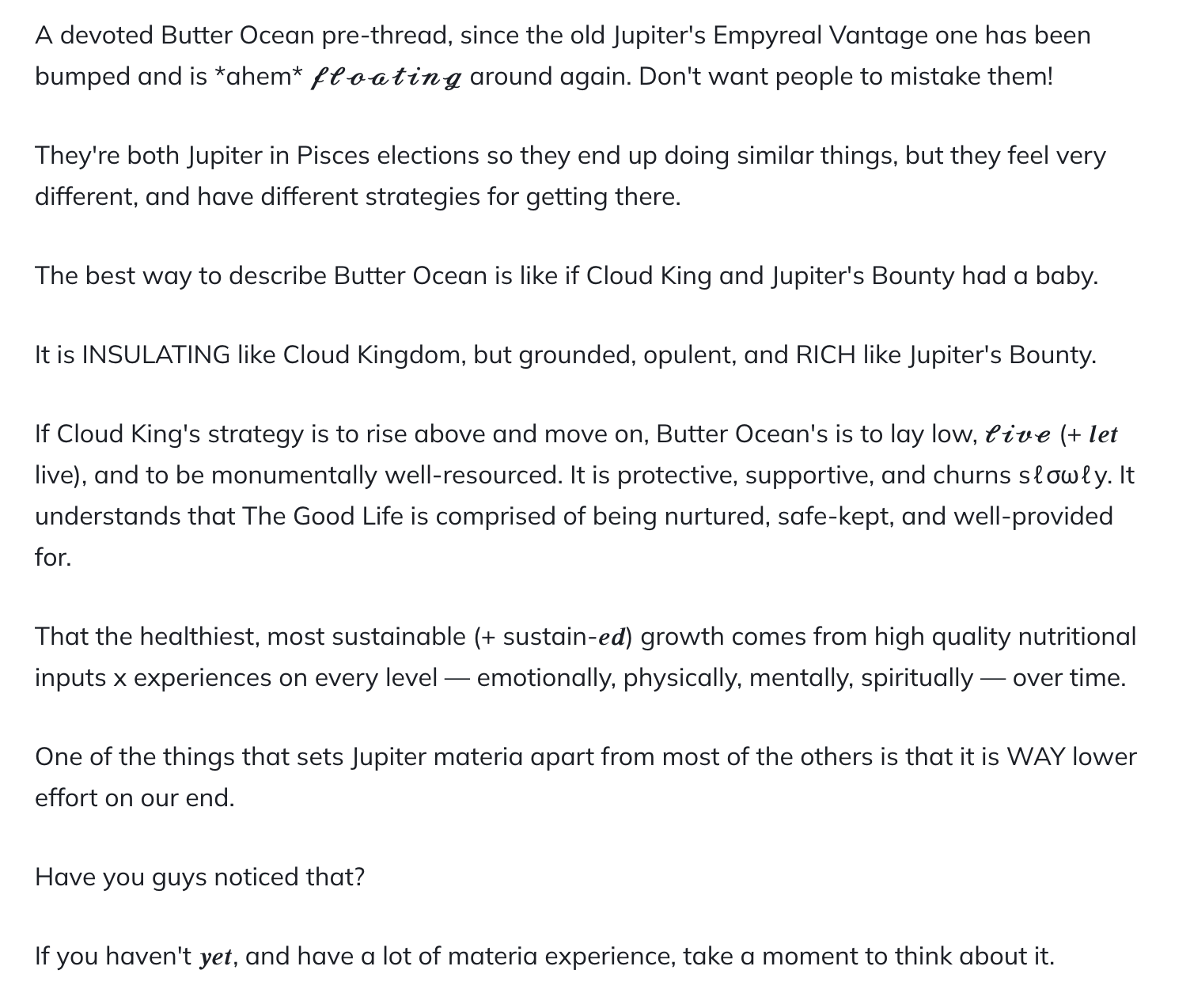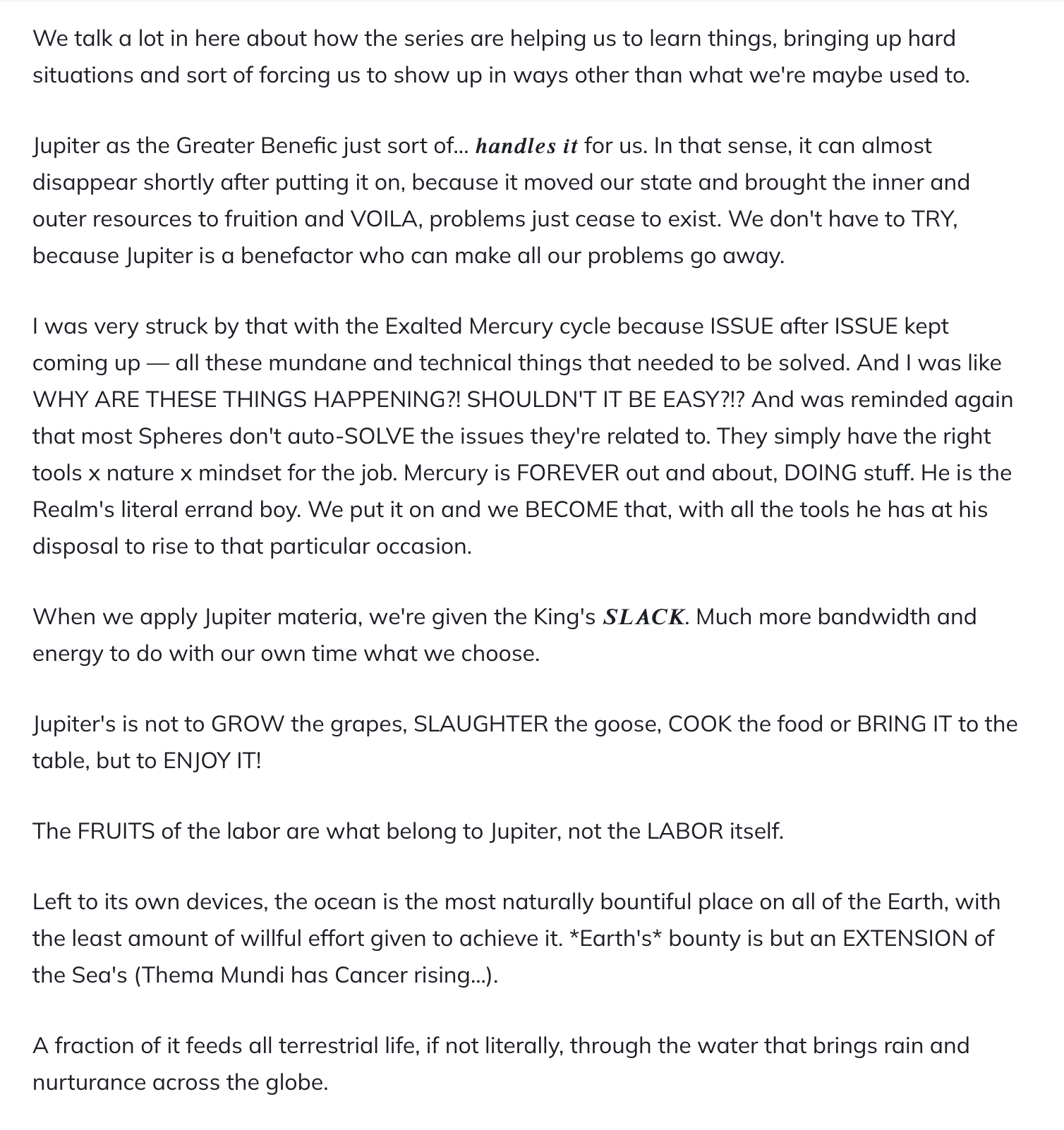 .ೃ࿐
There was more about the chaos at this point but I think you get it. And we all survived! And Plus Member packages are already flowing as I type, an hour and 15 minutes 'til launch. Thinking there won't even be time to add photos.
The Info Sheet that arrives with each order has actual usable information about Butter Ocean and what it's good for, and an original hymn I just penned — Of Sea and Of Orchards, which — to honor our Patron's Good Name and Great Works, shall be shared openly here, for the benefit of all:
See how the talismanic sausage is made?! And how every series hijacks its own process and presentation? So much fun.
Anyway, the BPALs are delayed for this (as they were with Exalted Mercury). Those too will arise from the chaos of worldly creation in their own time! But Tony's Talismans… those should be arriving today and begin shipping immediately, and they are *glorious*.
And despite how all this makes it seem, the Materia itself  is a stunning triumph of delicious simplicity — casual yet noble, potent, well-humored, and opulently rich, and it shall serve Jupiter's Own generously well. Lessons relating to faith now enter the fold.
With that, and in the words of Patron Saint of butter and goin' with the flow, the Immortal Julia Child — Bon Appétit!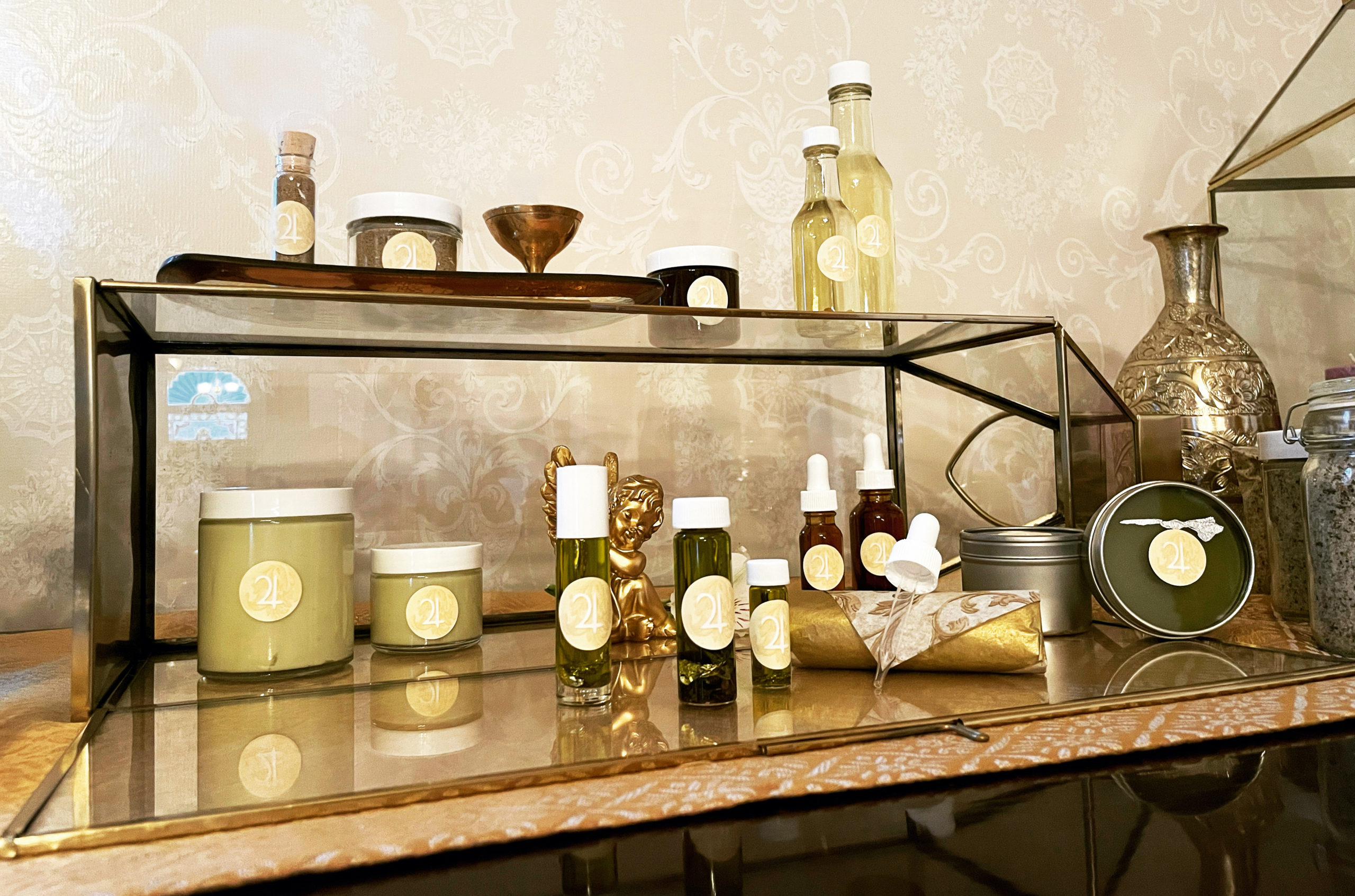 For information about processing times and current status updates,
please refer to the Announcements area of the S+ Help Center!