Remember that week or two in the Spring of 2020 when quarantine was novel, relaxing, and fun? When we were baking bread and enjoying our down time and not yet sick of the people we would be locked inside with for the majority of the year, or the internet?
It was in that sweet little slice of time-heaven that the Empress was born, on the exact same day that the CARES Act was signed, which resulted in $1,200 checks for every American.
Economic stimulus in a bottle. And then some.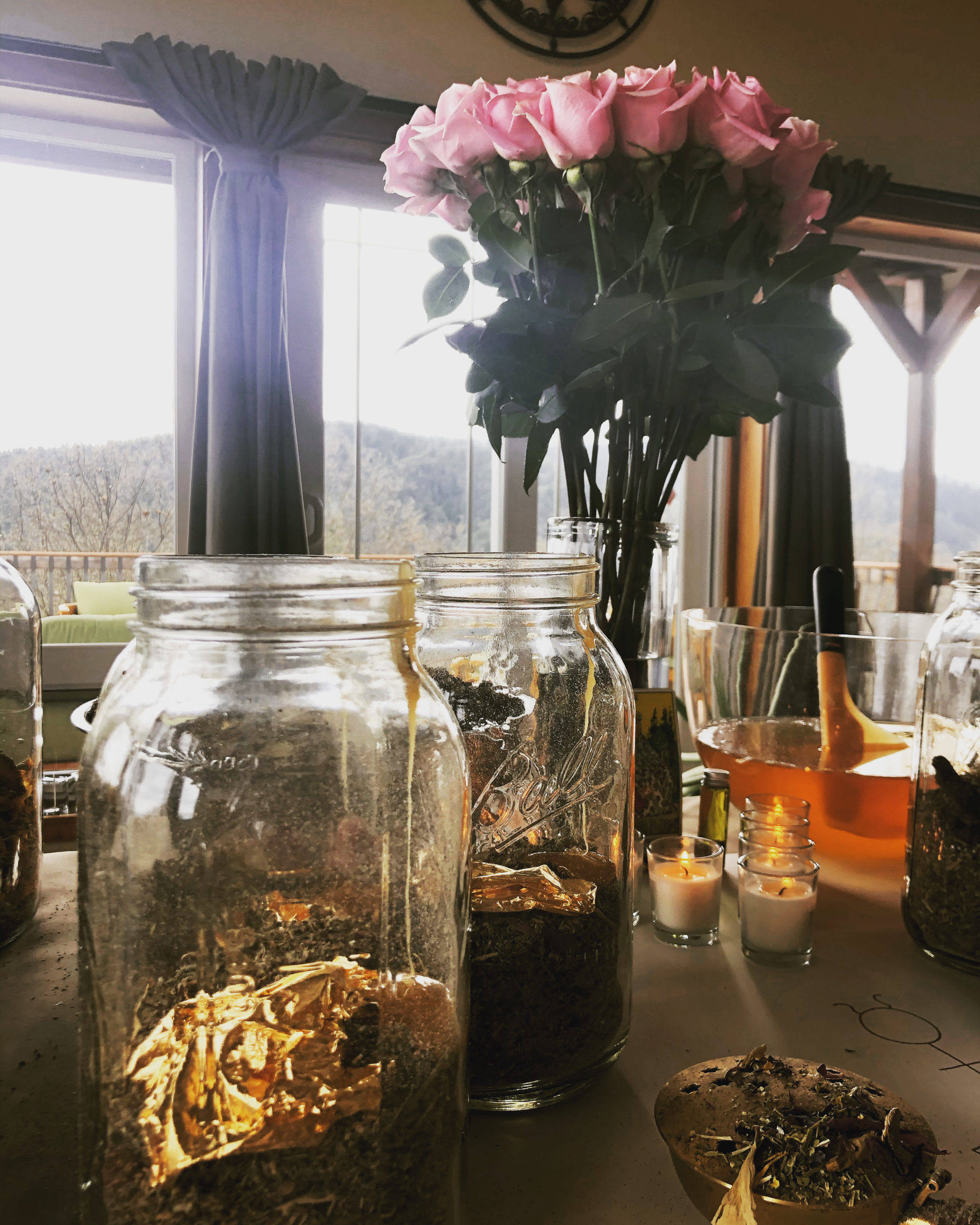 Empress is the sister series to Luminous Crown, ritually called forth the afternoon of the first operation as Our Ladies — Venus in Taurus conj. an exalted Moon — embraced the midheaven, in the day and hour of the Fairest Benefic. One of the cleanest and most powerful Venus elections the year prior or time since had to offer.
Both altars occupied adjoining rooms, lit until nightfall. Each operation (and their resulting creations) share a characteristically dignified and noble aura, though Luminous emphasized the symbiotic and world-building prowess of the Soli-Lunar, while the Empress' focus is more self-indulgent, desire driven, and self-serving. What the Empress wants, She shall receive — and despite Her own obstinate nature, in due haste when it comes to those who seek to satisfy Her. And deeply.
This is, perhaps, a very different flavor of Venus than what you might be used to, Dear Reader, for the focus here is not on diplomacy or ease of relationship or to lube any overarching social dynamics, per se. It is to see our material needs and sensuous desires met by the world around us. It is to put ourselves and our own needs first. It is to admit what we want, and to feel know we are worthy. To drop the Good Girl (or Boy! or Enby!) facade, with all of its demurity and agreeableness and globally imposed limitation, in order to embody She who wears the Crown and commands the sparkling Sceptre.
She is the Empress, after all, and she becomes you.
Of the various Venii so far released, this series has the most resonance with the maiden Venus in Taurus… but on steroids. Empress is slightly less lazy, dreamy, and passive, but still comfortably seated on the throne of Her own desire, happier to be served than to do the serving, and unlikely to concede on matters of personal or material import. She is ambitious, sober, and commanding — imperious, even.
My own Venus in Virgo is shuddering just describing this. But working with Venus in Taurus in her manifold talismanic grade forms over the years has taught a number of things…
That there is a pure, unadulterated pleasure in being able to satisfy the object of our desire.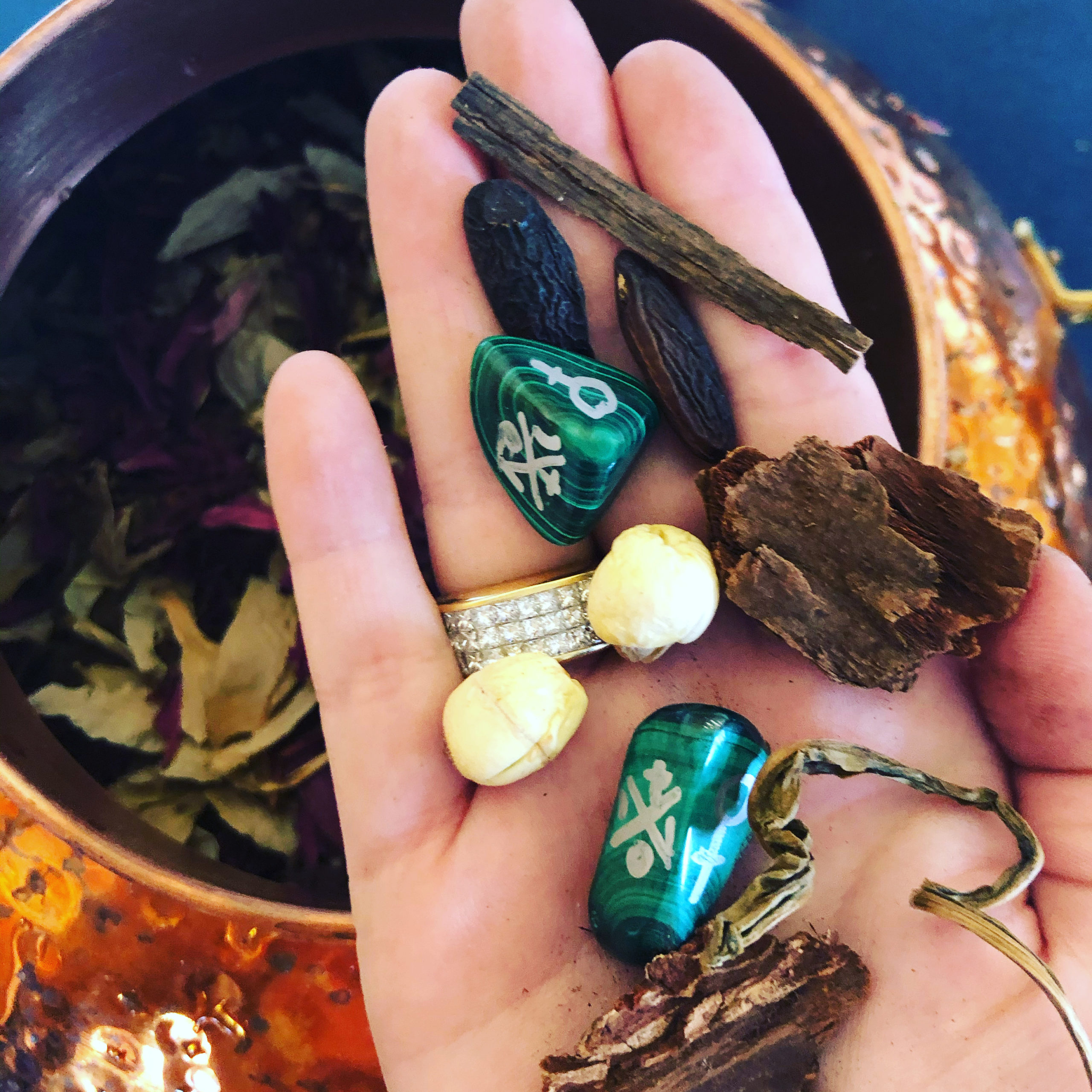 That by knowing and being honest about what we want, we either A. do not need to wait for anyone else to give it to us (by making it happen on our own), or B. make it easy like Sunday morning for those who wish to make us happy, to do so.
For in its own way, developing one's capacity to receive, appreciate, and indulge without shame is a divine gift to those with whom we share an orbit, and in allowing ourselves and others to wholly please us, and allowing ourselves to linger in a wholly pleased state, for one shining moment the world becomes a little less neurotic, complicated, and frustrating.
The post-orgasmic bliss that only the fulfillment of authentic, loin-deep yearning can truly bring.
The transcendent simplicity of owning our desires — and our desirability! — unburdened by the scripts and lies we're told to tell — to ourselves and to others.
And Key to these mysteries: the infuriating, yet compelling seductiveness that self-regard and even a little well wielded narcissism hold over the human psyche.
Yet Venus is Venus, and (dignified) Venus always makes for a higher quality aesthetic and sensory experience. Music resonates more deeply. Art becomes elevated — to the creator and beholder alike. Food tastes richer, and more satisfying. Highs run higher. Sex is sexier. Glamour more glamorous.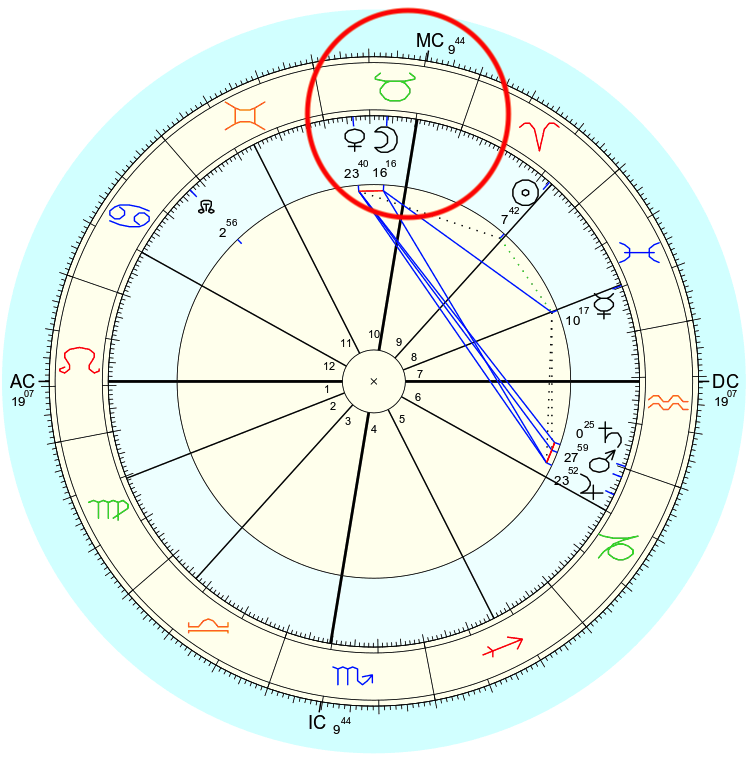 And because the Empress election features Venus + Luna goaded and in the 10th, these offerings are also good for career and reputational concerns. At the top of the chart, She occupies a privileged and pivotal position, impossible to ignore and ripe for promotion. This is absolutely the Venus materia of choice for wearing to work, as the specifics of the chart make it so. Which is a notable difference from our other Venus series, which came with an advisory not to, as the set and setting would likely prove incompatible.
Venus in the workplace can be difficult for all of the trope reasons that people say attractive women are (archetypically, they are one and the same), and also because Venus would rather enjoy herself than toil.
In terms of this series, there may still be some fallout in the workplace in the form of crushes, harassment, jealousy, social jockeying, and the like, but the difference is that the Empress can — and will — handle it. As HBIC, it is literally Her job to do so. The difference is the willingness to stand Her own ground, and the commanding gravitas with which she carries Herself. This is an optional application, of course (and if someone does not yet have a career, this series could be magically instrumental in securing and advancing one).
Empress is also perfectly suited to increase the incomes, opportunities, and perceived prestige of creatives, artists, image based influencers, musicians, singers, models, actresses, OnlyFans creators, cam girls, sex workers, pornstars, perfumers, makeup artists, estheticians, stay at home moms, baby mamas, surrogates, chefs, taste makers, caregivers, nannies, daycare workers, Otorhinolaryngologists (Ear, Nose, and Throat doctors!), nurses, and the like (what a seemingly mismatched string of Venusian, Lunar, and Taurean career keywords that was!), in addition to those whose career or financial significations are keyed to Venus or the Moon in the natal chart.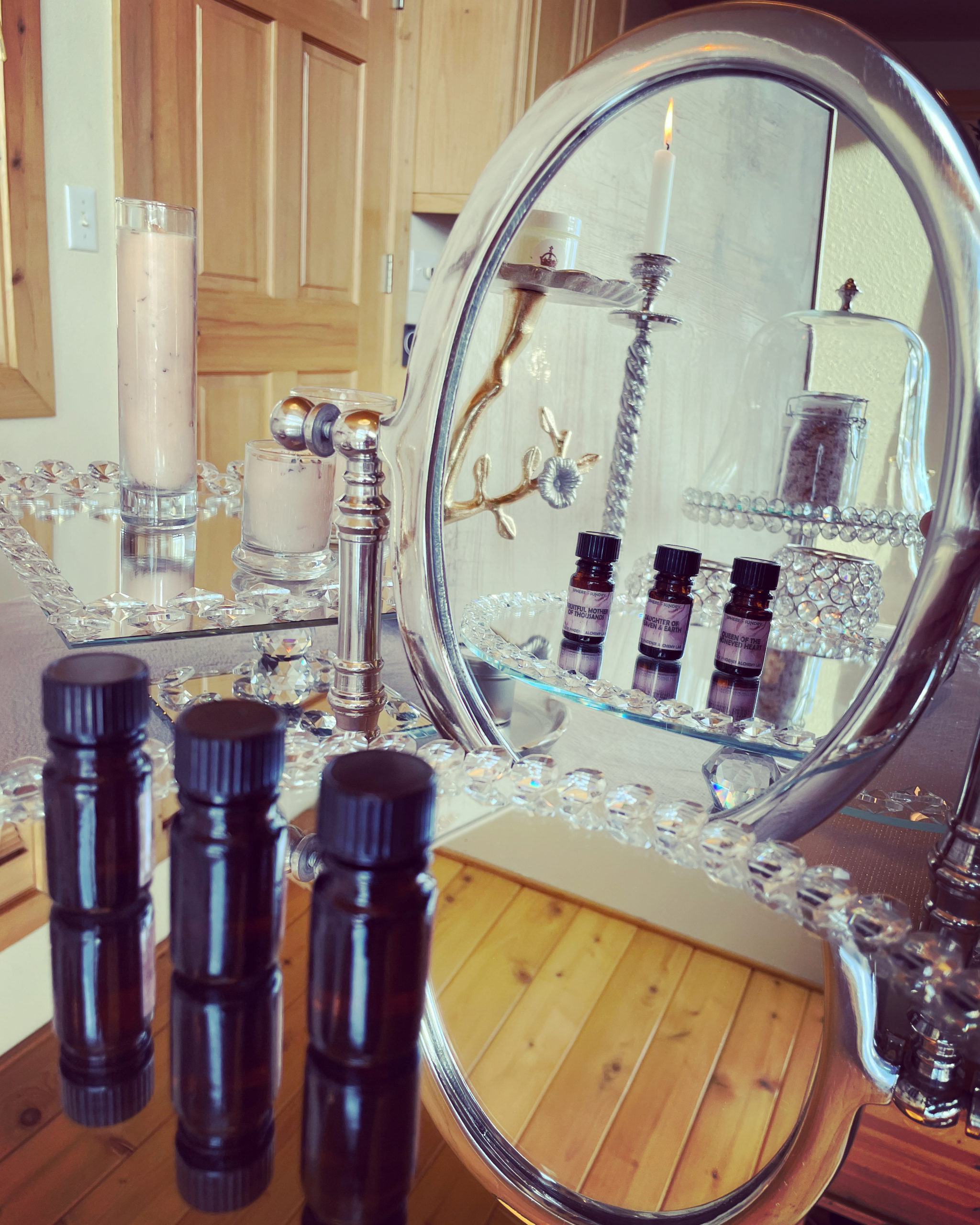 The midheaven being the angle of utmost visibility, this election also provides excellent fuel for a potentially significant glow up. Since initiating this release cycle and heavily beta testing, I've felt compelled to devote more time to my fitness and overall beautification than perhaps ever before (#venusselfies incoming, no doubt!), but not in that typical "because I hate this part of myself and need to change it" sort of way. In a cliche "because you're worth it" and "I deserve to feel good in my own body" lady's deodorant ad sort of way, except actually.
And we are.
Equally as effective in the boudoir as the boardroom, anoint oneself, one's partner, or toys for a magically enhanced sexual experience. Combine or cross-pair with Mars materia (Scorpio, DOE, or a spritz of Jow — avoid the junk, please!), or layer with additional Venus. Have fun exploring! Do note that Empress is naturally suited to emphasize sub/ dom dynamics. It may be of special aid to those who have a difficult time staying embodied during sexual activity, or who have a tendency to be uncomfortable receiving or testifying to what would give them pleasure.
Magically speaking, Empress materia can be used to charm and compel, to seduce, to cast and boost glamours, to increase income, to sweeten reputations, to dominate, to manifest material resources, to draw power, and to promote sexual desire and desirability.
Ingredients renowned in Hoodoo and Conjure for such were combined with classic planetary herbal and lapidary correspondences to make for a particularly powerful formula: Eve Root, deer's tongue, jezebel root, lucky hand root, and Abre Camino to open the way. Alongside pink lotus stamens, aloeswood, benzoin, vanilla bean, Royal sandalwood, rose, jasmine, pink and white water lily, blue lotus, damiana, cranesbill, raspberry leaf, orris root, watercress, red clover, rosehips, passionflower, yarrow, diamond, emerald, and more, all in top shelf, cold-pressed, and organic carriers. Topped with milk, honey, and Royal Jelly — the nectar upon which the Queen herself feeds.
No fillers or artificial scents, ever. Just pure and uncut herbs (organic, wildcrafted, or home grown wherever possible), precious metals, and gems, consecrated within the election window to talismanic standard, left to incubate (in this case for almost a full year), bottled by hand in metal or glass, and marked with an embossed rose gold glyph. The Sphere + Sundry way.
The scent profile of this series is very… Imperial Gourmand, akin to mingling beside the lavish spread of desserts at the Empress' coronation, every once and a while catching a whiff of the finest incense smoke trailing Her lavish procession, amidst a cornucopia of rose and pink lotus bouquets. Olfactory statements rich and pronounced, in terms as monetary as they are sensory.
Malachite is the patron stone for this series, chosen for its high copper content (the metal of Venus) as well as its gorgeous ripples of green (a primary Venus color), the precious metal being rose gold (an alloy of gold + copper combined) as a nod to the election's Exalted Sol, in house joy and ruling the first.
Each are offered as a rollerball selection for The Empress' Oil, and feature in various offerings throughout the series, as well as the Malachite Yoni Egg Talismans and Tony Mack's characteristically gorgeous pendants.


On the toxicity of malachite due to copper (or lack thereof in common application)
Some online sources claim malachite to be toxic because of its copper content, but that primarily impacts those involved with its mining and polishing (who should always be wearing protective gear on the job).

Finished malachite poses almost zero risk to the user/ wearer, save for the case of prolonged exposure to acidic environments where trace amounts of copper can be leeched, which has resulted in fear mongering around even the consumption of Moscow Mules because of lime juice in the beverage.

I have yet to know a single person who has been sickened or died of Moscow Mule poisoning, or been negatively impacted by the copper leaf that features in many Venus oils and materia. Copper is considered by science not to be meaningfully absorbed through the skin (if at all), and it is an essential trace metal found in lots of foods and things we regularly consume.

Malachite is featured in some online lists of Yoni Eggs to avoid due to the same issue — the presence of copper combined with the naturally acidic environment of the vagina. Copper IUDs have been used as a common contraceptive since 1967, because copper naturally inhibits how sperm cells move so they cannot reach the egg and result in pregnancy. This makes even more sense of copper as the metal of Venus, given that our Fair lady desires sex for fun, rather than procreation (that would be Luna's purview).

It is up to each individual if they feel comfortable using the Malachite Yoni Egg Talismans internally or instead keeping them as altar pieces, and I encourage everyone to perform their own research, consult a physician, and do whatever they decide is safe with their own bodies, always. Given the short period of time such an egg is likely to be inserted (especially compared to up to 12 years of 24/7 wear with a copper IUD), these concerns seem overblown to me, personally.

If you are pregnant, trying to become pregnant, are sensitive to heavy metals, or have heavy metal poisoning, then do not use malachite internally. This same disclaimer/ contraindication is repeated on the Yoni Egg page.

(This was only so in-depth because the issue was brought up in advance from a shared teaser, and we know how The Internet can be.)

This non-controversy considered, no malachite was included in the standard 1/2 oz vial of Empress Oils, for those who still wish to avoid it. Malachite is the gem for Empress rollers. All of the malachite used in the Empress series is natural and undyed.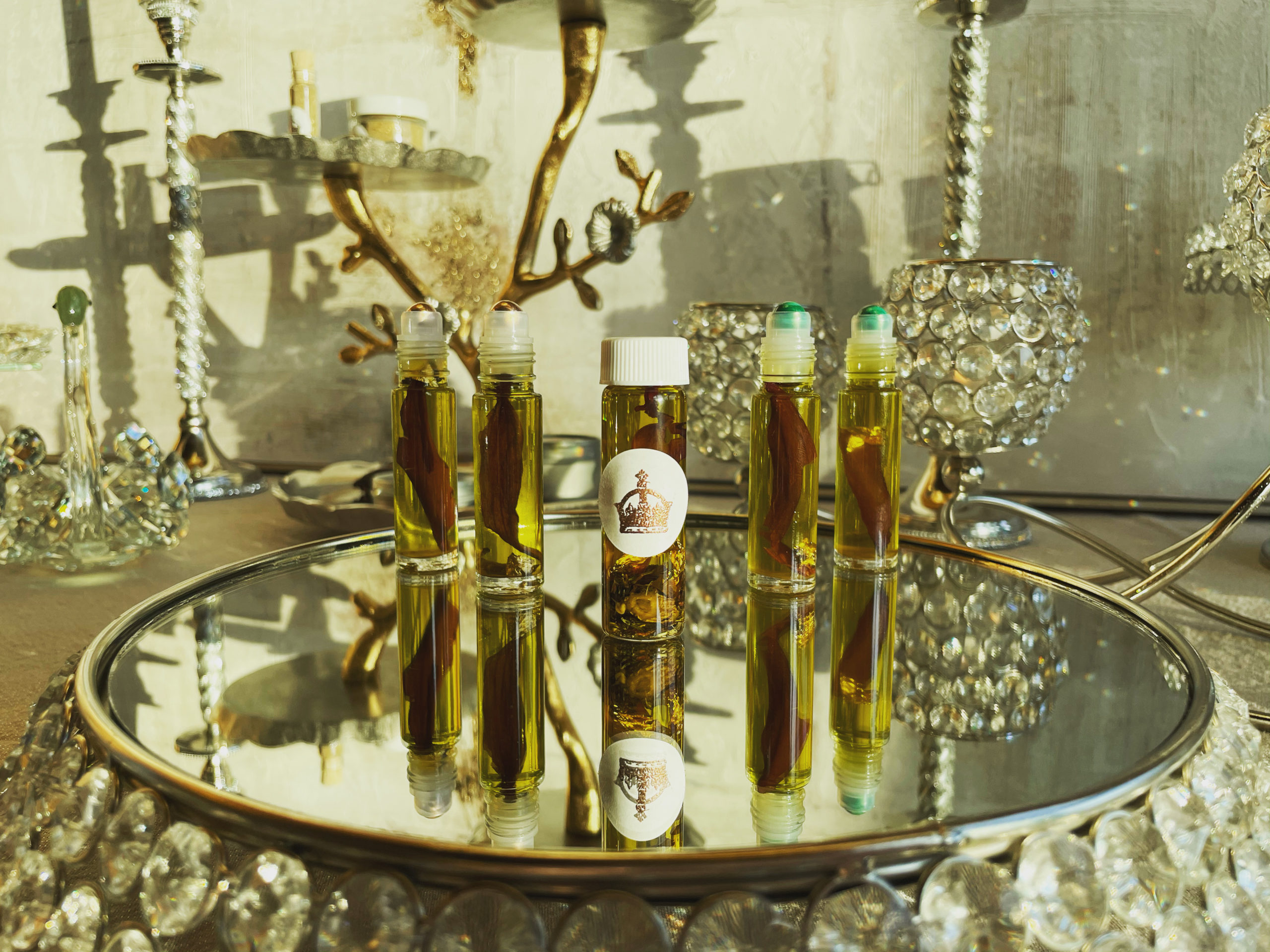 Side effects of this series include haughtiness, stubbornness, self-importance (sometimes a feature, sometimes a bug — depends on how you use it!), and a propensity to throw money around. Sometimes the gifts we get end up being for ourselves (or those we love) by ourselves, rather than 3rd parties. The dignified Benefics all tend to promote generosity, so make sure you are using the Empress' influence intentionally for your desired financial outcome. I encourage practicing formal money drawing magic if gain is the primary intent, rather than simple passive application. An unbridled Empress isn't much for budgeting.
Also note (this has been described in myriad ways, it bears a direct mention) that this series is not really for social cohesion as much as social advancement and self-promotion (though order often does result from clearly defined social hierarchies).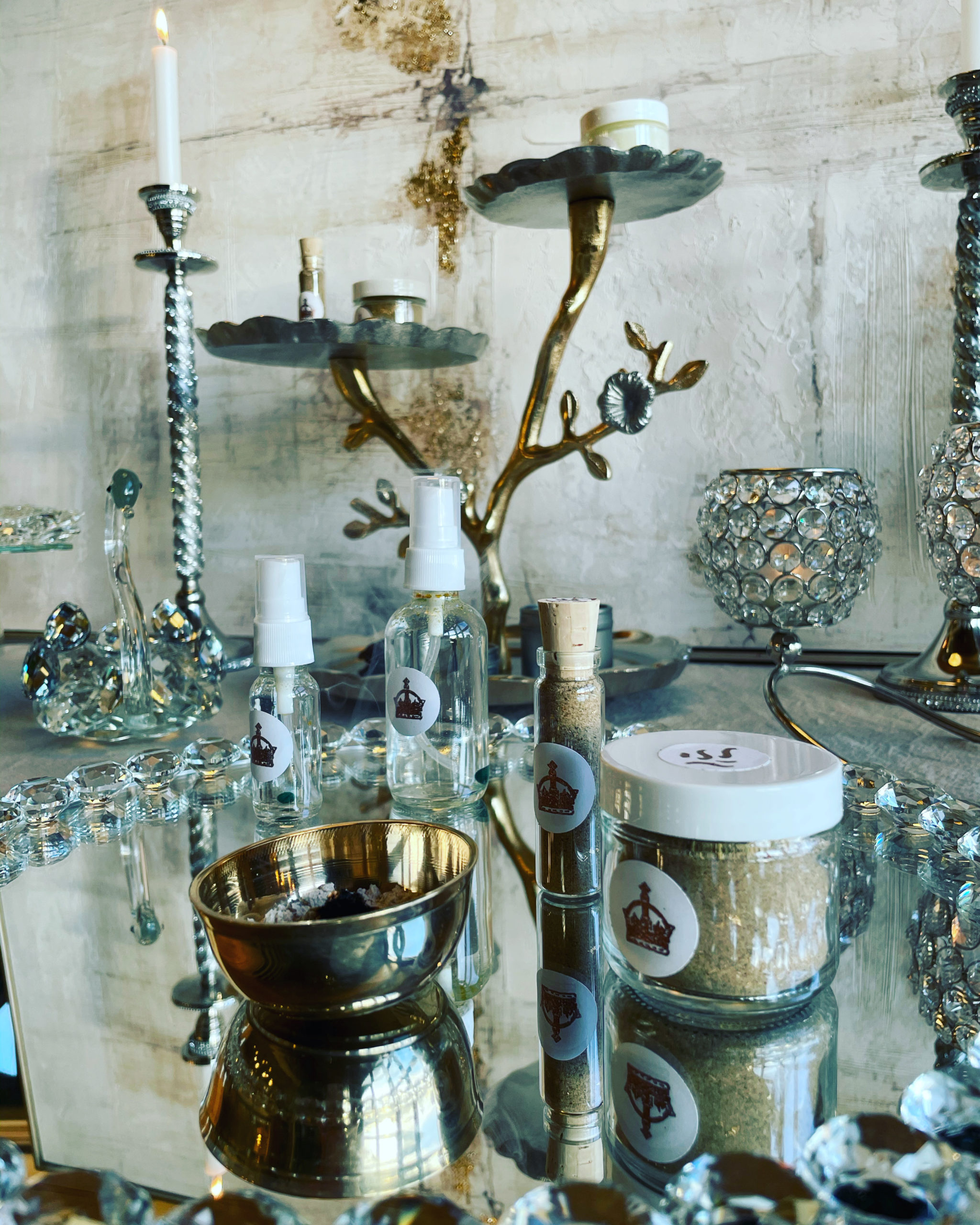 Wear this to be the Belle of the Ball or to assist with relaxation, beautification, self-care, and to promote desire and desirability, not for a chill time amongst equals (unless perhaps all involved are *on* it). This series inherently keyed to power dynamics, and it's not always the right time or place to don such a compelling influence.
This series can be especially helpful to those who tend to sacrifice and martyr themselves for the sake of others, who have a hard time standing up for their own needs, and who tend to sell themselves short. It can exacerbate narcissistic qualities in people who are already so inclined. Layering with Immortal Heart (and to a lesser degree, Asclepius) can help balance that aspect of the charge.
As usual, gratitude to Empress Barrial of Black Phoenix and Twilight Alchemy Labs for contributing three talismanic perfumes, and Austin Coppock for our election.
Each order comes with basic instructions for use, timing suggestions, and a prayer, alongside an invitation to the private Sphere + Sundry client community for those not yet part.
Anointing Oils, Available, Empress

Classic herbal and lapidary correspondences for Venus and Luna were combined with ingredients renowned in Hoodoo and Conjure for their ability to sweeten, seduce, and open the way, fumigated and prayed over before being immersed in a 50/50 combination of organic cold pressed extra virgin olive oil and jojoba for the Empress election, mere hours following

Luminous Crown

. Pink and white water lily, raspberry leaf, damiana, orris root, watercress, red clover, rose hips, passionflower, pennyroyal, yarrow, vanilla bean, aloeswood, benzoin, Royal sandalwood, pink lotus stamens, eve root, deer's tongue, jezebel root, lucky hand root, abre camino, diamond, emerald, and a touch of royal jelly — the nectar upon which the Queen bee herself feeds. Genuine 23kt red gold — an alloy of copper (Venus' metal) and

gold

(the Sun's metal) to emphasize Sol's exaltation and rulership of the First, from the House Joy. Left to gestate for nearly a year before being decanted into glass vials on the day of Venus and offered here to you, blessed Human Spirit, for the promotion of your own interests, especially pertaining to matters of finance, career, beauty, embodiment, self-worth, self-love, and desire. Anoint to evoke a regal air, to improve posture, and promote a more commanding presence — capable, deserving, and worthy of the utmost respect. Following opening and application, one is first likely to note the oil's divine smell — as if seated near the dessert table at the Empress' coronation, wafts of incense smoke and clean botanical waters drifting from Her lavish procession, amidst the cornucopia of rose and pink lotus bouquets upon Her distant altar. Immediately the nerves settle, and ambient anxieties dispel. Consciousness and spirit root themselves into the vessel, and we shift to a taller, more upright position. Collected, sober, and embodied — our outlooks become clearer. We are better able to sift through our desires, selecting and actualizing those which

actually

matter. From this empowered, competent state, we ask for what we want (and settle for nothing less). If the outside world will not give it, we become She who is capable of

taking

it. Draws adoration, admiration, and adulation, as well as money, gifts, and the favor of those around us — the powerful most of all. Outputs a natural gravity which inclines others to please us. Useful for those who have a tendency to martyr themselves and put others ahead of themselves and their own interests. May promote narcissism in those who are already so inclined. Magically speaking, the Empress' Oil can be used to charm and compel, to seduce, to cast and boost glamours, to increase income, to sweeten and empower reputations, to dominate, to manifest material resources, to draw power, and to promote sexual desire as in addition to social desirability. Anoint oneself, one's partner, or toys to enhance sexual experiences. Note that sub/ dom dynamics may well be emphasized. Appropriate and well suited to wear in the workplace. This oil, unlike our other Venus series, is well suited to games of power and doesn't resent toiling as much as most Venii, especially toward one's own (worthy) goals. (Mars occupying its

Degree of Exaltation

+ the House Joy certainly doesn't hurt!) Arrives in your choice of standard 1/2 oz glass vial for $84 (with an optional Dropper Cap Kit), a 10 ml precious metal rose gold roll-on for $108, or 10 ml w/ malachite rollerball for $68

$

68.00 –

$

108.00