Asclepius I.I, Available, Kolonías, Waters

[sf_iconbox image="fas fa-magic" character="" color="accent" type="boxed-four" animation="" animation_delay="200"] Sold out — a

new batch

is available as part of

Asclepius IV

⚕[/sf_iconbox] Grain alcohol and freshly harvested Mt. Shasta water, ritually combined with colloidal gold and medicinal essential oils during the Asclepius I.I Ras Alhague election of October 10th, 2021.

Turkish colognes

are often sprinkled upon the hands before entering one's household or business establishment, providing some natural sanitation and also a delightful scent. This can be used in such a way, or as a type of Asclepius Florida Water for energetic cleansing, drawing goodness and illumination — anytime or before ritual. Makes it difficult for nasties to glom on or penetrate the auric body. Shake well to integrate the Sol-looking drops of golden essential oil before use.

Energy Clearing Protocol

For energetic cleansing, sprinkle about a half teaspoon onto the palms of the hands and gently but thoroughly rub together for 10 or so seconds, coating both sides. The hands can float 2 inches from the body or be lightly touching it. Stand and run your palms from the crown of your head down the back of the head, then start from the top again, going down the front of your face and body, all the way down to the tops of your feet. If you feel any areas "sticking", continue stroking them until energies disperse, and then proceed with downward sweeping. Continue skimming from the head downward, running your cologned hands across every surface area, including under the arms, groin, and rear, concluding with the bottoms of the feet by lifting them. You can "flick" the energy off if it feels right, or it will dissipate naturally, however you prefer. Take 10-30 seconds to close your eyes and integrate the cleansing, feeling the shift, and thank Asclepius for his protection, sealing the auric body from negativity. Asclepius' Kolonía can also be used before performing reiki, energy work, or any other healing activity, on clients or loved ones. It can be done on the self, objects, or 3rd parties.

Other Applications

This can also be added to baths, floor washes, essential oil diffusers, or dishes of water kept at the bedside for protection. Extraordinarily versatile, effective, and p o t e n t .

For more Asclepius offerings, such as Oils and Incense, see Asclepius III.

Offered in a 1.7 oz glass woozy bottle for $33, or bulk 5 oz for $97

$

33.00 –

$

97.00

Asclepius I.I, Available, Bath Salts, Face + Body, Salts

[sf_iconbox image="fas fa-magic" character="" color="accent" type="boxed-four" animation="" animation_delay="200"] Sold out — a

new batch

is available as part of

Asclepius IV

⚕[/sf_iconbox] Dead Sea Salts, rose of jericho, home grown and ritually harvested sages, incense cypress, and more. Fumigated during a Ras Alhague election featuring the co-presence of the South Node for additional cleansing power. Draw a bath and add the mixture to the water to clear your energetic field, increase magnesium levels, and soothe and detoxify the system. Includes a prayer to Asclepius and suggested times for ritual potency. Fully immerse yourself, occasionally wetting the full head and hair for best results. Soak for 13 minutes or more. Occasionally pour water over the head and body, letting it swoosh away negativity impeding good health, mental, physical, and otherwise. Use in the

Energetic Clearing + Ritual Bathing

protocol. Add a small sprinkling to many baths or larger amounts for deeper soaks in tougher circumstances. May induce sleep, best used before bed. Drink plenty of water. Peruse testimonials for Bath Salts from Asclepius

I

,

II

, or

III

for a sense of what to expect. The formula is essentially the same. Arrives in your choice of 8 oz glass bale jar for $33, 16 oz bulk pot for $66, or 18 oz unbreakable bundle for $60.

For additional and varied Asclepius offerings, such as Oils and Incense, see Asclepius III.

$

33.00 –

$

66.00

Asclepius I.I, Available, Extinction Bursts, Reduced Price, Sprays + Hydrosols, Waters

Water freshly harvested from Mt Shasta, distilled via copper alembic with rose of jericho, home grown and ritually harvested sages and incense cedar, and carnelian Asclepius talismans. The scent profile is most similar to Asclepius I: heavier on jericho and rosemary, rather than sage. Perfuse testimonials and the description from Asclepius Waters

I

,

II

, or

III

for a sense of what to expect and application suggestions. For a thorough application, shake well and use as a body and aura spray, making sure to focus around the head, neck, chest, and spine. Invokes instant clarity and refreshment, and aids in helping clear your field, heart, and mind over the next many hours. Apply after difficult interactions or during times of stress and negativity (so, 2020), and before bed to invite healing sleep and potential dream visitations from Gods and Spirits. Spray in spaces in need of healing, purification, and renewal, especially that carry a negative charge or presence you wish to dispel. Produces emotional, mental, and physical clarity that deepens with continued use. Includes a piece of carnelian in each glass bottle, a stone used in talismanic rings of Asclepius for thousands of years. Arrives in your selection of a half ounce travel sized spray for $26, or full two ounce spray for $52

For more Asclepius offerings, such as Oils and Incense, see Asclepius III.

$

26.00 –

$

52.00

As the November episode of The Astrology Forecast (+ every other astrologer under the Sun!) have duly attested, Sky Hell is upon us (something something the tune of Adele's Skyfall)… Mars squaring Saturn, Eclipses on Algol, and Venus entering her Retrograde Shadow, oh my!
In anticipation of the worst astrology 2021 has to offer, on October 10th the copper stills were fired and the Asclepius Altars lit. A refresh of Waters, Bath Salts, and Kolonías result, on an election featuring little other than Luna conjunct Ras Alhague, co-present with the South Node.
Unless the Nodes *serve* the intended purpose, us Coppocks do generally prefer to avoid them, which is why there hasn't otherwise been an Asclepian re-up since the Dragon entered the Gemini-Sagittarius axis. The South Node is fantastic for one thing, though, and that's purification and stripping away — a central magical application for waters, alcohols, and salts in particular.
These items have the most resonance with Sphere + Sundry's maiden Asclepius series (hence I.I), because they are unadulterated by Jupiterian and Solar factors.
[If you are new to our Asclepius series, check out the writeups for II and possibly III for more generalized info…]
The offerings listed here are, in some sense, simpler and frill-free, dutifully equipped to cleanse, transmute, and cut away negative energies and sources of illness. They purify the auric body, declutter the mind, and aid in metabolizing that which we've taken on (or in), all while providing safe haven from fresh negative inputs at the exterior threshold.
[As usual, they may also trigger detoxing, "healing crises", and the need for sleep.]
This is a good opportunity to highlight a few other resources that I hope serve you well, as we individually and collectively navigate the incoming choppy astroweather:
● How Eclipses Work in Astrology + Magic
● Ritual Suggestions for Eclipses on Rahu (Nov 19th)
● Ritual Suggestions for Eclipses on Ketu (Dec 4th)
You know how each Eclipse season the astrologers and the witches have started yelling about whether *TO DO* or *NOT* TO DO Eclipse magic?
Yeah. That's a lot my fault. [+ i hate it]
BUT — Those articles are REALLY GOOD RESOURCES for Eclipse transit management, stemming directly from the astrological tradition that's been dealing with the Nodes and Astrological Remediation for the longest, unbroken period of time (Jyotish).
In a world where everyone wants magic in their astrology + astrology in their magic, the input of seasoned and specialized AstroMages is well worth considering… people do know that's an actual specialty, right?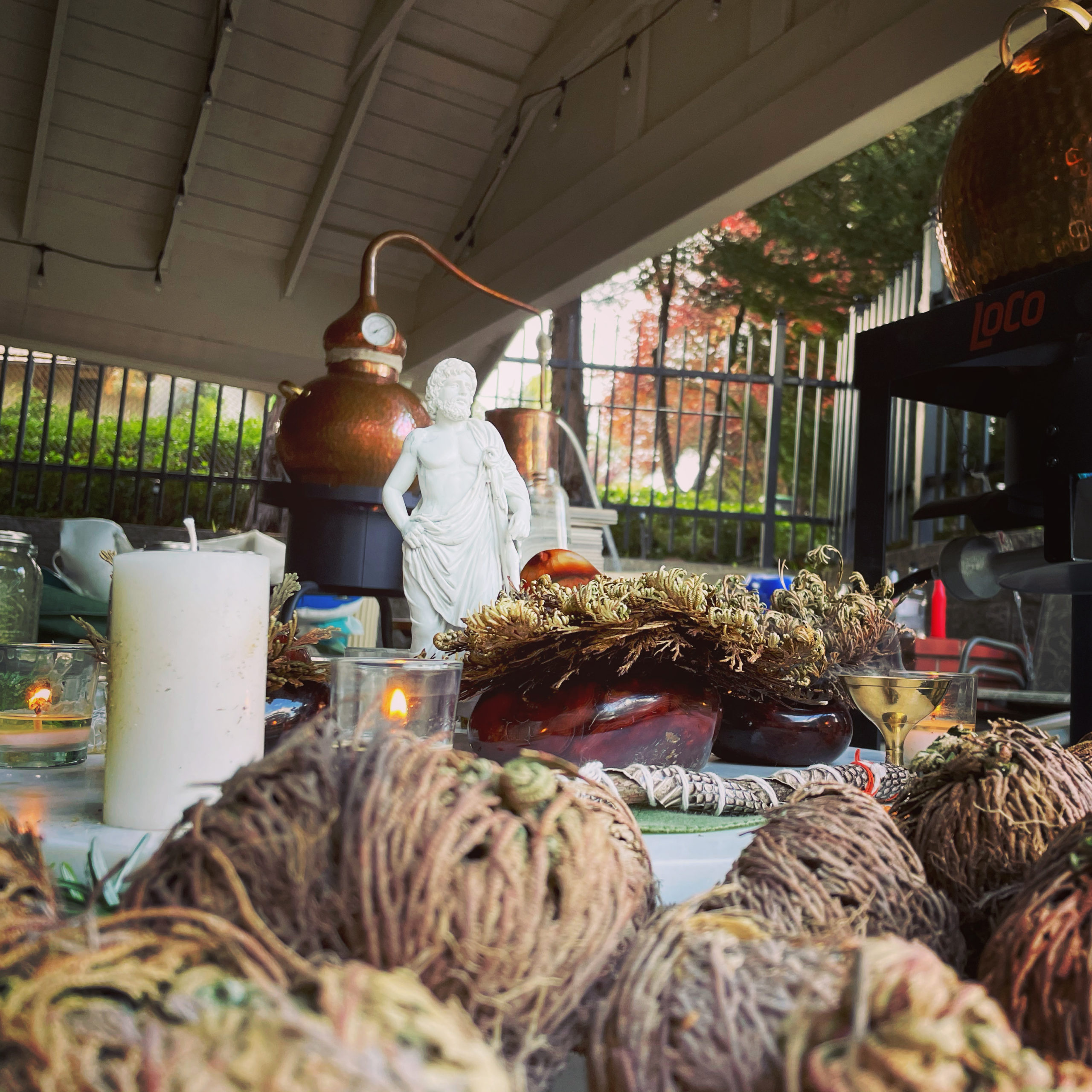 The Eclipse on November 19th is a full Moon in Taurus, conjunct the malefic fixed star Algol (on the North Node).
Asclepius is an excellent counter to both Eclipses AND Algol energy (in the mythos, Asclepius learned to resurrect the dead using the blood of the Gorgon). All deal in snek/ dragon energies, but one is pro-human and pro-health, and the other two are decidedly, uh… not.
The Eclipse on December 4th is cross axis on what would otherwise be the New Moon in Sagittarius (on the South Node), within spitting distance of the Divine Physician's fixed star, Ras Alhague.
[You do not need our offerings or anyone else's to rope Asclepius into your own rituals or practice. All of these technologies and Powers are open source, here to help humanity. You can erect an altar and invite his aid regardless (in addition to Durga and Ganesh, per the Eclipse) — pre-enchanted materia simply potentiates and adds diverse and practical methods of application to the menu…]
Another (free!) resource I'd like to emphasize is our Energetic Cleansing + Ritual Bathing Protocol, the most bang for your 33-step ritual buck you could ever ask for, or your no-money back 😉
It can be intimidating on the surface, but once you do it, you'll ask yourself why you hadn't done it sooner!
LIFE CHANGING. With or without supplemental astrology.
[Check out some of the testimonials in the comments section, or dozens more in the Client Community]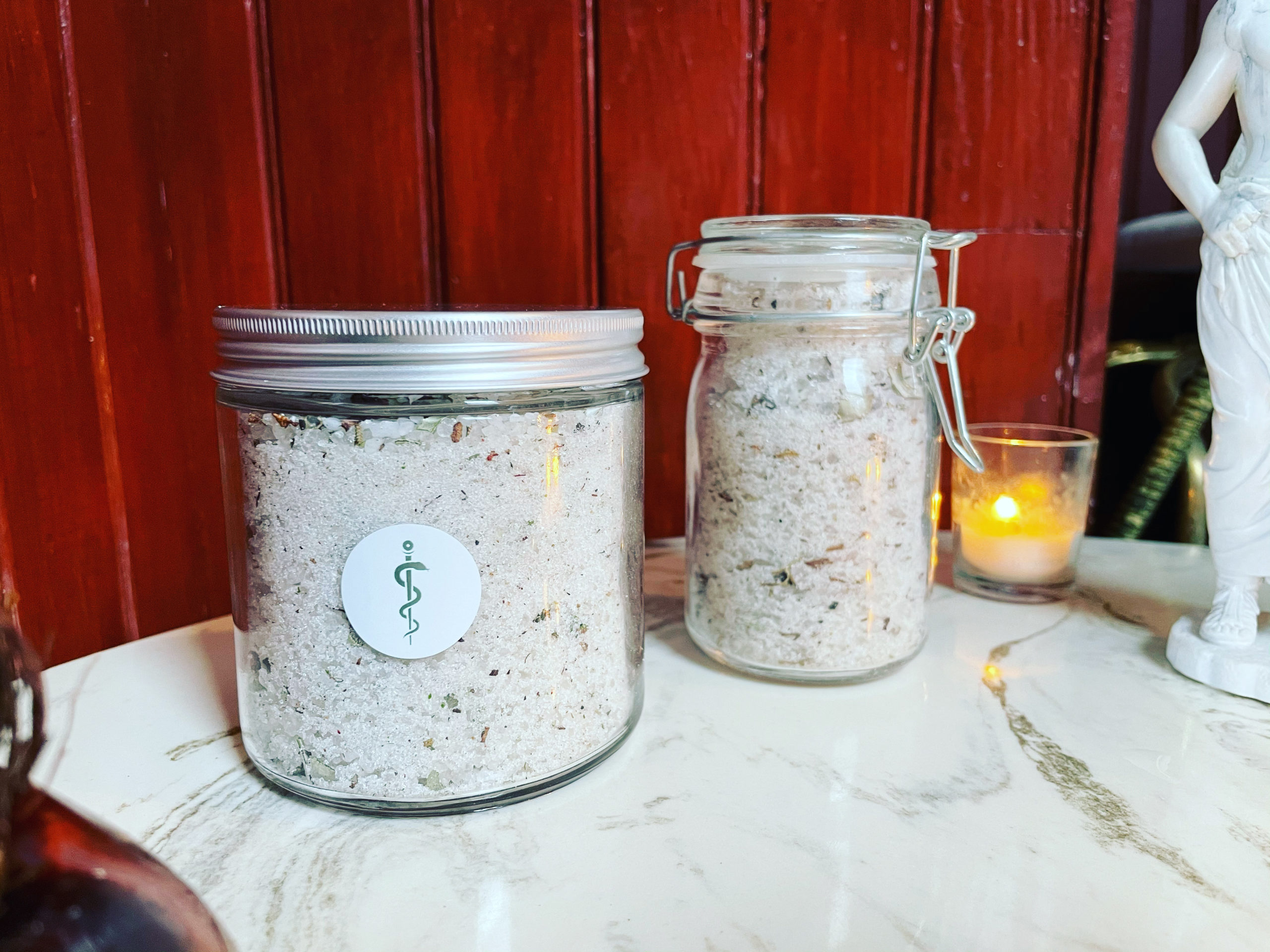 Items from Asclepius I.I will begin shipping tomorrow/ Wednesday, and we're back to 0-2 day processing times throughout the rest of the holiday season, save for the week it'll take to process the incoming launch of Regulus III.
[Before anyone asks, there will be a refresh of the Ritual Bathing Kits as soon as more energy scrapeys arrive! Please join the waitlist for any item(s) that interest you, to be notified of restocks]
Forewarned is forearmed in the case of bad astrology… may you have all the resources you need to navigate the incoming astroweather, and then some!
Every order includes timing suggestions, basic instructions for application, and a prayer, alongside an invitation to join our growing Client Community.