The Exalted Venus series captured Venus during one of her finest talisman-worthy elections in her Pisces 2019 stay, the sign in which the Fairer Benefic exalts. Ruling and tightly sextile a similarly exalted Taurus Moon in the 1st house from the place of the Good Spirit and socially active 11th, offerings from this series provide a supreme and potent Venusian charge, ready, willing, and certain to please.
The color scheme and addition of amethyst and frankincense are informed by Jupiter's rulership over Venus in Pisces, as Jupiter was in a strong position to support in his own sign of Sagittarius and serves to potentiate and magnify this series' charge. The electional chart can be found in the image gallery for each offering.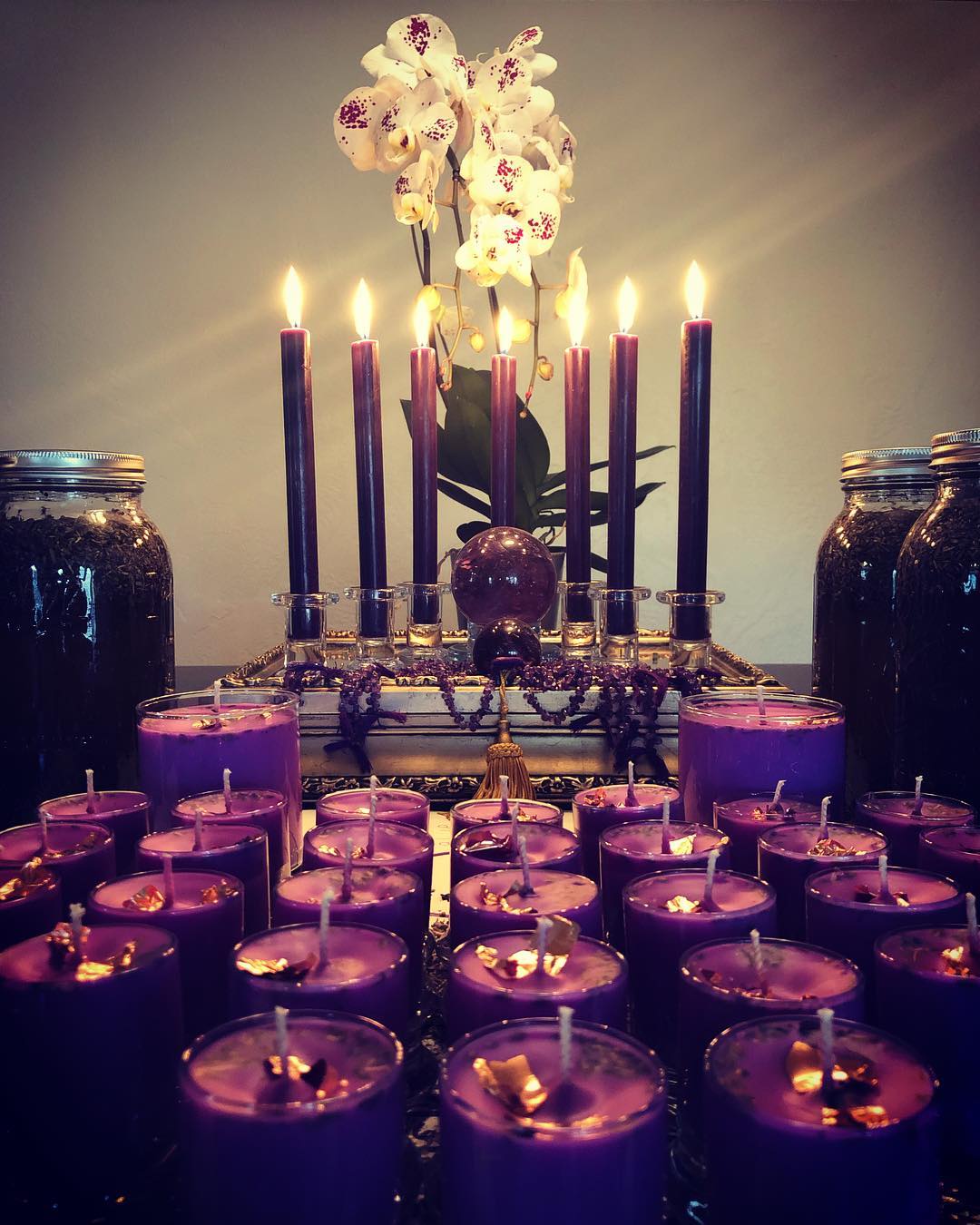 This writeup, in contrast to longer and more involved ones like Jupiter's Bounty, St. Expedite, or Asclepius, is going to be (relatively) short, sweet, and practical in nature. The planet of love, beauty, harmony, relationships, joy, and the like, needs no introduction, and and this is her, in her prime.
Aptly, given Pisces is the only water sign where Venus holds great sign based dignity, these offerings activate the heart and emotions in a beautiful and benefic way. They conjure a strong desire for connection to who and what you love and appreciate — people, art, music, nature, pets, kids, food, libation — anything or anyone the heart desires, and stirs the objects of your desire to respond in kind, having a mutually magnetized effect. Venus gets what Venus wants.
The fourth wall breaks — the first time I applied the water, it caused a light salivation response. The oil brought tears to my eyes in appreciation for how beautiful it was, and silly as it may seem, felt like a love poem being spoken directly to the heart. The waters of the body are drawn, as the Moon pulls the tides.
In contrast to the airy and much beloved Venus in Libra series, which is amazing for socializing, these offerings have a more intimate feel. They still masterfully facilitate connection and quell social anxiety (as Venus will do!), but they also run deeper and are less verbal. One might apply it and not feel like being in a crowd, but sharing quality time with those they hold true affection for instead.
That being said, Pisces is a very easy going sign, and adaptable, and individual chart factors play a role in how each of us are impacted by the placement of Venus in different areas of our lives and personality.
[For a general sense of what Venus offerings can achieve and the potency of Sphere + Sundry's wares in particular, feel free to check the testimonials on individual offering pages from Venus in Libra: oil, water, incense, candles, and hair and body oil.]
According to the "Picatrix" and other magical conventions, it's suggested to dress the part for ritual work. As part of the creation for each series, your resident astromage dons appropriate attire. For the creation of Venus in Pisces, a white dress with purple floral design, emerald and diamond jewelry, hair long and down, and white heels were worn, as seen in the mirror's reflection….
Apply to the body in preparation for date nights, going out dancing, to accentuate glamour, draw people to you, be seen at your best, most alluring, and beautiful, feel at ease and appreciative of yourself and others, and heighten your ability to enjoy a good time. Great for self-love and magical self-care.
Use before or during magical operations related to Venus or the things she governs — love, beauty, harmony, diplomacy, sex, intimacy, desire, small gains, and to bring freely gotten gifts. Receiving gifts with Venus is a thing, as is what I've called the Disney Princess effect, where animals can't get enough of you.
Great medicine for those who have a hard time feeling at ease, struggle with self-love or opening up to people, coming from the heart, being intimate with those they love, are excessively type-A, have difficulty letting go and letting live, suffer from neurosis or anxious feelings, or could be astrologically described as having an overly Saturnian or Martial nature.
Note: Venus in Pisces, especially because she was conjunct Neptune in this election, has the capacity to be highly altering, depending on dosage. Do not apply wantonly, but in carefully chosen place and time, in right company.
Just as Venus brings us that which we desire, it can also bring unwanted attention as it magnetizes people to you, and can also be distracting or cause inconveniences in certain settings, such as the work place. Upon heavy application (lots of the hydrosol or using multiple Venus offerings at once), this series has dissociative qualities and can bring about light feelings of inebriation (as will Moon-Neptune), and will likely exacerbate susceptibility to intoxication and make it more fun (in contrast to Asclepius, which has a sobering quality).
Venus, and this Venus especially, is ultra chill and has little desire to work or do things that don't please her. She has no interest in toiling, but in leisure and sensuous enjoyment. For creative support and to maintain productivity, it may be combined with Expedite, Mars, or Mercury to customize your state and manifest results, and will serve to round the edges of other charges. Beware applying only Venus before your work day is done, for you may find it difficult to focus on things other than relaxation, enjoyment, and down time.
These same qualities make the Exalted Venus series perfect for when you're ready to kick back at the end of the day or enjoy time off, as all worries melt away and are set aside in favor of that which brings joy, comfort, and makes the heart happy. A vacation in a bottle… or vial, or tin, or jar…
Excellent for orgasm enhancement, libidinal support, and tantric pursuits. Can also be used to facilitate re-connection between yourself and those you're feeling out of touch with, including your own body and desires.
For the first time, we welcome Júlia Tort and her partner Hector of Occvlta, who specialize in the ritual crafting of incenses and artifacts with a focus on the poison path and darker, more occulted side of esoteric herbalism, who offers a loose incense that drills to the very bottom of the heart's deepest recess.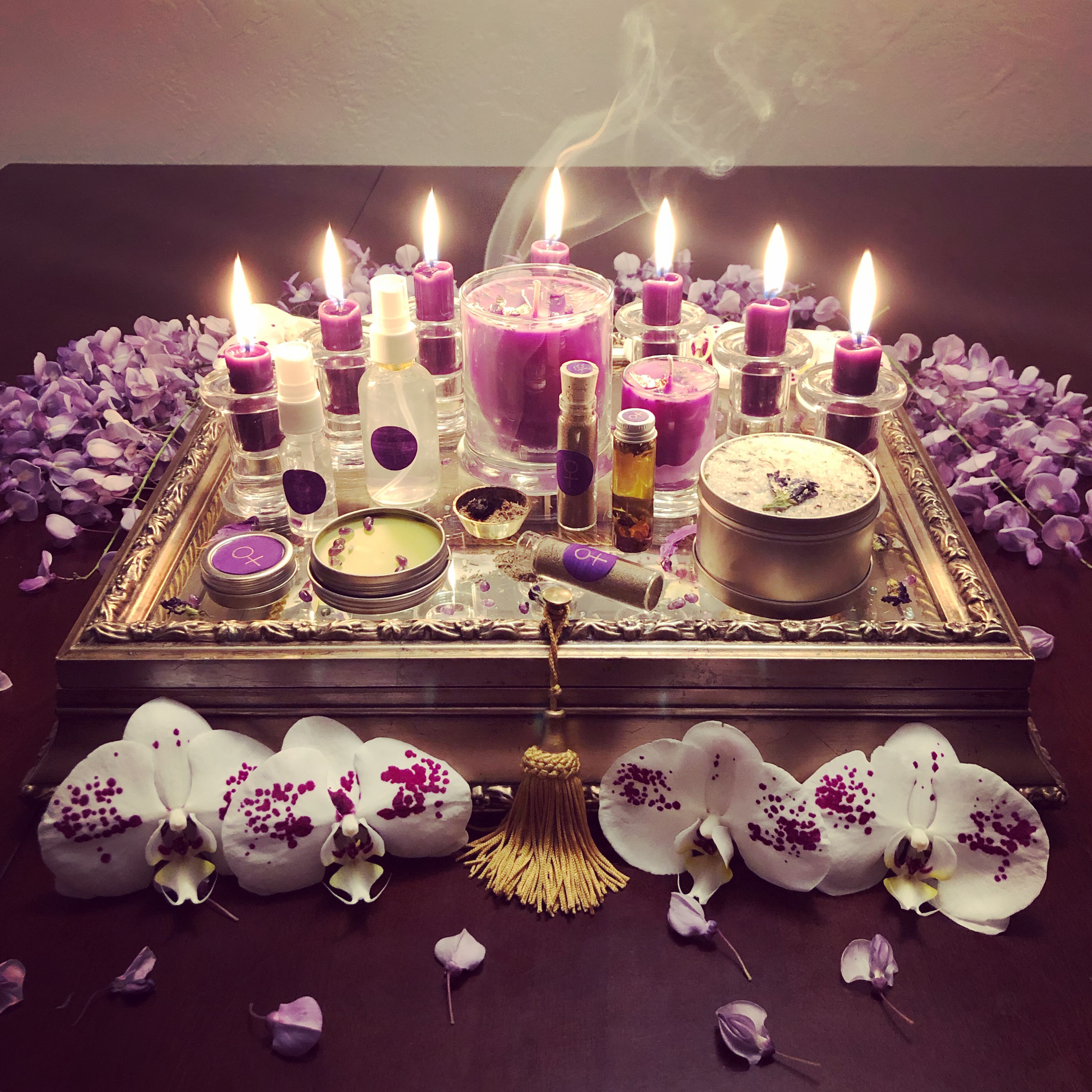 We thank goldsmith and fellow astromage Tony Mack for his incredible handiwork, who cast a handful of silver rings and stunning copper pendants during the equivalent Exalted Venus election in his location. There are also offering bowls which will be debuted later, as our jeweler works to finalize their detailing.
Our literal and metaphorical astrologer in residence, Austin Coppock, chose this election and also contributed to the series by collecting fresh stream water at the start of the election, used for the hydrosol. For this and his love, devotion, and attention to both his Art, mine, and our life together, my heart thanks him.
As always, each order comes with basic instructions for use, timing suggestions for application, and a prayer. It also includes an invitation to participate in the Sphere + Sundry client forum (now off of social media) for ongoing support from both creator and community. Enjoy!
Available, Exalted Venus I, Sold Out, Sprays + Hydrosols, Waters

Created during a mouth watering, talisman-worthy election during Venus' time in Pisces 2019. A hydrosol of organic lavender, damiana, yarrow, passion flower, bee pollen, and other herbs sacred to the fairer benefic, emerald, diamond, and amethyst, with purple and white flowers freshly harvested during Venus' hour to open the working. River water was simultaneously fetched by handsome assistant and devoted husband

Austin Coppock

as the ritual creation of the Exalted Venus series began, and distillation via copper alembic initiated during the height of the election. Each bottle was marked with Venusian keywords in the spirit of Masaru Emoto's work on structured water, and left to bask upon the altar of Exaltation. The result is an incredibly beautiful hydrosol that triggers a light salivation response upon application, instantly relaxes and stirs the heart center. Promotes healthy emotional availability, facilitates connection, promotes intimacy, and heightens one's appreciation for love, art, and all beautiful things, including one's own self. Use as a room spray to set the stage for Venus operations or magical works for love, beauty, and glamour. Use as a body spray to invoke the power of Exalted Venus and embody all she stands for. Great for natural stress and anxiety management, quelling neurosis, when spending quality time with loved ones, when you want to feel at ease, attractive, and magnetic in social situations, or before engaging with art, nature, or to help steer mind altering substances. Perfect when you're ready to wash the day from your mind, body, and auric field, inviting a relaxed, pleasant, and untroubled state. Magical self care at its very finest — praise Venus! Available in a 1/2 oz glass spray bottle with keepsake amethyst for $28 or a 2 oz for $63.

$

28.00 –

$

63.00